A lot of gynecologists and specialists give a green signal to having sex during pregnancy, provided that you have a healthy and normal pregnancy without any complications. Many couples consider indulging in anal sex during pregnancy when vaginal sex becomes difficult due to the growing belly during later stages of pregnancy. There is a possibility that the couple has indulged in anal sex before pregnancy and has enjoyed it and want to continue it during pregnancy too. However, couples who desire to have anal sex while they are pregnant have a lot of questions and doubts. Continue reading to know if anal sex is safe during pregnancy or not.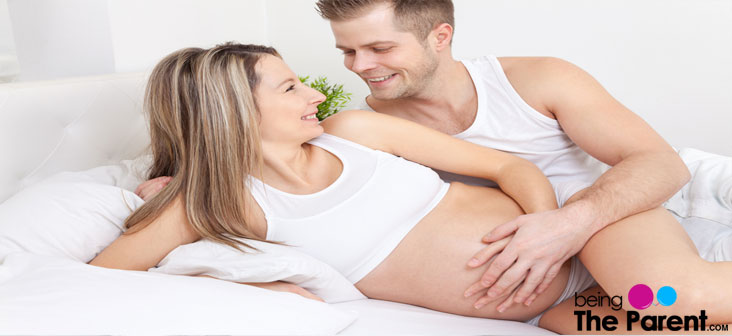 Is It Safe To Have Anal Sex During Pregnancy?
Precautions While Having Anal Sex During Pregnancy
When To Avoid Anal Sex During Pregnancy?
Is It Safe To Have Anal Sex During Pregnancy?
In most cases, it is safe to have anal sex during pregnancy. But if you are just beginning to indulge in anal sex as you want to be more adventurous, it is always better to postpone it till you deliver your baby before trying anything new. Anal sex during pregnancy is considered safe as long as it is not rough and you immediately stop it if you experience any kind of pain or discomfort. If you feel any kind of uterine contractions after having anal sex that don't settle with time, seek immediate medical attention.
Precautions While Having Anal Sex During Pregnancy
There are certain precautions you should take before indulging in anal sex during pregnancy. These include:
Use condoms: When indulging in anal sex, the chances of contracting the sexually transmitted disease is also high. So if any of you are suffering from STD, it is easier to transmit it to the other partner when having anal sex. Therefore, it is important to use condoms during anal sex. Unprotected anal sex is permitted if the partners are sure they are not suffering from STD and both are strictly in a monogamous relationship
Hygiene is important: The anus has certain bacteria which can be harmful if it gets into the vagina. The bacteria can cause many health issues in a pregnant woman and can affect the normal progression of pregnancy. Therefore, after anal sex, if you want to continue to have vaginal sex, make sure that your partner cleans himself well. Otherwise, the chances of infections like urinary tract infection (UTI) and bacterial vaginosis increases and it can harm you and the unborn baby. Similarly, if condoms are used for anal sex, make sure that your partner uses a fresh condom if moving over to vaginal sex
Use lubrication: Anus has no natural lubrication so when you indulge in anal sex it increases the risk of pain or tearing. Make use of plenty of unscented, water-based lubricants for comfort while having anal sex during pregnancy. But make sure you carefully choose lubricants that are safe to use in pregnancy
Do it slowly: Rough anal sex is not advisable during pregnancy as it increases the chances of tearing of rectal tissues. The anus, unlike the vagina, will not stretch during intercourse. Ask your partner to be extra gentle and take time with penetration
Don't use numbing creams: There are several numbing creams available in the market that prevent pain and make the anal sex more enjoyable for expecting mothers. It is recommended to avoid the usage of these creams during pregnancy as the pain is a sign of things going wrong. It is very important to discontinue sex if you feel any kind of discomfort or pain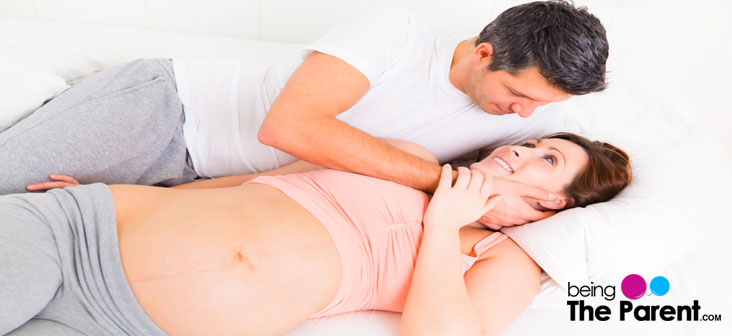 When To Avoid Anal Sex During Pregnancy?
Here are some of the circumstances during which anal sex should be avoided completely:
Polygamous relationship: Anal sex increases the risks of contracting sexually transmitted diseases and can affect the pregnant woman and her baby. So, unless you are certain that you are in a monogamous relationship and know that you and your partner are HIV negative, you should avoid anal sex. If either you or your partner is in a polygamous relationship, then the risk of contracting STD goes up
Placenta previa: If you have placenta previa, a condition where the placenta is covering the cervix fully or partially, anal sex should be avoided as it may put pressure on the placenta. Any trauma to the placenta can cause bleeding and put pregnancy at risk
Hemorrhoids: Hemorrhoids are common and tend to become larger during pregnancy. So if you have hemorrhoids and you indulge in anal sex during pregnancy, it can further exacerbate the problem. Sex can result in inflammation in the anus and if you are not careful, it can lead to heavy bleeding. Therefore, having anal sex if you are suffering from hemorrhoids is unsafe for both you and your baby
Anal fissure: Constipation is another common side effect of pregnancy. Constipation can lead to anal fissures and anal pain. If you experience anal fissure or anal pain, anal sex should be avoided as it will aggravate the issue and lead to severe pain, tearing of the rectum and bleeding during intercourse.
The risk of preterm labor: If you are in the high-risk pregnancy category and are at the risk of having preterm labor, then you should avoid anal sex completely
Anal sex is safe during pregnancy, but talk to your doctor if you have any concerns. Indulging in sex while being pregnant will only help you bond better with your partner. But it is vital that you communicate openly with your partner. Keep talking with your partner throughout and let him know if you feel any kind of discomfort. An open communication with your partner will only make sex more enjoyable and healthy during pregnancy. This is the time for you both to grow as a couple before the new member takes up all your time and energy. Have a safe and healthy pregnancy!