A bouncer is a small baby seat suitable for infants from birth until they are about a year old. The seats cannot move freely (unlike a baby swing) or considerably (unlike a baby jumper). However, the seat is slightly flexible, so a slight bouncing motion is possible, either when an adult pushes it or when the child kicks it.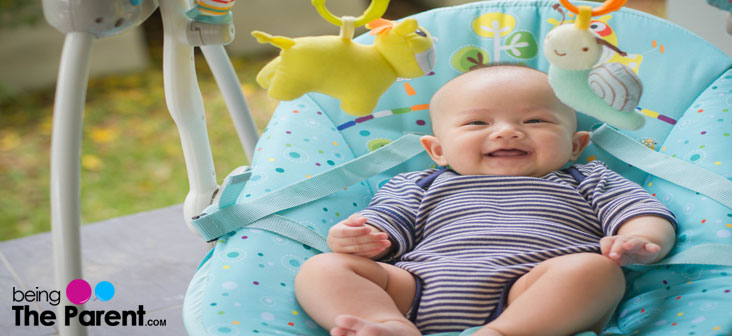 Types Of Bouncers
There are mainly two kinds of bouncers:
Basic bouncers: These are just seats in which you can strap the baby on. The advantage is it is very economical and takes up less space. It is also easy to carry when you are travelling and easier to clean. The disadvantage is that without any entertainment features, your child can get bored very easily
Bouncers with entertainment features: These are similar to basic bouncers, but with an extra bar onto which many entertainment features are fixed for keeping the baby occupied. These features include colorful toys, lights, music, vibrations and so on. Some of the bouncers will let you insert an iPad or a phone so that baby can see videos. They also at times come with mp3 players in which you can transfer music of your choice. The obvious advantage is that it does not bore the baby. The disadvantage is that it is more expensive and more space consuming than the basic bouncer
There are so many baby bouncers with different features available in the market. Here is our pick of 10 best bouncers, in no particular order. Please remember that we are not associated with any of the below brands. And we recommend you to take your baby along when you go shopping so that you can get a sense of the bouncer suiting the baby.
10 best bouncers for babies
Chicco Balloon Baby Bouncer: This is a 2-in-1 chair as it can be used either as a rocking chair or as a bouncer. The multifunctional toy bar with 3 toys will keep the baby entertained for long, while also developing his tactile skills. It also offers vibrations in the seat to lull the baby to sleep. The seat cover, lining and the booster cushion can all be removed and washed easily

Mastela Baby Bouncer: This baby bouncer provides soothing vibrations that help in keeping the baby calm and comfortable. It is a great way to put the baby to sleep. It also has a toy bar which is removable. And the seat cover can be removed and washed. It has 2 recline positions and 3 safety harness

Fisher-Price Infant-To-Toddler rocker: The biggest advantage and differentiator of this product is that it can be used until toddlerhood, while most other bouncers will be outgrown once the baby is 6 to 8 months. It also comes with a toy bar, calming vibrations and a musical frog. The product can be used as a bouncer, a rocker or even as a feeding chair

Red Kite Snuggi Bounce: This product is great for newborns as it comes with a "head-hugger" specially designed to provide support for the newborn babies' heads. It has a removable toy bar with detachable toys, seat vibrations and three-point security harness

Bright Starts' Sunnyside Safari: This is one of the very popular bouncers for the simple reason that it comes with all the usual features offered by other brands but at a great competitive price! It has a jungle theme and the toys are pretty basic. But the price is very attractive

Tiny Love 3 in 1 Rocker Napper: This one literally does "double" duty – it is a bouncer when you want. And when the baby falls asleep, you can easily convert it into a bassinet, thereby avoiding the need to transfer the baby to a bed

Tiny Love's Gymini Bouncer: This product is more for giving your baby a great playtime than putting the baby to sleep. It comes with not one, but two toy bars, on either side of the bouncer. There are musical crab toy and other lights and music toys that the child can activate

BabyBjorn Babysitter Balance: This is a very simple and basic bouncer that has no toy bars or vibrations. It is just a sling chair and does not need batteries. It can be used till toddlerhood (older kids use it as a chair)

Joy Maker Musical Melodies Bouncer: This musical melody bouncer is all about melodies and toys, as the name suggests. It also comes with a three-point safety harness

Fisher Price Rainforest Friends Portable Rocker: Another multipurpose product from fisher price. In the initial months you can use the product as a bouncer or a rocker. As the child grows, it can be used for interactive play and later as a toddler rocker
If you are looking for a spot that is safe and where you can leave your baby to play and rest while you get your work done, then a baby bouncer may be the solution to your woes. These smart and fun bouncers will keep your baby comfortable, busy and engaged and at the same time you can have your baby within your reach. Bouncers are a lot more comfortable for baby than lying in a flat crib or bed. A bouncer comes with soft fabric that follow the baby's shape and supports the baby's fragile spine. What are you waiting for? Pick the best bouncer for baby today!
Happy shopping!