You are pregnant and you are craving a lot of foods – some that you thought you would never consume in your life and some that you've always loved! Everything you eat during your pregnancy has a direct or indirect impact on the growing fetus. So, your doctor prescribes a list of foods that you must consume and some that you must not during these fabulous nine months. Fruits and green leafy vegetables are certainly on the 'must have' list. But is the thirst-quenching, summer quintessential, refreshing lemon / lime juice or lemon soda on that list of 'must have' or does it get relegated to the 'must not have' during pregnancy? Is it safe to consume lemon in any of its forms during pregnancy? Read on!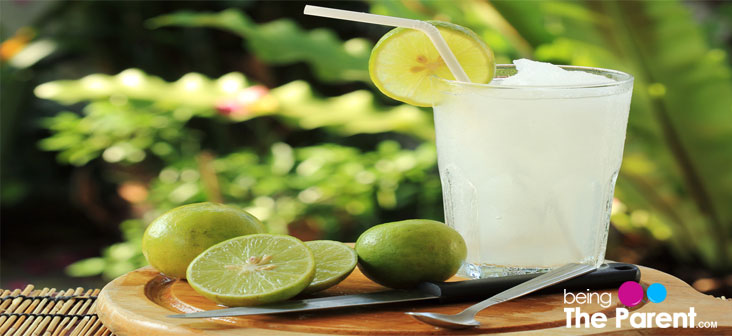 Is It Safe To Eat Lemon / Limes During Pregnancy?
Health Benefits Of Lemon During Pregnancy
Side Effects Of Eating Lime (Or Lime Juice) During Pregnancy
Is It Safe To Eat Lemon / Limes During Pregnancy?
Lemon is a citrus fruit, and hence has the goodness of Vitamin C in it. It is great source of minerals such as calcium, magnesium, iron, potassium and phosphorus. What's more, lemon / lime is an excellence source of a gamut of Vitamins such as Vitamin A, B1 (Thiamine), B2 (Riboflavin), B5 (Pantothenic acid), B6 (Pyridoxine) and Vitamin E. These are extremely essential in the growth, upkeep and nourishment of the developing fetus. To all those craving that tangy, refreshing glass of lemon juice, but are concerned about how safe it is to drink the same during pregnancy, heave a sigh of relief – It is super- and extremely-safe to eat lemon or consume it in any of its forms during pregnancy!
Health Benefits Of Lemon During Pregnancy
Let us look at some of the health benefits that lemon brings to the table, during pregnancy:
1. Reduces nausea, morning sickness and constipation:
Morning sickness, loss of appetite, nausea, vomiting, heightened sense of smell – all the common first trimester symptoms can be handled with ease with the squeeze of a lemon or a small cup of lemon juice with warm water! Certainly, a wonder food for most of us, right?
2. Keeps blood pressure in check:
As you progress through your pregnancy, your trips to your gynecologist increase. And the number of times your blood pressure is monitored also increases. Drinking lemon juice helps keep the blood vessels healthy and soft. In fact, lemon juice removes the rigidity present in the arteries, thus keeping them pliable
3. Reduces swelling in the feet:
There's no respite from swollen feet during pregnancy, and yes, that hurts and leads to discomfort. A teaspoon of lemon juice with warm water can help a notch here! Also, a mixture of lemon juice and bitter gourd juice helps reduce the swelling on your feet and makes walking easier
4. Reduces constipation, improves digestion:
Lemon juice is an excellent liver stimulant. It increases the peristalsis movement in the bowels, provides relief from the irritable bowel movements and regulates motions through improved digestion. It thus helps you beat constipation In fact, a small cut of lemon juice (undiluted with water) has a good 0.7 grams of dietary fiber!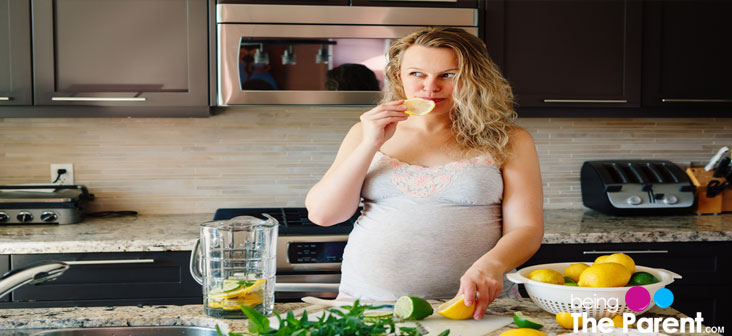 5. Keeps the immune system healthy and robust:
Antioxidants found in limes are essential for the destruction of free radicals in our body, thereby boosting our immune system, and delaying the process of ageing. Also, the presence of significant amounts of Vitamin C helps our body fight infection. As doctors shy away from prescribing medicines and you avoid the use of over-the-counter medications during pregnancy, your reliance on home remedies increases. A small cup of lemon juice with warm water, helps in the thinning of mucus, reducing phlegm and providing you with relief from a blocked or runny nose. Also, given its diuretic properties, lemon juice helps you flush out the toxin and antigen from the body through urine, thus preventing the common urino-genital infections that pregnant women are prone to contracting
6. Nourishes brain cells and develops strong bones in the fetus:
The potassium content in limes aids in the nourishment of nerves and brain cells in the unborn baby. Also, the calcium and magnesium content present in limes contribute toward the development of strong bones and maintaining them. Limes are thereby essential for the healthy development of the growing fetus
7. Aids in the process of labor and childbirth:
While nothing can really prepare you for labor, a mixture of lime juice and honey in warm water can ease the process. Drinking this juice every three days after the completion of the first trimester, is said to make labor less painful. There is no medical proof to validate this at present, but this is the kind of common wisdom that is passed down several generations
While there are great advantages of drinking lime juice or consuming lime in its different forms during pregnancy, there are certain concerns that one cannot shrug off. Let us look at the flip side now.
Side Effects Of Eating Lime (Or Lime Juice) During Pregnancy
1. Acidity and heartburn:
Drinking lemon juice can only aggravate these conditions, in some women. In fact, in some women lime can also trigger acidity toward the end of their pregnancy. It is best to avoid lime in all its forms, in such a scenario
2. De-calcification of bones and teeth:
This is common during pregnancy. The citric acid present in lemon can intensify this condition. Diluting lemon juice and/or drinking this super diluted mixture with a straw can help avoid dental problems during pregnancy. Also, make sure you gargle and rinse your mouth well after consuming lemon juice
3. Increases the risk of food borne illness:
The safest way to consume lemon juice is to make It fresh at home. Since your immunity levels are at an all-time low during pregnancy, consuming lime juice prepared outside can increase your risks of contracting bacteria like E.coli or salmonella. These bacteria can attack your digestive tract and make you sick and can be harmful for your unborn baby too
Although lime and its different forms are considered safe for consumption during pregnancy, it is best to consult your doctor before you start consuming them. Since our bodies react differently to different foods, more so during pregnancy, seeking medical opinion is the best to keep undesirable reactions to food, away!
For now, go ahead, enjoy your soothing lemon juice and do let us know in the comments section below how did you consume lime in your pregnancy? How did it benefit you ?