Once you are in search of the queries about making love in the second trimester, it implies that you enjoyed a normal sex life throughout your first trimester. This also means that you do not fall under the risk categories we mentioned earlier under the topic "Making love in the first trimester" which you can read here.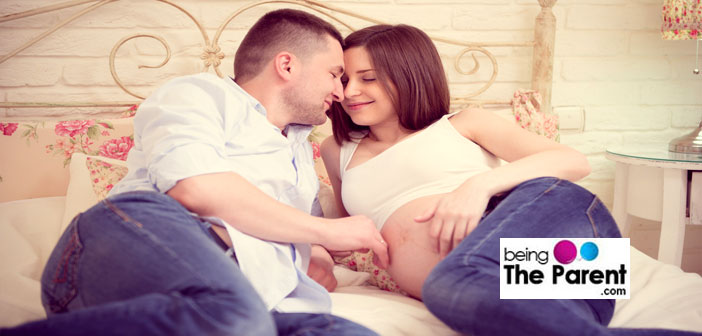 Another possibility is that you were away from sex during your first trimester owing to issues like nausea, tiredness, ebb and flow of feelings or mood swings. Moving to your second trimester gives you an opportunity to enjoy sex after a brief break. This is because all the annoying physical uneasiness starts to fade away and you are feeling brighter and breezy.
Most of the factors that kicked your sex drive during the first trimester persist in your second trimester too. Extra blood flow to your lady parts will increase the sensations so that you could meet sexual climax easily. There is no wonder at this stage you will be doubtful about making love, as you worry about the growing belly, possibly thinking that as the baby is growing, the chances of hurting him are more. And this is where you are wrong. Lets see how your sex life changes when you are in the second trimester of your pregnancy journey.
Is It Safe To Have Sex During The Second Trimester?
The thirteenth week to twenty-seventh week of pregnancy is considered as the second trimester. Even though your baby starts to move long before you feel it, you will start to sense your baby's movement between 16th and 22nd week of your pregnancy. That is, during your second trimester you can also feel the movement of your baby when you are having sex.
The movement of your baby increases suddenly after you achieve an orgasm. Don't misinterpret your baby's movement as showing its discomfort. Neither is it a sign of your baby being unsafe. These movements are simply because of the outpouring of hormones in your pelvic region and also due to increased blood flow towards the pelvic area.
If the movement of your baby worries you, don't keep the feeling inside you. Share your feeling with your partner. There are other alternatives like having sex from behind you (spooning) so that you may less aware of your baby's activities. Remember, ultimately it is your comfort that counts when you are carrying.
When Is Sex During Second Trimester Of Pregnancy Considered 'Unsafe'?
After enjoying a normal sex life in the first trimester there is no reason for you to cease your desire for having sex unless some new issues surfaced like:
If you are diagnosed with cervical weakness: Cervical weakness is a condition in which cervix- the neck of the uterus and the entrance to the womb- begins to widen instead of being tightly shut. If this condition is somehow not recognized in your first trimester it will definitely show up during the beginning of the second trimester. Cervical weakness leads to miscarriage, especially during the second trimester.
Vaginal bleeding after sex: Occasional spotting or slight bleeding after an intercourse is normal. This is because the number of capillaries in your cervix region increases during pregnancy and some of them ruptures during sex creating slight bleeding. Still, if the bleeding is heavy and is accompanied by cramps or if the bleeding is slight and lasts more than three days, we recommend you to stop having sex before discussing your problem with your doctor
Urinary tract infection: If you are prone to urinary tract infection (UTI) it is better to avoid sex during your second trimester. Urinary tract infection may lead to premature labor as well as affecting your kidney. Frequent sex during pregnancy is found to set off urinary tract infection
Vaginal discharge: If you have a foul smelling discharge after intercourse, we advise you against having sex. Foul smelling discharge may be a sign of infection which may pass all the way up to your uterus. Straight away consult your doctor for treatment when you notice a stinky vaginal discharge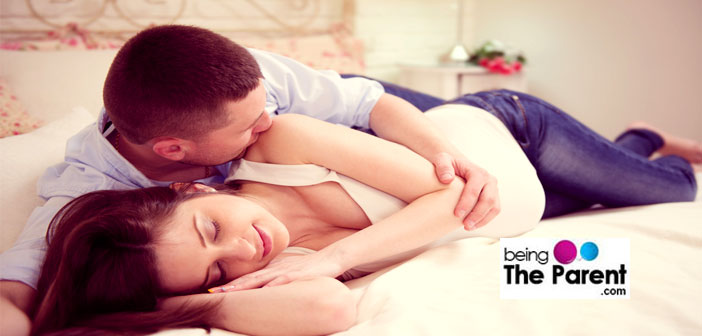 Which Are The Best Positions For Sex During The Second Trimester Of Pregnancy?
Sex along with your growing belly might not be as comfortable as during your first trimester. But even in the second trimester, the belly is not as big and huge to cause an hindrance as it is in the third trimester. Did you know that the second trimester of pregnancy is known as the "honeymoon trimester"? This is because sex will be amusing and entertaining during this period of pregnancy owing to the decline and fading way of of nausea and highly sensitive feminine parts. Now the traditional missionary style won't be comfortable and delightful because of your growing belly. Here we propose you some sex positions to help you select the ones that suit you and your partner.
Spooning: During this sort, you and your partner should lie down side-by-side. Your partner should lie behind you. Now you can enjoy the sex as he gets into you from behind. This position cannot put pressure on your belly. The penetration will be shallow providing more comfort
You on top: Considering yourself on the top during sex is a good idea to keep off the pressure from your belly. Leaning forward and holding the headrest of the bed or handle of sofa depending upon where you are having sex, will provide extra support to your belly
Doggy style: This is the most favoured position during the second trimester of pregnancy. During this style, you ought to kneel down on the couch in such the way that your belly is supported by the couch. Your partner can kneel down behind you and penetrate from the rear
Scissor position: Making love lying face to face develops new intimacy throughout the sex. Scissor position provides that comfort during intercourse. Penetration are going to be shallow that reduce the discomfort during intercourse
Positions That Should Avoid During The Second Trimester
Lying flat on the back: During your second trimester, especially when you are around the twentieth week of pregnancy it is better to avoid the positions in which you have to rest on your back. This is because when you lie on your back, the growing uterus may squeeze the main blood vessels which slows the blood flow to the placenta. That is also why sleeping on the back is not recommended. Read more about it here.
Most women feel immensely delightful having sex in their second trimester. Monitoring changes in your body meanwhile and enjoying your sex drive is important during your second trimester of pregnancy.
Click here to go through the section Sex and Pregnancy.
(Please note that this article is for informational purpose only. Seek your doctor's help if something is bothering you)