Methi or fenugreek is often eaten by new mothers. Fenugreek helps to increase the breast milk production. Generally regarded as safe, Methi or fenugreek has been used to increase breast milk supply by mothers worldwide. However, as we all know, too much of a good thing can be bad, and though fenugreek or methi is full of iron and vital minerals, exercising caution is imperative when it comes to feeding methi to babies and toddlers. Find out yummy Methi Paratha And Methi Khichdi Recipes
Methi can be a boon to your baby in limited amounts, but too much of methi can be bad for the baby's developing systems as the herb can affect stomach, intestines and hormonal levels. Too much of methi in your baby's diet can cause colic, gas, indigestion and its iron content can result in greenish stools. Methi is full of medicinal properties, and too much of it in your or your child's diet can hamper the health and well-being – especially in the developing stage.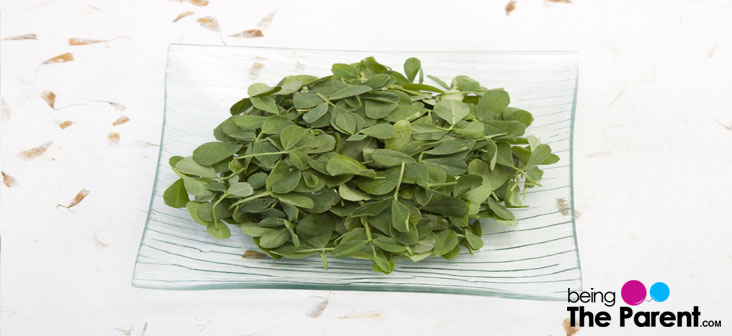 When Can I Give My Baby Methi Or Fenugreek?
Benefits Of Fenugreek For Babies
Methi (Fenugreek) Khichdi Recipe For Babies
Methi (Fenugreek) Paratha Recipe For Toddlers
When Can I Give My Baby Methi Or Fenugreek?
Because Methi in excess quantities can cause digestive issues in babies, it is advised that the herb be given to babies only after 8 months when your baby is used to having solids. However, the best way is to seek your paediatrician's advice. Make sure your doctor also knows if you are taking fenugreek for increasing breast-milk supply. It is also best avoided for babies who have constant digestive issues or pass dark green stools. You may also avoid methi or fenugreek if you have a family that has a history of peanuts and other allergies
Benefits Of Fenugreek For Babies
Belonging to the family of green, leafy vegetables, methi come with all the goodness of iron, proteins and nicotinic acid. However, colicky babies may not react favorably to methi and hence they should not be given methi till they are a year old.
Methi (Fenugreek) Khichdi Recipe For Babies
Recipe Type: Baby food Category Khichdi Age: 8+ months Cook Time: 15 Minutes Prep Time: 30 Minutes
Ingredients
Methi ( Fenugreek leves) – 1/4 cup
---
Yellow moong dal – 1 tablespoon
---
---
---
Cumin Powder – 1/4 teaspoon
---
Ghee – 1/2 teaspoon (optional)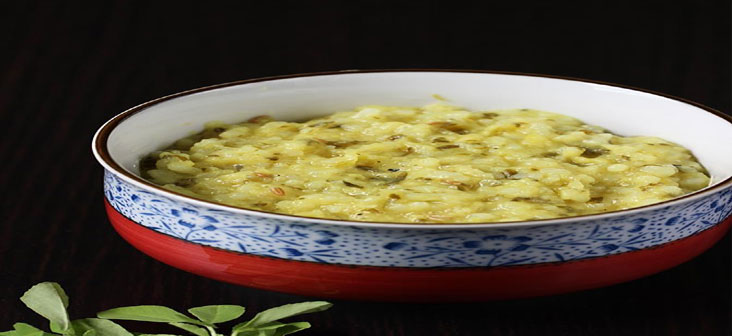 Directions To Prepare Methi Khichdi Recipe For Babies
Thoroughly wash the moong dal and rice and let them soak for about 30-45 minutes
Pluck the methi leaves, leaving the stems as they may have a bitter after-taste
Place them in a bowl of water and add some salt, leave them as it is for about 10 minutes
Rinse the methi leaves 3-4 times till the drained water looks clean
Take a pressure cooker and add the cumin and turmeric in ghee
Add rice, dal, methi leaves and water and let it come to a boil
Add about 3 cups of water and pressure cook till 3 steams
Open the pressure cooker after the steam is released and check the consistency as per your desired level
You may mash the khichdi with a spoon or a steel glass and if you want to thin it, add some hot water
For added taste, you can add some ghee, though we'd advise you to strictly avoid salt till your baby turns a year old
Serve warm in a sterilized bowl
Notes
You can adjust the ratio of rice and dal as per your baby's age – babies above the age of 18 months can tolerate 50:50 ratio of rice and dal
For the first time, add only 6-8 methi leaves and see your baby's reaction to it. Gradually increase the quantity of methi leaves
At first, add only methi leaves to the khichdi. Later you can add some other veggies like half a carrot as well to the khichdi
Always serve warm food to your baby, warm food aids better digestion
Methi (Fenugreek) Paratha Recipe For Toddlers
Recipe Type: Toddler Recipe Category Flatbread/ Paratha Age: 18+ months Cook Time: 15 Minutes Prep Time: 30 Minutes
Ingredients
Whole Wheat flour ( Atta) – 1 cup
---
Methi ( Fenugreek leves) – 1/2 cup
---
---
---
Coriander Powder – 1/4 teaspoon
---
Ghee – 1/2 teaspoon for dough+ 1 teaspoon for the parathas
---
Water to knead the dough: As required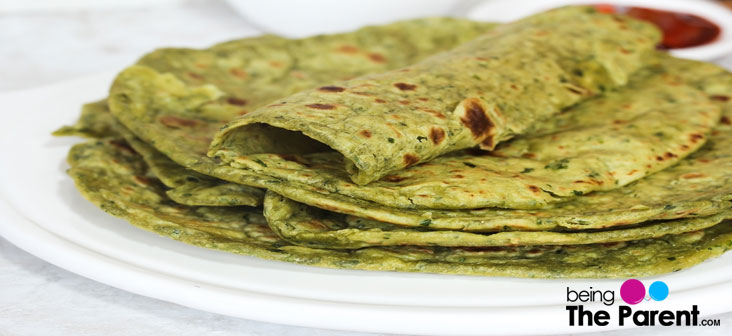 Directions To Prepare Methi Paratha Recipe For Toddlers
Pluck the methi leaves, leaving the stems as they may have a bitter after-taste
Place them in a bowl of water and add some salt, leave them as it is for about 10 minutes
Rinse the methi leaves 3-4 times till the drained water looks clean
Chop the methi leaves finely and place in a bowl
Add all the dry ingredients and mix thoroughly
Add curd and mix
Using some warm water, prepare a pliable dough with all the above ingredients
Apply a little ghee and let the dough rest for 15-20 minutes
Using a rolling pin and some dry flour, make even sized parathas from equally sized dough balls, like the size of a lemon
Heat a tawa and when it is hot enough, place the rolled paratha for cooking
Using ghee, cook the parathas on both sides until it looks golden brown and slightly crisp
Take the paratha off the tawa and let it stand till it becomes slightly comfortable to touch
Serve warm with some curd or ketchup in a sterilised plate
Notes
You may skip curd – though it only makes the parathas more nutritious and tasty
For getting a softer dough and hence softer parathas, use warm water. After applying ghee, knead the dough again for 5 minutes
Always serve warm food to your baby, warm food aids better digestion