Congratulations on being blessed with a little girl! Now that you are parents of a little princess, there is a lot of pressure on you to choose a perfect name for your baby. Your girl's name will be one of the first things people will learn about her. This name will be a part of her for the rest of her life. Although naming your newborn is a daunting process, it can also be fun. If you are searching for a modern Hindu name for your little princess then are here are 50 unique and modern Hindu girl names for you to select from. These names have deep roots, are attractive, and can fit into contemporary life, yet are not on the brink of widespread discovery.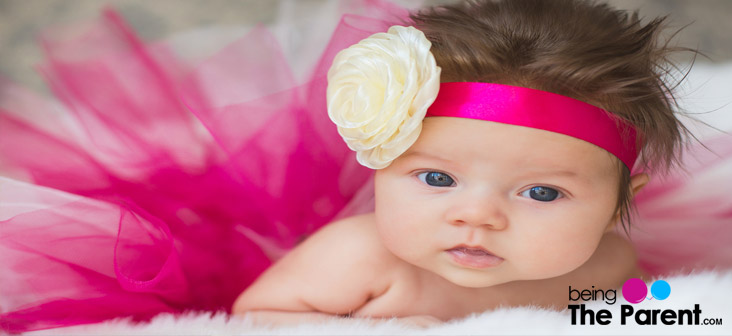 50 Unique And Modern Hindu Baby Girl Names
Trying to pick a name for your little darling in frills? We have got 50 unique, modern and sassy Hindu baby girl names for you to choose from:
Aaradhya: This name is gaining a lot of popularity lately and is derived from the Sanskrit language. It's an apt name for your baby girl which basically means "to be worshiped"
Mayra: A unique and feminine name for your little girl. Mayra means "beloved, favorable, admirable, and marvelous". With so many beautiful adjectives in its meaning, will this not make a lovely name for your precious darling?
Shanaya: You little princess has lighted your life. So why not name your little bundle with this name which means "first ray of the sun"
Eashi: Happiness is a wonderful meaning for your baby girl's name. It suggests an upbeat personality and a positive future. So name your girl Eashi which means "happiness"
Kiara: Kiara means "peaceful, unique". This is definitely a unique name for your baby girl with lot of positivity attached to it which will set your little lady on the right course for life
Ahaana: Ahaana is another popular and intriguing name for your little princess. It means "dawn"
Mahira: What nicer gift to give your little girl than a name that signifies "talented, powerful"
Prisha: Your baby is the most precious gift from god. So why not name her Prisha which signifies the same. It means "beloved, God's gift"
Anvi: Anvi is the name of the Goddess of the forest. This could make a hauntingly evocative name for little girl
Mishka: The name Mishka means "gift of love". This distinctive, charming and sophisticated name has been gaining popularity lately
Sahana: If you are a music lover then it will be apt to name your little darling Sahana, which is the name of a raga
Navya: Navya is another popular pick of parents these days which has lot of newness and freshness to it. This name means "young or new"
Anaisha: You little girl is very special for you so name her Anaisha which has an apt meaning "special"
Anika: Another exotic yet simple name for your little girl. Anika is another name for Goddess Durga, this name has so much strength in its meaning
Bhoomi: An appealing name for your baby girl which means "earth"
Kareena: This name has a pleasant sound and at the same time is very stylish. Kareena means "pure, innocent" and so apt for your little girl
Anala: An elegant Indian name for your little princess which means "one who is expressive"
Suhana: What would a little girl like more than a name denoting beauty? Suhana which means "beautiful and pleasant" fits the bill. This name has a sound as lovely as its meaning
Dhyeya: This rare and rhythmic name for your little girl has the meaning "aim"
Saina: The name Saina means "princess" and so apt for your little princess. The name Saina has enjoyed popularity thanks to the famous Indian badminton player
Aaravi: The exotic name means "peace". It is perfect for your little girl who has brought joy and harmony in your life
Anushka: Anushka is the Indian name meaning "grace"
Ishanvi: Ishanvi is the name of the Hindu goddess Parvathi- the embodiment of grace and charm. So this makes it an apt name for gifting your little girl
Shreya: Shreya is a perfect name for your little girl with several positive meanings—"beautiful, fortunate, auspicious, and favorable"–and ties to the goddess Lakshmi
Anaya: What nicer gift to give your daughter than a name that signifies gracious? After all you want your little girl to grow up into a charming and graceful lady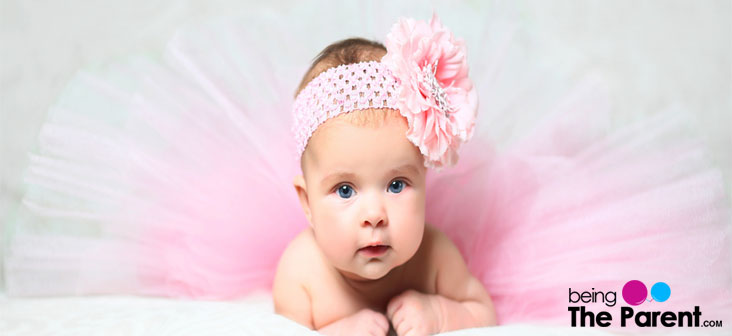 Charvi: A lovely and elegant name which means "beautiful girl"
Jivika: This lovely, soft, exotic name means "source of life" and is an appealing choice for your daughter
Mahika: The name Mahika means "dew drops". It's a distinctive and delicate name for your little girl
Neysa: Neysa is an unusual and quintessential baby girl name which means "pure"
Samaira: Samaira embodies a cheerful and carefree spirit. Samaira means "enchanting"
Tiya: This short and pretty name for your little girl means "a bird". Tiya can be an ideal choice if you a nature lover
Chitrangada: This unique and sassy name is derived from the name of Arjun's wife, a mythological character from the Mahabharata
Vanya: Vanya is as pretty and classy as it is distinctive. It means "gracious gift of God"
Yashika: This pretty and classic name for your daughter means "success"
Riddhima: It is a Sanskrit name which means" full of prosperity". An attractive and exotic name choice for your cherished baby girl
Vritika: The name Vritika is one of those names which is both exotic and simple. It has the meaning "thought"
Haiya: Your daughter rules your heart now so why not aptly name her Haiya which means "heart"
Ila: The name Ila means 'vitality'. It has a very pleasing sound to it
Kaya: This is a soft, stylish feminine name which means "wealth"
Aashirya: This exotic and simple name for your baby girl means "from the land of god". A perfect name for your daughter who has entered your world from heaven
Suhani: Suhani is a simple name which means" pleasant" –an admirable quality to impart
Niyati: This beautiful and simple name for your daughter means "destiny"
Rhia: Sweet and dainty name for your darling daughter which means" good heart"
Hyma: It is another name of Goddess Parvati. A unique name for your daughter
Advika: An attractive and serene name which means "one who is unique"
Chaaya: An attractive name for your little girl which has meaning " Shadow"
Charvi: What better name to give your little girl than Charvi which means "extremely beautiful"
Divija: This is a heavenly name that sounds very ethereal and means " born in Heaven"
Eshita: You have not desired for anything more than your baby girl so Eshita would be an apt name for her which has the meaning "One who desires, desired"
Nitara: Lovely, elegant, charming, this name is apt for your little princess which means "having deep roots"
Whether you want to go trendy, traditional, or totally unique, we've a vast list of names for you to select for your newborn. For more baby names read here.