Thanks to some amazing photographers and absolutely cuddly cute babies, most of us have perceived notions about how our babies would look once they are born. We expect them to have smooth, pink and flawless skin. But out comes the dry- and flaky-skinned baby covered with a fuzzy layer of – wait for it – body hair! This wasn't the kind of resemblance you were hoping your baby would have to his/her dad or granddad, right? Do not fret yet. Read on.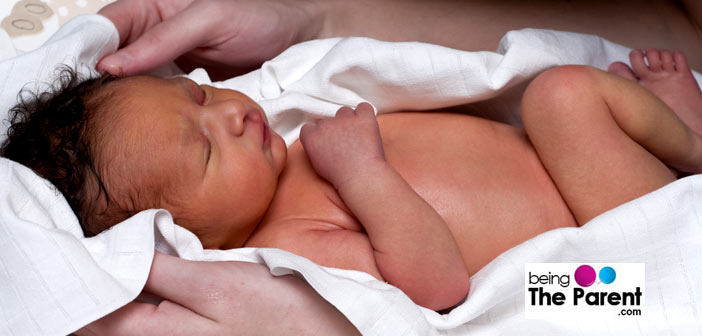 Is It Normal For A Newborn To Have Body Hair?
Absolutely. This hair is called lanugo and babies develop it in vitro. The word comes from Latin, and means wool. Like the fur of animals, lanugo is understood to regulate the baby's body temperature while he/she is in the womb as it provides a protective outer covering. This means that all babies have lanugo. So why do some babies look hairier than others? Some babies, especially the ones born in full-term, would have already shed their lanugo in the womb itself (you do not want to know this – but the babies usually eat the hair they shed in womb). Some babies, especially the ones born preterm, would not have had a chance to shed it yet, and hence are born with a fine layer of hair all over the shoulders, back and sometimes the face as well. This is perfectly normal and no specific skin care routine is advised at this stage. Because this body hair will disappear a few weeks after your baby's birth, there is no cause to worry.
What Is Newborn Body Hair Like?
Newborn body hair is fine and clearly visible
It grows mostly grows on back, shoulders, forehead, ears and the face of the child
In a matter of a few weeks or months, the baby will shed the lanugo within a few weeks to a couple of months
Premature babies seem to have more body hair than full term babies
Full term babies shed their hair inside the womb itself
Body hair protects your baby's skin by holding together the vernix caseosa. This is a greasy wax like layer that covers your child's skin in the womb to keep it warm and moisturized and also eases the baby's passage through the birth canal
Newborn hair also protects the baby from any damage that can be caused by the amniotic fluid
What Should I Do About My Newborn's Body Hair?
Nothing. Lanugo sheds on its own within the first few months of baby's birth. Some babies shed the lanugo within the first month itself. The baby, of course, will not become hair-free. She/he would spot a normal amount of body hair even after a month. The baby might also be hairy by nature due to genetics (that is if you or spouse are hairy too).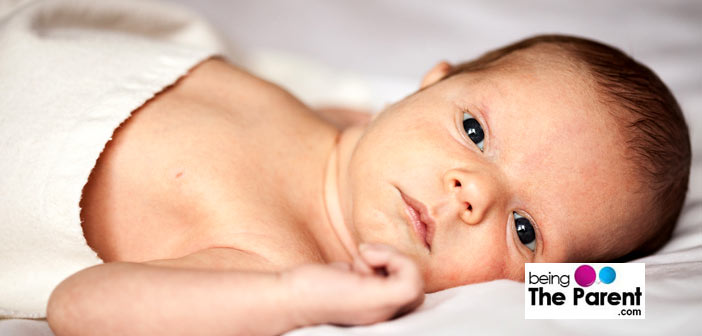 Can I Use "Ubtan" (उबटन ) To Get Rid Of My Baby's Body Hair?
"Ubtan"(उबटन ) is the "magical" Indian home remedy that the older generation used to reduce or eliminate hair growth. It basically involves making a paste with "besan" (बेसन – gram flour) and "haldi" (हल्दी-turmeric) in raw milk and rose water. This paste is applied on the baby's body and washed off once dried. Another home remedy is making a similar paste, but with "atta" (आटा – wheat flour).
Is "Ubtan" Effective And Safe To Remove Newborn Body Hair?
Is it effective? There is no scientific evidence that proves that this paste works. Rubbing "Ubtan" (उबटन ) on the skin can be much like a body scrub and this might remove the finer hair on baby's skin. So on a short term, it would look effective. But most of these hair was part of lanugo which would have naturally shed too. And the actual body hair that gets removed, grows back in after sometime anyway.
Is it safe? Not always. Baby skin is ultra-sensitive. Scrubbing, vigorous rubbing and washing can do more harm than good as it can irritate the skin, cause bruises and even result in skin allergies. The raw milk is not a good idea either. Raw milk contains a lot of bacteria like E.Coli and if baby takes in the mixture (as you might apply it on her/his hands and face), it can cause a number of illness.
But most important question you need to ask is "is it convenient?" The baby definitely does not like it. It is too irritating for them. It is not easy to make, apply and remove – so it is not convenient for you. So why do something that does not show enough benefits to justify the efforts you and the baby puts in?
Excessive Newborn Body Hair
As we mentioned earlier, lanugo is perfectly normal and will shed away on its own within a month or so. However, although rare, some kids have body hair due to a hormonal imbalance problem called congenital adrenal hyperplasia (CAH). Kids with CAH produce less of cortisol hormone and more of androgens (male hormones). More male hormone can mean more hair growth, both in boys and girls, but especially evident in girls. In such a condition wherein the baby shows no sign of shedding the lanugo after about 2-3 weeks after delivery, or the hair starts to thicken, attaining the balance of the hormones becomes necessary and you should seek medical advice for the same. Do not use home-made or other alternative treatments before consulting the doctor first. CAH requires hormonal therapy that can be a life-long. However, this is only a rare uncommon situation and more likely your little hairy-scary will start looking like those pink cuddly babies in pictures soon!
Happy parenting!