In the Indian culture, Khichdi has always been one wholesome dish, full of nutrition and filling to the core. Khichdi is made with dals or lentils, vegetables and rice, making it a complete food for all ages – you get carbs from the rice and proteins from the dal. Adding vegetables only makes it more nutritious and balanced. It often finds place in Indian homes as the baby's first foods, and can be prepared in many ways. Known to be easily digestible and light, Khichdi is one of the most common comfort foods in our country. Let us present to you vegetable khichdi recipe for your baby.
Vegetable Khichdi Recipe For Babies
Recipe Type: Beginners Food Category Khichdi Age: 6-9 Months Cook Time: 15 Minutes Prep Time: 30 Minutes
Ingredients
Moong Daal – 1/2 Cup
---
Rice – 1/2 Cup
---
Turmeric – a pinch
---
Ghee – 1/2 teaspoon (optional)
---
Mixed Vegetables (Carrots, Potatoes, Peas and Beans) – 1 Cup
---
Cumin seeds – 1/2 teaspoon (optional).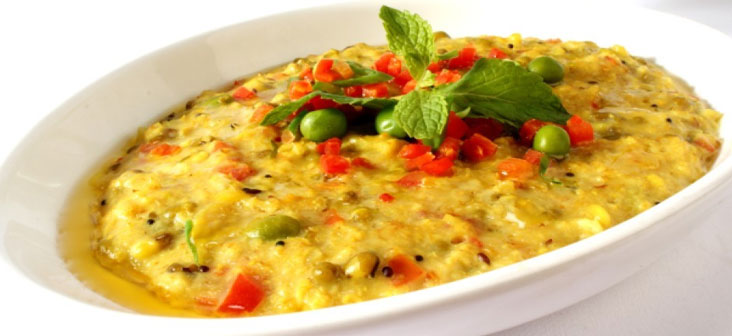 Directions To Prepare Plain Vegetable Khichdi For Babies
Thoroughly wash the moong dal and rice and let them soak for about 30-45 minutes
Wash and chop all vegetables into small pieces. Keep aside
If you wish to use ghee, take a pressure cooker and when it heats up, add ghee and fry cumin seeds till they crackle
Add the turmeric
Add all the vegetables, rice and dal and sauté for a few minutes
If you are not using ghee and cumin seeds, take a pressure cooker and add all ingredients with a pinch of turmeric for health benefits and for keeping the baby warm
Add about 4 cups of water and pressure cook till 3 steams
Open the pressure cooker after the steam is released and check the consistency as per your desired level
For added taste, you can add some ghee, though we'd advise you to strictly avoid salt till your baby turns an year old
Serve warm in a sterilized bowl