Most women who have a normal pregnancy (and not a high risk one) can enjoy sex up until it's time for labor. If you are worried or guilty about your sexual needs during pregnancy, do not! It is perfectly normal to feel even more sexual than usual during pregnancy. One question that may come to your mind is – can I use vibrator during pregnancy? You may be embarrassed to ask your gynecologist about this so here we try to provide you an answer to this question! Read on to know more on this.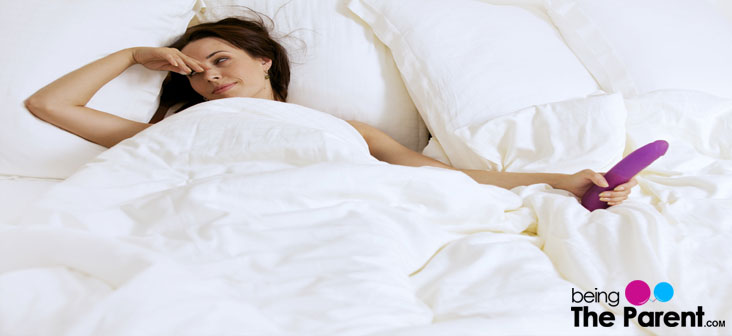 Is It Safe To Use A Vibrator While You Are Pregnant?
Benefits Of Using A Vibrator During Pregnancy
Precautions To Take Before You Use A Vibrator During Pregnancy
Warning Signs To Watch For While Using A Vibrator During Pregnancy
Talking To Your Doctor
Is It Safe To Use A Vibrator While You Are Pregnant?
The quick answer to this one is yes. As long as it is safe for you to have sexual intercourse, it is technically safe to use a vibrator too. And unlike what some people might tell you, using a vibrator during pregnancy does not "hurt" the baby inside. Baby is well protected inside your uterus (which has strong muscles) and safe inside the amniotic sac.
Benefits Of Using A Vibrator During Pregnancy
Having sex is an important aspect of every healthy relationship. As a pregnant woman, your body goes through a lot of physical and emotional changes and having sex can keep you connected with your partner. It helps to improve your mood and relax you. Just like it is safe to have sex during healthy pregnancy and it limits your risks of preterm labor, you derive the same benefits from the vibrator except for the connection with your partner, but then when your belly is the shape of a football, using vibrator during pregnancy remains the most comfortable way of deriving pleasure.
Precautions To Take Before You Use A Vibrator During Pregnancy
However, there are few things you need to keep in mind before using a vibrator while you are pregnant. Please find them below:
You would have noticed that a vibrator is much harder and rigid than an average penis. This means that you need to be careful and gentle while using the vibrator and not do any deep penetration
It is advisable to use external vibrators as the internal vibrators are made up of plastic which may put you in a risk of deeper penetration which can irritate your cervical lining and can be dangerous for your uterus and this can in turn affect your pregnancy
This goes without saying, but it is very important to make sure the vibrator you are using is clean and infection-free. Sterilize the vibrator after every use and store it in a clean and dry place
Try covering the vibrator with a condom before inserting it into your vagina to limit the risk of vaginal infections or any sexually transmitted diseases
If you have any conditions that have resulted in a higher chance of preterm labor, then it is best to avoid using a vibrator. This is because the use of a vibrator (or even a sexual intercourse) can lead to an orgasm, which can trigger uterine contractions, which in turn will kick start labor
If you have placenta previa, in which case your placenta will appear below your baby covering your cervix, you should avoid using a vibrator (or engage in sexual intercourse). This is because you are at a higher risk of bleeding or spotting and any movement can trigger it
If you have an incompetent cervix, then it is advised to avoid vibrator during pregnancy. If you have an incompetent cervix, it means your cervix is softer and weaker and hence you are at a higher risk of pregnancy loss or preterm birth. This condition is also known as cervix insufficiency. Using a vibrator, in such a case, can lead to pregnancy loss
If you have a short cervix, that is a cervix that is shorter than normal, then it is not safe to use vibrator. Cervix is basically the neck of the uterus and when completely dilated it opens up to 10 cm to let the baby pass. This means you are at a higher risk of premature labor and delivery. And as we mentioned before, it is unsafe to use a vibrator in such situations as an orgasm can trigger cervix dilation.
At any time during your pregnancy, if you have had any unexplained vaginal bleeding, spotting, or any other abnormal discharge, then it is best to avoid using a vibrator as you cannot be sure what can trigger further bleeding
If your water has broken already, then it is best not to use a vibrator
So unless you fall into any of the cases mentioned in this article, and if you are careful while using a vibrator, you can go ahead and have some fun!
Warning Signs To Watch For While Using A Vibrator During Pregnancy
Here are some warning signs that you must be on a look out for while using vibrator during pregnancy:
If you feel any kind of discomfort, irritation or pain while using a vibrator during pregnancy, immediately stop using it
If there is spotting/bleeding or have abdominal pain after using the vibrator, speak to your doctor immediately
As you progress to the third trimester, using a vibrator can trigger painful contractions. If the pain persists even after a couple of hours, talk to your doctor immediately
Talking To Your Doctor
Of course, as usual, if you are concerned, uncertain or have further questions, please talk to your doctor. Remember that there is no need to be shy or have inhibitions about talking to your doctor. It is better to talk and clarify than to abstain from sex altogether unnecessary or take unnecessary risks. If your doctor advises you against having sex, make sure you ask clarifying questions. For instance, by sex does the doctor mean penetration sex? Is it ok to use vibrators? Is it ok to engage in oral sex? Why exactly should sex be avoided (putting anything in the vagina as opposed to having orgasm through any means)? Depending on your specific condition, your doctor will be able to advise what can be done and what cannot be. It is best to follow the doctor's recommendation here. But the most important thing here is to make sure that you get the right information by asking the right questions without hesitations.
Have a healthy pregnancy!