When it comes to your child, you'd want nothing but the best. Breast milk is the premium and complete source of nourishment for an infant till 6 months of age. But as the child grows he needs more than just breast milk – for his optimum growth and development. After 6 months of age, a baby tends to lose the fat content of the breast milk that was earlier offered, and ghee can be an excellent way to make up for the loss. Often parents get confused when it comes to the diet of a baby. Pediatricians recommend semi solid food, rich in iron and proteins like pureed fruits, dalia, starchy vegetables, ghee (clarified butter), vegetable stock etc which can be easily digested.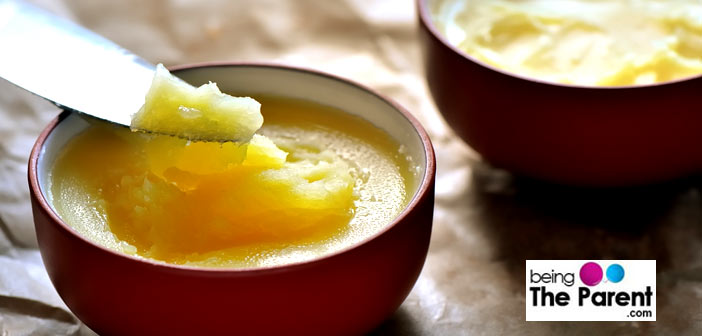 While all the options mentioned above seem healthy and nutritious many people are skeptical when it comes to giving ghee or clarified butter to their infants. Let us weigh the pros and cons before coming up with a definitive conclusion.
What Is Ghee?
Is Ghee Good For The Baby?
When Can I Give Ghee To My Baby?
How Much Ghee Can I Give My Baby?
Benefits Of Ghee For The Baby
Other Uses Of Ghee For Your Baby
Is It Risky To Give Too Much Ghee To Baby?
What Is Ghee?
If you are an Indian, you would be very familiar with ghee. Many household still prepare this simple butter. The exotic name is derived from the Sanskrit word (गोघृत go-ghṛit). Ghee is essentially prepared from cow's milk by simmering butter obtained from cream. It separates from the cream, leaving a liquid residue, with a yellowish color and a strong fragrance. Not only in food, but ghee in India is also used in many medicines and religious rituals. Many households still resort to making ghee at home, which is cheaper and better than the packaged ghee available in the market.
Is Ghee Good For The Baby?
Yes! It most definitely is. Ghee when given in the right amount can be very beneficial. It contains saturated fatty acids and is easily digestible; and can boost the caloric and fat intake of a baby. It is a general misconception that ghee acts and provides the same nutritional value as butter. Unlike butter, ghee is a rich source of vitamins and minerals and if consumed in moderate amounts it can help tremendously with the growth and development of a baby. It is not advised to give salt to babies till they are an year old, so adding a bit of ghee in their food will boost the flavor.
When Can I Give Ghee To My Baby?
Although ghee is packed with goodness it is essential that you make sure that you don't go overboard with quantities of ghee you feed your little one. Pediatricians suggest that you can start with a few drops of ghee when the baby enters his 7th or 8th month. A few drops of ghee can be more than enough. It will not only add a little bit of flavor, but will also help the baby to digest the food easily. Never feed ghee to your baby till he is 6 months of age.
How Much Ghee Can I Give My Baby?
You can start with a few drops of ghee in your baby's food and depending on how your baby likes the taste; you can vary the quantity accordingly. As your baby grows, you can gradually increase the quantity of ghee in his diet, but make sure that you do not go beyond a teaspoon per day. If you have a baby who is underweight, giving ghee in large quantities is not advisable, and it is best to seek the advice of your baby's pediatrician. Where the right amounts of ghee can be wonderful for your baby's health, unreasonably large amounts can be equally detrimental to your little one's health.
Benefits Of Ghee For The Baby
Ghee is one of the healthiest sources of fat. Even the ancient Ayurvedic traditions regard ghee as the golden elixir. There are several benefits of ghee some of which are mentioned below.
Helps in bone development: Ghee is known to be rich in Vitamin K2, which helps to produce calcium. Calcium is essential for the bone development of your baby. Ghee not only strengthens and develops the baby's bones, but it also helps with the lubrication of the bones. The best thing about ghee is that unlike other substitutes of fat like butter or margarine, ghee does not deposit or clog the arteries hence reducing risks of heart problems in the future
Helps in brain development: Ghee has the accurate amount of DHA and EPA, which along with Vitamin A, D, E and K helps in brain development. Ghee is also known to improve memory which will help your infant in the long run
Helps to build strong metabolism: It is recommended that you add a few drops of ghee to your baby's semi- solid food like dal, khichdi or dalia. A little bit of ghee will help your baby to digest the food easily. Ghee is rich in Vitamins A and E which strengthens the immune system. The Vitamin K2 and CLA present in ghee helps improve metabolism as well
Helps to gain weight: Mother's milk is the primary source of fat for a child. During the 8th or 9th month when the child begins to walk, he needs extra calories. It is advisable to give adequate amount of ghee to the child to maintain the balance
Rich source of vitamins and minerals: Ghee is enriched with Omega 3 and Omega 9 which will help with prevents skin disorders, cardiovascular diseases and digestive problems. It is a rich source of vitamins A, D, E and K which helps in the overall growth of the baby
Ensures long term benefits: Regular consumption of ghee in moderate amount will keep tissue related diseases like cancer at bay. It provides better immunity against cold, cough and fever. It also keeps your cholesterol in check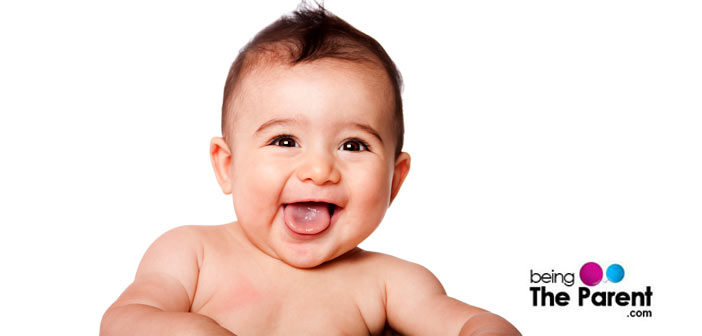 Find out how much ghee you should give your baby here.
Other Uses Of Ghee For Your Baby
There are various other ways to use ghee. Ghee when warmed with garlic will help with minor cough, cold and congestion. Rubbing warm ghee on your baby's chest in case of cough and congestion is a tried and tested home remedy in many Indian households. Ghee may also be used to massage your baby, but many child specialists advice against it as it may clog the pores. Read more about massaging oils for the baby.
Is It Risky To Give Too Much Ghee To Baby?
Just like all other things, excessive use of anything is bad; same applies for ghee. When it comes to ghee and other sources of fat, a little bit goes a long way. While a little bit if ghee helps prevents cardiovascular diseases, using and consuming excessive amount can increase the risk of coronary heart disease. Ghee has a higher smoke point, hence cooking it for more than the required time can burn the nutrition in the food.
Planning your baby's diet chart can get tricky. Even if after reading various articles and consulting pediatricians you seem unsure; we recommend you go by the simple rule that 'What is good for you is good for the baby'. Do not bring drastic changes in your baby's diet. Give your child ample time to get familiar with various foods and most importantly, exercise moderation with any type of food when it comes to your baby. If you have already been giving ghee to your baby, do share with us your experiences in the comments below.
Last Updated: 11 May 2017