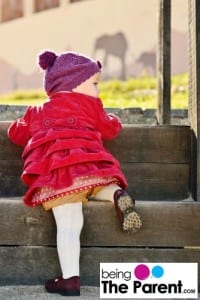 A fifteen month old baby develops a love affair with the word "No", and loves to dig into books – though when at a later age you will want him to, he will not be as interested! Around this time, the baby is likely to discover the strength that he possesses. He would go great lengths to explore the world around. Nothing is safe from the clutches of your child at this age. Once the baby is able to stand without any support, even shelves and drawers at a height are not safe from the baby. Be careful to place your medicines and sharp object at high places. On top of that, it is important that a person is attending your child throughout the day.
What most babies can do
By the fifteenth time, most babies are likely to walk smoothly. The initial hesitations and fumbling should be behind him/her by now. He/she can be expected to be fussy about the food that is being offered, though this is not universal. However, it is always good to try out different combinations of food to keep him/her interested and ensure complete nutrition.
At this age, a child can be introduced to ball games. Many children would follow a ball around incessantly without succeeding in catching it. He/she can be expected to run around without much success. Children around this age love toys. These may be fluffy or bright or colourful. Many would find a favourite among toys and cling onto it throughout the day. Your baby would be able to learn to use the thump for holding objects.
Children of fifteen months are likely to continue with their twice daily nap patterns. A total of fourteen hours should go into sleeping for most children. You would be surprised to find out how much toys are helpful during this period of growth. Apart from keeping your child occupied, these may help boost the analytical capacity of the brain. Block games and colour lids are common. Many children may enjoy pulling a pony as well.
What some children can do
The feet become the prime instrument for locomotion from the eighteenth month onwards. Some babies would take a few extra weeks to shed their crawling preference. They would use walking as the preferred mode of locomotion. Such developments indicate rapid strengthening of the lower limbs. At times, a child may attempt complex manoeuvres and stunts such as walking backwards. Holding a pencil or is no longer an exception. However, finding the proper grip and orientation is something that only some children manage at fifteen months.
What few children would do
Despite the fact that a child is able to walk without support by the time he/she is fifteen months of age, climbing up staircases may be difficult. However, few percentages of children may be able to climb stairs with support. Riding toys such as a tricycle may be managed by a few children. Few children of this age may even respond to cues of toilet training. Sounds would help him/her associate with certain activities. Still, it is not good not to expect your child to wet the bed.