Every morning it's a big task to decide what to make for breakfast. We all love our food and wants different variety each day especially children would love to have a different colorful dish served rather than same old cornflakes and milk as breakfast. So it's a good idea to change your menu every now and then and surprise your family. If your child fed up of eating the same breakfast every day and you run out of ideas about what to prepare every morning to make breakfast interesting for your kids, then just relax as we have compiled 7 simple and healthy Indian breakfast recipes for each day of the week which your children are sure to love.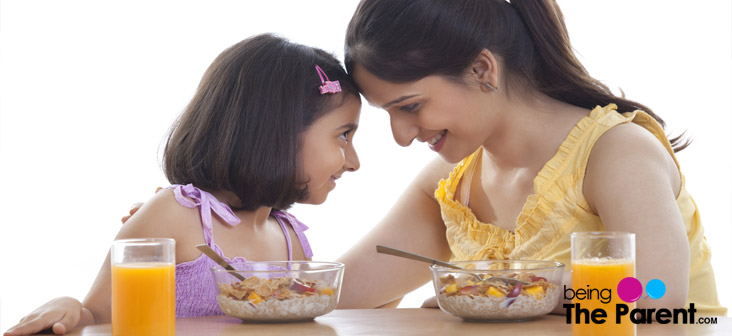 7 Yummy And Simple Indian Breakfast Recipes For Kids
Bread Upma
Sandwiches and french toasts are not the only options that you can make for breakfast with the humble bread. Here is another healthy recipe that will give the simple bread a new and interesting version and flavor.

Ingredients :
4 bread slices cut into bite sizes
½ teaspoon cumin seeds
2 tablespoons of oil
1 teaspoon mustard seeds
½ cup of onions and tomatoes finely chopped
1 teaspoon ginger that is finely chopped
1 teaspoon coriander leaves chopped finely
Some curry leaves torn into small pieces
1/4th teaspoon of turmeric powder
Salt as per your taste
Method:
Heat the oil in a pan and splutter cumin and mustard seeds. Add chopped onions and sauté well till they become translucent. Now add in finely chopped ginger and curry leaves and sauté once more. Now add turmeric powder, tomatoes, and salt and sauté again. When the mixture gets cooked, add the bread slices that have been chopped and cook again for around five minutes. Garnish with coriander before serving.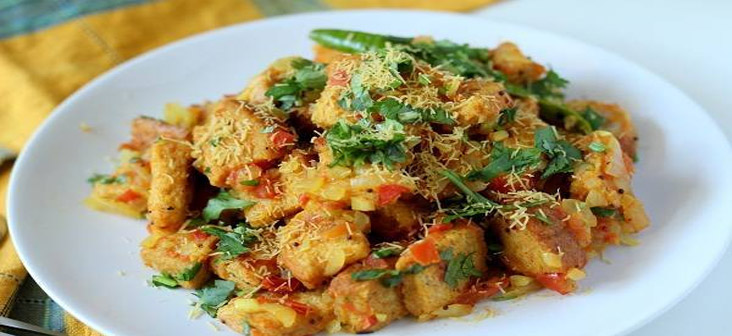 Source: https://in.pinterest.com/
Palak Puris
Puris are enjoyed by kids anytime and anywhere. SO why not give the simple puri a healthy twist. Here is a healthy breakfast option that your children will love

Ingredients :
Oil for frying
1 teaspoon green chillies made to a paste
1/2 tsp of cumin seeds
2 cups of wheat flour
1/2 cup of washed and cleaned spinach
2 teaspoons of ghee or butter to knead the dough
Salt according to taste
Water
Method:
Blanch spinach in boiling water and drain. Blend to make a fine paste. Take a deep bowl and add your wheat flour, ginger paste, spinach paste and paste of green chilies and make a soft dough adding water as and when needed. Add the above-mentioned quantity of butter or ghee and knead again till the dough is kneaded well. Close it and set aside for around ten minutes. Now make soft lemon sized balls out of the dough and roll each one out into small discs. Heat oil and fry each poori till they become golden brown. Serve hot with either mint chutney or a pickle of your children's choice.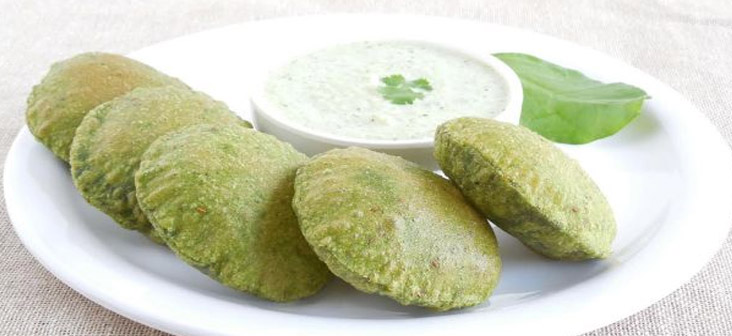 Source: https://in.pinterest.com/
Mixed Vegetable Utappams
An Indian version of pancakes with chopped veggies that make a healthy option for breakfast.

Ingredients :
Idly batter that has been prepared the day before
1 cup of finely chopped tomatoes, onions, cilantro and spinach
2 tbsps of veg oil
1/2 cup of grated carrots
Salt according to taste
Method:
Heat a skillet well and spread around half teaspoon oil onto it. Spread a couple of spoons of idly batter onto the skillet just like you spread a Dosa, but quite thickly. Now sprinkle a generous quantity of veggies, and close with a lid for a couple of minutes. Now open the lid and let it cook well for a couple of minutes more. Once done, serve hot with chutney of your choice.


Source: https://in.pinterest.com/
Chapatti Rolls
Ingredients :
1/2 cup Paneer crumbled
1 1/2 tsp of coriander powder
Chapatti
Onions, tomatoes, beans carrot and capsicum , all finely chopped
1/2 teaspoon of garam masala
Salt to your taste
Method:
Heat some oil in a pan and stir fry all the veggies along with paneer and the above mentioned masala for some time. Place a dollop of this in the middle of each chapatti and roll it well. Your yummy breakfast is ready to eat with sauce or a dip.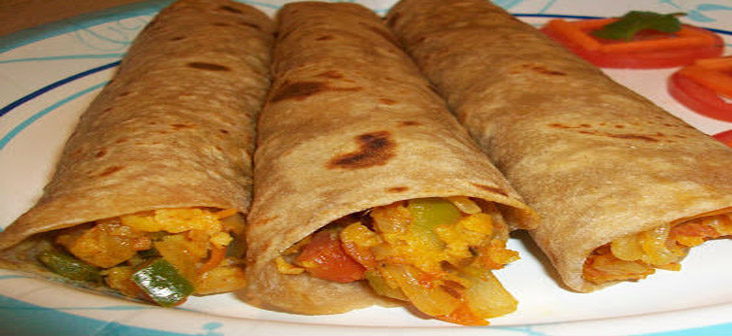 Source: https://in.pinterest.com/
Masala Omelet
A healthy and yummy option for children who love eggs.

Ingredients :
3 eggs
1 finely chopped green chilly
1 chopped tomato
2 tbsps milk
1 small finely chopped onion
A handful of coriander leaves
1/2 tsp of turmeric powder
Salt according to taste
Method:
Whisk eggs in a bowl. Add turmeric, salt and milk too and whisk once more. Now add onions, tomatoes, green chillies and coriander to the mixture and blend again once more. Heat butter in a frying pan and let the butter grease the entire pan well. Now pour just half of the egg mixture and spread it around the pan well. Let this cook for around ten seconds on high flame. Then lower the flame to medium and cook again for less than a minute. Now flip the egg and wait for the other side to also cook well. Cook till both sides turn light brown. Your omelet is ready to eat either with bread or pav.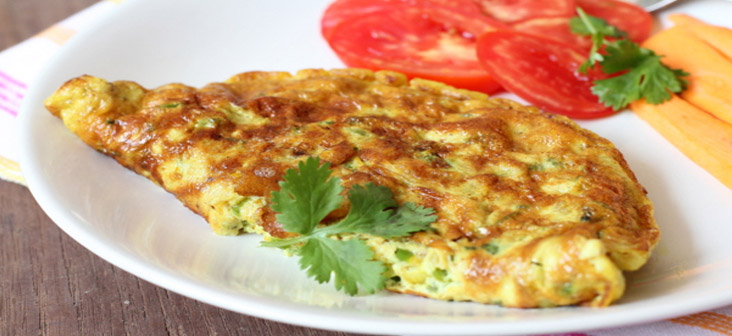 Source: https://in.pinterest.com/
Sooji Toast
An easy to make open sandwich recipes made with semolina (sooji) and other vegetables and spices.

Ingredients :
1/2 cup sooji
4 bread slices
1/4 cup finely chopped onion
1/2 tsp cumin seeds
1/2 tsp grated ginger
1/2 cup finely choped capsicum
1 finely chopped green chilli ( optional)
2 tbsp curd
2 tbsp finely chopped coriander
Salt to taste
Oil/ butter/ ghee as per requirement
Method:
In a bowl add all the ingredients except bread and oil and mix them well adding a little water. It should be a thick batter. Spread this batter over one side of the bread slice. Heat oil / butter/ ghee on a skillet and place the side on which the batter is applied on the skillet. Apply the batter on the side that is up. Cook on medium low flame until it becomes golden brown. Flip the bread slice to the other side and cook until crisp. Cut the toast into equal triangles and server hot with tomato ketchup.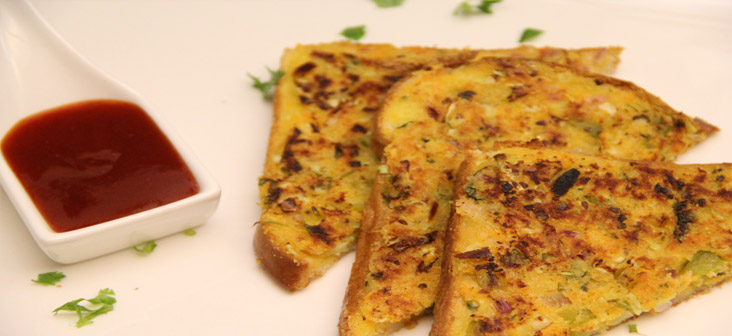 Source: https://in.pinterest.com/
Whole Wheat Banana Yogurt Pancakes:
Whip with these healthy and delicious pancakes for your kids and serve it with the banana and strawberries or any of their favourite fruit.

Ingredients :
1 1/2 cup wholewheat flour
2 tsp baking powder
1 tsp vanilla essence
2 eggs
1/2 cup yogurt
3/4 cup milk
3 tbsp sugar
1/2 tsp salt
2 tbsp butter
2- 3 bananas sliced
3-4 strawberries sliced
2 tbsp honey (optional)
2 tbsp whipped cream (optional)
Method:
Mix all the ingredients except butter to make a smooth batter. Heat a skillet and grease it with butter. Pour a ladleful of batter and spread it on the skillet like a dosa to make a pancake. Cook the pancake on both the sides till golden brown. Just before serving, top each pancake with banana slices, strawberries and some whipped cream. If you like, drizzle some honey on top and serve it to your children.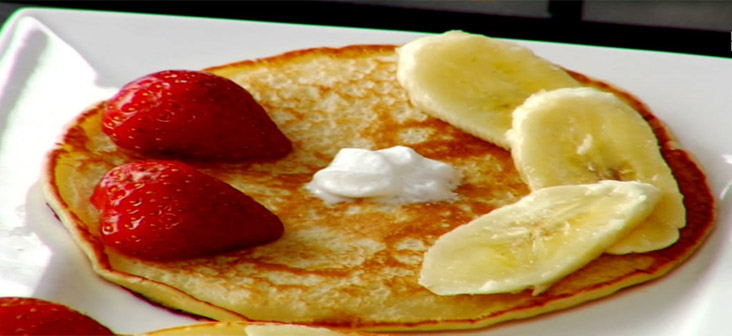 Source: https://in.pinterest.com/
Breakfast is considered the most important meal of the day so giving a wholesome breakfast to your child means that you are kick starting this day on an excellent note. We hope the above mentioned nutritious and simple recipes will help you prepare an interesting breakfast each day. These recipes are just a few of the umpteen Indian recipes you can concoct for your children who love eating a variety for breakfast.