When it comes to your child's diet, moms are so careful wondering whether their children are receiving the required nutrition from their diet every day. Mothers break their heads coming up with new recipes if their kids seem to be fussy eaters. One thing that is a must for your kid every day are almonds – which are an excellent supplement being loaded with lots of nutrients that are necessary for those growing years.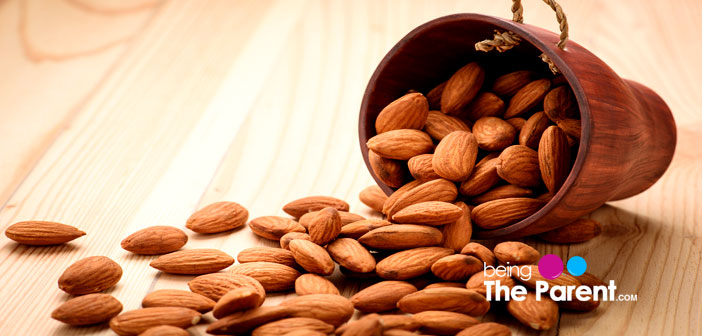 What Are Almonds?
Nutritional Value Of Almonds
How Can I Include Almonds In My Child's Diet?
Benefits Of Eating Almonds For Children
What Are Almonds?
Almonds have been often referred to as the 'king of nuts', and rightly so. Making up for a great, healthy snack, almonds have been known to contribute many vitamins, minerals, and unsaturated healthy fats in a handful. Almonds are of two kinds, sweet almonds and bitter almonds, also known as wild almonds. It is the sweet variety that is quite renowned for their wonderful properties and is what people all over the world love eating. The bitter almonds are used to make almond oil, which can be used in cooking and has other medicinal benefits.
Nutritional Value Of Almonds
Almonds are rich in fiber, vitamin, protein, and mineral content and has considerable amounts of essential fatty acids. They come loaded with vitamin E, manganese, potassium, calcium, iron, magnesium, zinc, and selenium. Because they contain zero cholesterol, they are considered a boon for heart health. They are also rich in beta carotene, which is a powerful antioxidant that helps boost immunity. A handful of almonds will provide a host of nutritional benefits for your child when consumed regularly.
How Can I Include Almonds In My Child's Diet?
Apart from being loaded with nutrients, almonds are very tasty and enjoyed by not only kids but adults too. They can be either eaten directly or just added to different food preparations. They are available in the market in forms like almond butter, syrup and almond milk. Raw almonds are available in different varieties like salted, blanched, un-shelled or shelled. If you children are too small to have them wholly, you can soak them in water or even powder them and add this to milk, which gives the milk a wonderful flavor which your child is sure to like.
Benefits Of Eating Almonds For Children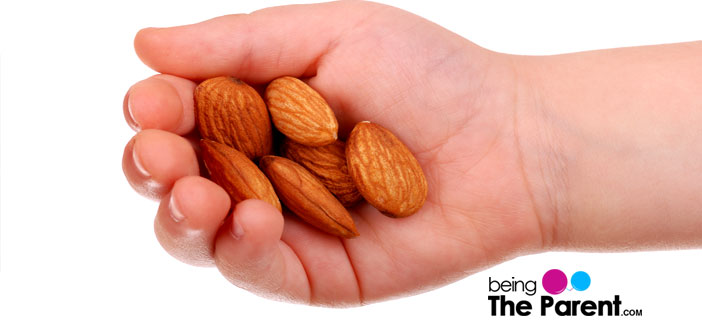 Given below is a long list of benefits of why you need to include almond into your child's daily diet.
Healthy and strong bones: Almonds are packed with phosphorus, which is ideal to strengthen bones and teeth especially during those growing years. Good news is that almonds also have medicinal properties to protect children from issues of osteoporosis as they grow older
Boosts immunity: The alkali content of almonds provides a boost for increasing your child's immunity. They play an important role as an antioxidant getting rid of all the harmful radicals in your child's body in turn helping to prevent your child falling sick often
Boosts brain development: Almonds are also loaded with L- Cartinine and Riboflavin which are some of the most important nutrients that promote brain development. They are also known to be good for your nervous system and have also been proven to be quite effective in averting the risk of Alzheimer's as one grows older
Provides an excellent energy boost: Also rich in copper and manganese apart from Riboflavin mentioned above, almonds have been known to act as an excellent energy booster for your children helping their system to maintain a commendable metabolic rate
Aids in weight control: Almonds are a boon for obesity, which is quite a common issue in kids these days. Providing your children with almond milk that is unsweetened is advised. Almonds make them feel quite full for some time cutting down their unwanted hunger pangs. They are packed with monounsaturated fats which avert children from over indulging in junk food, thereby aiding them to shed those unwanted kilos more easily
Rich in fiber: Almonds are also rich in fiber, which makes it an ideal medicine for children who suffer from constipation. Just ensure you give a couple of almonds to your child every morning and you will surely find a difference as they help to normalize bowel movements providing relief to constipation
Good for skin: Almond oil is highly recommended for even new born babies to keep all kinds of skin issues at bay. They help to make your child's skin smooth and supple and combat dry skin issues
Helps in concentration and memory: Almonds have been found to be good in increasing memory power and concentration in kids to a great extent. They aid in helping children to become sharp and active too
Heart friendly: The proteins, mono unsaturated fat and potassium in almonds are all heart friendly and help to maintain healthy heart functions. Almonds have been found to lower the risk of heart issues as these children age
Controls blood pressure levels: Rich in potassium and sodium, almonds help to regulate levels of blood pressure in children and lower the risk of blood pressure fluctuations in later life
Anti inflammatory properties: Almonds also boast of being rich in a couple of vital fatty acids linolenic fatty acids and linoleum which have been found to be excellent in lowering body inflammation
All the above mentioned benefits are more than enough to ensure you begin including almonds into your child's daily diet. However, it would be advisable to consult your doctor before including them in your baby's diet if he or she is too small.
Like all other products, almonds should be eaten only within limits and too much consumption may trigger unwanted side effects. Just two or three almonds a day would be ideal to ensure your child gets the necessary benefits from this wonderful dry fruit.