In most nursing moms across the world it is very common that both breasts are slightly different in size. Similarly many breastfeeding mothers notice that the milk flow is better in one breast than the other. The babies naturally prefer to feed from this breast. There are various other reasons also that force a mother to feed baby from one breast only. However, you might have heard that the baby should be fed from both breasts. There is nothing to panic about, if you are forced to feed your baby from one breast only. Read on to understand what are the reasons for breastfeeding from one breast only and how can you make it successful.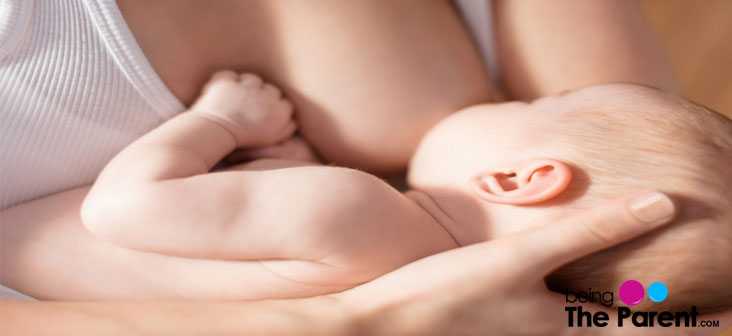 6 Reasons For Breastfeeding From One Breast Only
There are various reasons a breastfeeding mother may choose or be forced to breastfeed her baby from only one breast. Some of them are:
If due to a previous surgery or due to some injury, one breast is not capable of producing milk
Breast hypoplasia of any one breast. It is a rare condition in which enough glandular tissues are not developed, which affect the milk production
If the mother experiences some physical problem, which make her impossible to hold the baby on a particular side. For example, if a mother is suffering from hand paralysis of the right hand, she will not be able to hold the baby on that side. Obviously, she will have to depend on the left breast to feed her baby
Any issues like mastitis, breast engorgement, a nipple that is not easy to latch on, are some reasons that make it difficult for the baby to have milk from both the breasts
If the breast is subjected to radiation as a part of some treatment, the chances are more that its milk producing capacity will be seriously affected
If the baby gets a nose block while having milk from a particular breast, or if he has a sore inside one side of the mouth, or has an ear infection, he will prefer to have milk from one breast only
How To Start Breastfeeding From One Side?
If you have chosen to feed your baby from a single breast, the first thing that you have to consider is stopping the milk production from the other breast. This can be either an easy task or difficult one depending on the reason you decided to wean your baby from one breast, and the stage of breastfeeding you are in.
If the breast you choose to stop from feeding the baby produces less or no milk, it is comparatively easy to stop the milk production from that breast
If from the very beginning of breastfeeding, due to the physical incapability of the mother, breast feeding from one breast is preferred by the mother, it is easier to cease the milk production from the other breast, as the milk production depends on the baby's suckling to a certain extent
However, if the breast you decide to stop feeding has a well-established supply of milk, you should be very careful about weaning from that breast in order to avoid blocked ducts and mastitis, and take weaning as slowly as possible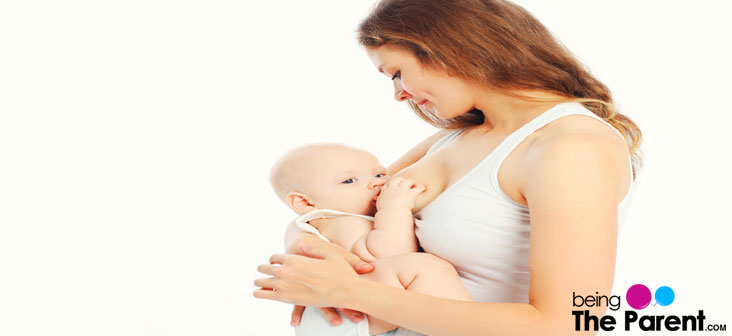 How To Tell If Your Baby Is Getting Enough Milk From One Side?
Breastfeeding from a single breast doesn't always mean insufficient milk supply. Again, whether the baby gets enough milk more or less depends on the reason why you chose breastfeeding from one breast only. It is seen that one breast can effortlessly make milk enough for one infant and (if all the conditions are favorable) even for twins for some lucky mothers.
If you have doubts as to whether your baby is getting enough milk, look for the following signs.
If the baby is happily playing after feeding or sleeping well after a feed, then it is a good sign that the baby gets enough milk
In addition, the weight gain of the baby will also be satisfactory if the baby is getting enough milk
Some of the signs that baby is not getting enough milk:
If the baby cries when the breast is taken away after feeding
If the feeding takes more than 45 min
If the baby urinates less frequently
If the baby always remains fuzzy
To avoid this, feed the baby 8 to 12 times every day i.e. nursing every two to three hours. If baby suckles more milk, there will be more milk production. It is seen that milk supply to a large extent depends on the demand. Try not to use formula milk in between feeds. This will affect the milk production. However, if the baby's doctor suggests, using a breast pump will prevent the breast milk production from being reduced.
Will I Look Lopsided?
If you are breastfeeding your baby from one side, you may notice that one breast is larger than the other as it is making milk, but hardly anyone else will be able to make out the difference. Your breasts will go back to their original size, once you have weaned your baby.
Hope all the above tips are useful for you if you have decided to breastfeed your baby from one breast only. It is very much possible to breastfeed the baby successfully with one breast. Even if it may be hard in the beginning, eventually you will get the hang of it and can easily feed your baby using one breast only.
Have you ever breastfed your baby with only one breast? Do share your experience with us in the comments section below. All the best and happy feeding!