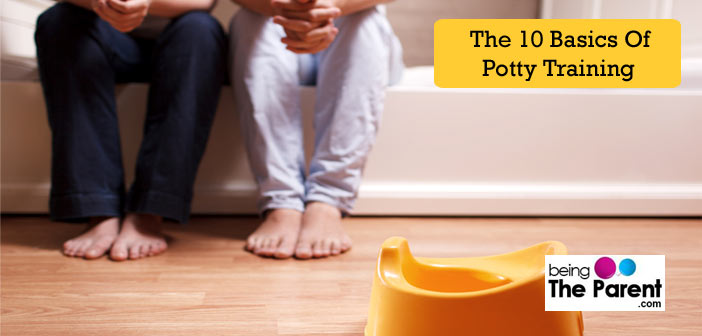 Parents are generally eager to get their kids potty trained – which marks the end of diaper changing routines. Potty training is one of the most grueling tasks that you would face while helping your child grow into an adult. Babies would be expected to use the toilet seat once they reach around 18 months. The total length of the training would vary, but it should take at least a couple of months for your child to learn to use the toilet without any help.
While training your child, the following steps may prove effective. At the same time, you would do well to improvise and identify areas that your child would respond to.
The 10 Basics Of Potty Training
Knowing when to start: This is a key factor if you are to ensure far reaching and effective results in your endeavor. There is no definite time regarding when to start potty training in your child. But you should begin thinking of it once the first birthday has passed. Do not leave it too late and neither start it too early. Typically, an 18 month old starts to identify when his bladder seems full. Also, assess if the child is able to follow instructions, and is able to walk and sit on his own. Can he take off his bottoms? Is he able to gesture when the urge strikes? All these factors will determine whether your child is ready or not.
Additionally, do assess yourself as well – will you be able to give your child the patience and time? If any of you is going through a difficult phase, it is better to postpone a bit
Sticking to a schedule: The first thing that you as a parent need to do to train your child is to set a schedule. To begin with, make your child sit on the potty seat with her clothes on – at a time when she is likely to pass bowels. Slowly, transition from clothes to bare bottoms. Explain to the child that this is how all adults do it, and if she is willing, you can proceed further. This would allow you to have a target and a guideline to help you achieve the requisite results.
However, just in case your child feels uncomfortable, leave it there and then. Never restrain your child to sit on the potty, especially is she is scared. It is better to postpone the training to some other convenient time
Patience and Time: The habit your child develops during these early weeks is going to persist and have an effect throughout his/her life. So the important thing here is to be patient and take ample time. Start slow by setting up once or twice a week schedule. Then it can gradually be increased to three and eventually for every day of the week. Do not begin the process if you or the child are drained emotionally or physically. A new job, change of house, separation etc. are some situations where the requisite patience may not be on your side. It would be in the best interest to start sometime later in such a situation
Get The RIGHT Toilet Seat: The next important step to be undertaken is that of purchasing the toilet seat. Now, you need to make your toddler a part of selecting the potty equipment for himself. Encourage the child to pick up his favorite color, while ensuring that it is comfortable and easy to clean. If shopping for a boy, go for ones that come without a urine guard or with a removable option. This will ensure that the guard will not cause any harm to the boy's penis, which will ensure that he is not scared away from the equipment

Set the toilet seat in the bathroom: This would help set the environment. Make sure that the toilet is clean as toddlers try to be fidgety and may touch or play around with other things in the bathroom. This can also be done after your child starts feeling comfortable in the toilet seat. In the context of potty training, these stimulants would help your child know when to urinate or poop
Refrain From Forcing: It is okay if your child fails initially. Do not try and force your child to complete his/her business in the stipulated time window. Allow your child the flexibility to evaluate, understand and practice. Tots are little beings in the making, and forcing can scare them off and you may have a tougher time ahead. Restraining toddlers always does more harm than good, so let it go and try some other time
Rewards: An extra bed time story, verbal praises, appreciation or a reward like an ice cream treat or a visit to a place that your child loves would be a great stimulant. It would provide a sense of purpose for your child. Be sure to appreciate even when the child fails. It is the efforts that matter
Accidents? Oh Yeah!: After toilet training of your baby has begun, do not expect your baby not to have the occasional accident. Be prepared for it until he/she is fully trained. Temporary setbacks are pretty normal and a child typically has several accidents before he learns to keep himself dry all day. An accident does not imply you or your child have failed, refrain from getting upset or shouting at the child. The tot is still learning to control the urges and understanding why is it required to use a potty. Do ask him to use the potty the next time, but be positive and loving
Night Training: You can also initiate night training when the child is able to largely keep herself dry during the day. Tell her to continue the diaper but call for mommy if she feels the urge and needs to use the potty. Ditching the diaper will need to be a slow, gradual process and may take quite a few months. Also make the tot use the bathroom the first thing when she gets up in the morning
Encourage a healthy diet: A smooth bowel movement and regular toilet procedures is dependent a lot on the diet. Include a lot of water and roughage in the same. A healthy diet can go a long way to help your child have a smooth bowel movement all her life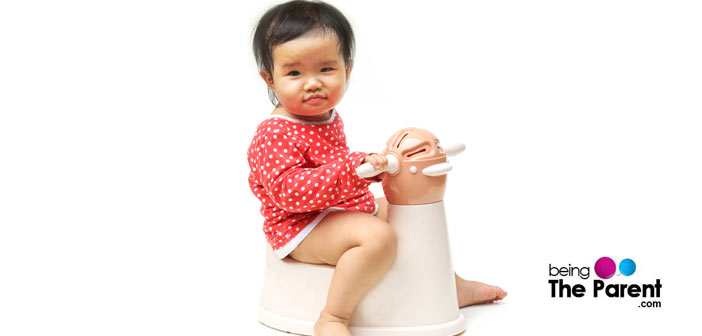 Most parents want to initiate the potty training process, but not all are prepared for the challenges that follow. Patience and time are the keys, and in general, the younger the child is, the longer it takes to potty train him. In the initial phases of life, an infant knows little about toilet procedures. As he/she grows older, the need to be trained to manage one's toilet routine becomes important. Potty training is a vital part of your child's life. A well-developed habit would save your child from countless inconvenient situations and help him develop into a healthy individual.