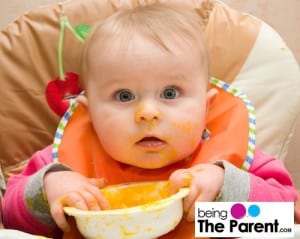 Preparing baby food demands lots of caution and care, be it formula, breastfeed or solids. Once your baby starts on semi-solids, there are many items you can offer her. Apple, broccoli, carrots, potato etc. are few commonly given food to the babies. If you want to give your baby various fruits and vegetables, give these in pureed form or after grinding these. Some food needs to be boiled before you make puree. Try adding less water when you boil such foods. Mash and strain the using a sieve to remove any uncooked part or seeds. These days doctors suggest that baby should be given all the food, rest of the family members eat. The only difference is that while giving regular food to baby, mash it or make puree before serving it to the baby.
It is very essential to maintain proper hygiene and cleanliness while preparing and storing the food for the baby. Babies are prone to illnesses caused by bacteria in food, and food contaminations can have severe consequences. Hence, the following things should be taken care of:
The food needs to be given to the baby frequently. If you happen to like the idea of preparing it in one go then you need to store it safely. Store the feed in air tight containers in the refrigerator and consume it within two days. You may also keep the leftover food in ice tray. Once it becomes frozen solid, you may shift it to freezer bags and keep it in freezer.
Never leave your baby's food uncovered. Always cover it and keep it clean.
Wash your hands properly before you serve the food to the baby.
Always ensure that baby's food is prepared on a clean platform and in clean vessels.
Do make sure to change/thoroughly clean the sponges used to clean utensils.
Leftover food in baby's bowl should not be stored for later use.
Do not reheat your baby's food more than once. Do not store any food that has been heated and then not consumed by the baby. The best way is to heat the food in small quantities which you feel your baby will consume easily.
Keep changing kitchen napkins or clothes frequently.
Before you cook stored frozen food, let it get defrosted completely. Do not refreeze the food once it is defrosted.
Stir food well, if it is heated using microwave, to avoid any hotspots.
Keep in mind to offer variety of foods to your baby to help developing her taste.