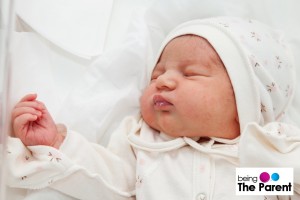 How in the world is this little thing capable of creating so much waste and smell? Ha ha. If you'd counted, your diaper changing score should have been more than 200 now, and you'd be surprised at how you can actually survive without getting any sleep. Fascinating! The baby now knows who you are, figuratively; and recognises your touch, voice, smell and appearance. He likes to be held in your arms, being stroked and massaged. He's had his first date with the doctor by now, and might even make a cooing little sound on hearing your voice.
Your Baby:
I am growing Mama, well this is what your baby would say if he could. As of now, we would do the job for him. He's hungrier, and poops like all the time. He is more alert, and is trying to absorb the environment around him. Make him sleep on the back but there should be some of tummy time as well, when he's looking around the room. This is necessary as it helps prevent SIDS. He's probably smiled at you by now, along with his first sound (other than crying). And, we saved this one for last, it is just this time that colic starts! Colic is essentially a name given to a baby that cries atleast three hours a day, continuously, for atleast three days a week, giving the parents real hard time. Nothing can bring them comfort, and as parents stop worrying if you have done something bad to the baby. If your baby is colicky, he will cry almost nonstop, generally towards the end of the day, and this will only increase till he is 6 weeks old, finally going away by the time he is 3 months. Though, parents find it really heart-breaking to see their little bundle of joy crying inconsolably, you could try swaddling, rocking, or having some noise like that of a vacuum cleaner. Do not feel guilty, even science does not really know what causes colic- though bets are on immature digestion, reflux, and too many sounds and scenes even in a calm home.
You, Mama
Baby-blues is completely understood, while everyone kept on telling you how the arrival of the little one will be the most exciting phase of your life, and here you are, irritated, sad, and restless, in pain and getting into some depression. Share your feelings with your partner, spend some time on yourself, a hot shower and good food can be a mood booster. Take help, ask for it. You might feel emotionally worn out and low. Post-partum depression more severe form but is normal, with sleepless days and nights and the hormones at play again. If you feel you are at the severe side with anger, bad thoughts, and frequent crying, do consult a doctor.
P.S. If someone from the family offers help with the baby, grab it! Take a shower, or talk to a friend during that time. Catch on lost sleep. There's more in the kitty to make you a supermom a little later!