Is your baby is now a toddler and you think it's time to move her to a toddler bed? You would have heard so many tales and stories from friends about how difficult the transition for their child was. That makes it even more difficult for you and you're undecided about when to make this change for your own little one. Some toddlers resist this move, while others just make the switch seamlessly. Listen to the advice and tips you get, but choose only what you think will work for your child.
There really is no 'right' or 'best' time for your little one to make the move from her crib to a bed. This is a big transition for her, and you want to make it as smooth as possible. Every child will adjust differently to the change, and you would need to take utmost care in the initial days to ensure that your baby adapts to it gladly. Choose the time that you think is right for your child, and follow these tips to make it a happy change.
When Do Babies Usually Start Sleeping In A Toddler Bed?
Most kids move into a toddler bed when they're two-to-three years old, but there are no set rules. It is an important life change for the little tots, and brings with it new fears and insecurities. Show them patience, and help make it an easy time for them by keeping the following tips in mind:
Assess if your child is ready for the move. Don't be pressurised by what others say and make it a sudden one. You know your child best, and know what is a good time to shift her out of a crib. Talk to her and prepare her for sleeping in a big bed. Get her excited about the switch.
Don't make the switch while there are other changes taking place in your child's life, like potty training, starting playschool or moving to a new house. Let her handle one milestone at a time, and she will adjust faster.
Arrange the move to the big bed at least 6-8 weeks before the arrival of a new sibling. Your child should not feel that she had to move out from her crib because of the new baby. Make this change beforehand, so that she does not connect the two events.
Get her involved. The crib denotes safety and security for the little ones, and changing to a big bed may seem scary to some children. Let your child participate in choosing her new bed and bedding. This will make her feel that she's part of the decision, and get her excited about sleeping in her new bed.
Create a similar atmosphere to the crib. Try to place the new bed in the same spot as the crib. Place her old comfort items like a favourite stuffed toy, or the toddler blanket she loves, in the new bed. Being surrounded by her familiar and beloved belongings will make the transition easier for her.
Choose to have bed rails. Your infant is used to the confines of the crib, with the safety railings around it. She may not realise the dangers of jumping or tumbling off the new bed. Give her the added security of bed rails to avoid accidents, especially in the initial days. These would also prevent her from wandering in the night.
Add a nightlight. The soft light will help soothe your little one during this transition period.
Don't overcrowd the area around her bed. If your child can see too many toys while in bed, she's going to get distracted. Keep it clutter-free and she will fall asleep faster.
Keep to her routine. Don't change the bedtime routine and rituals of storytelling or music that your toddler is used to. Everything except the actual bed should remain the same. This helps dispel any insecurity that may crop up due to the move.
Be patient and sympathetic. Talk to your little one patiently about how you felt when you made the change as a child, and help her make the adjustment. You can help your child prepare for this huge transition by talking about older siblings or cousins who sleep in a big bed. Books can also help – read her books and stories about this move. Sometimes, it helps not to make a big deal about it. Your child may just surprise you by taking it all in her stride!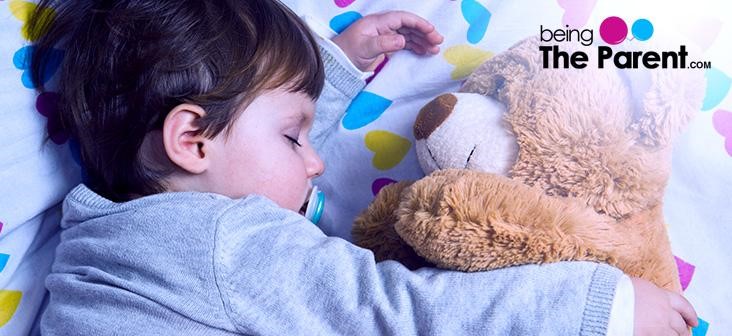 Change isn't easy for anyone, and each child is different. Some of them ask to sleep in a big bed on their own, while others may be hesitant to do so. You are the best judge of your child's needs and should follow your instinct in this. It is a major milestone for your toddler, and your sweet little child may suddenly become a whiny, cranky and clingy baby during this phase. She may want to slip into your bed during the night. Try to get her back to her bed, but be flexible by letting her sleep with you once in a while. Empathy and understanding will soothe her fears and insecurities.