Widely used in Indian and other South Asian cuisines, turmeric is one of the most effective natural health supplements known to mankind. It is extensively used for its medicinal properties in the Indian traditional medicine science Siddha, and owing to its rich, golden color, turmeric forms an important component in dishes outside of South Asia. With a host of medical benefits, turmeric can be very beneficial for both the brain and the body, and if you are a breastfeeding mom, you can include it in your diet for many benefits thereof.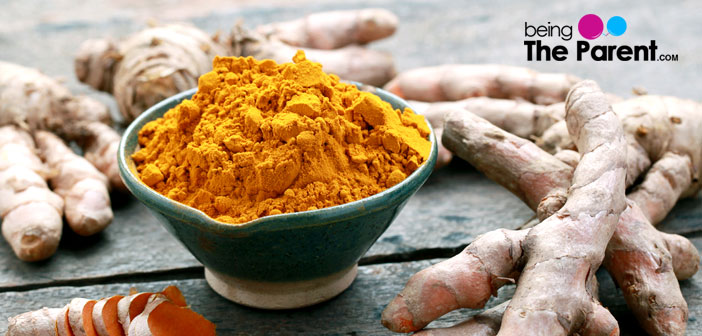 What Makes Turmeric A Super Spice?
10 Health Benefits Of Turmeric For Breastfeeding Moms
Is Turmeric Safe For Breastfeeding Moms?
What Makes Turmeric A Super Spice?
Turmeric contains Curcumin as the main bio-active compound boasting of many powerful medicinal benefits. It has anti-inflammatory, antioxidant, antibacterial, anti-fungal, antiviral, antidepressant, anti-ageing, and anti-carcinogenic properties. Commonly known as the 'queen of spices, this golden, pungent-smelling spice has been an integral part of Indian cooking, and is also believed to have galactogogue properties as well. This powerful compound is beneficial for almost everyone, and if you are a breastfeeding mother, you too can benefit from this incredible spice.
10 Health Benefits Of Turmeric For Breastfeeding Moms
Immunity booster: A breastfeeding mother needs to be careful that she does not catch common infections like cold, cough, flu etc. as she runs the risk of passing the same to her infant. Thanks to lipopolysaccharide, and the anti-bacterial and antiviral properties of turmeric, you can boost your immunity by adding a little turmeric to your diet everyday
Helps in Mastitis: Many breastfeeding moms face the issue of getting mastitis, which can be quite painful. The anti-inflammatory properties of turmeric have been proven to resolve the issue and hence can be helpful for breastfeeding moms. Not only Mastitis, but any inflammation in your body can be effectively dealt with by using turmeric (Source)
Works as an anti-depressant: A new mother copes with lack of sleep, physical discomforts and a baby that demands constant attention. Enough to send one on a panic attack! Turmeric can again come to your rescue as it improves brain function, improving memory, dopamine levels and hormones that increase the growth of brain cells and fight degenerative properties.
Promotes digestion: Turmeric can prove useful in treating problems associated with indigestion. It helps in the production of bile and keeps gas and bloating at check thus promoting digestion
Prevents breast cancer: Turmeric is a powerful cancer fighter, and inhibits the growth of cancer cells, and their spread at the molecular level. Regular consumption of turmeric may just prevent some cancers altogether, and as studies are underway, turmeric may just become a key ingredient in conventional cancer treatments soon
Natural painkiller: New mothers often suffer from pains and aches but refrain from taking oral painkillers. However, turmeric can help you here as well! The spice is a natural painkiller and heals the body from inside and is found to be useful for joint and stomach pains
Used as a galactogogue: Turmeric is widely used in India as a means to boost the production of breast milk, though scientific evidence on the same lacks. Turmeric is often fed to lactating moms in drinks such as almond milk and is believed to boost breast milk owing to its anti-inflammatory and healing properties (Source)
Weight management: As all new mothers are wary of gaining too much weight, having a teaspoon of turmeric after your meals may just help you from obesity and weight gain
Checks cholesterol: Several cardiovascular ailments can be prevented through regular consumption of turmeric in the diet. Curcumin found in turmeric improves the lining of the blood vessels and prevents heart diseases
Healthy for liver: Being a natural liver detoxifier, turmeric helps the liver to produce enzymes that help your body get rid of toxins. Turmeric also boosts blood circulation and aids in good health in breastfeeding mothers
Is Turmeric Safe For Breastfeeding Moms?
Turmeric is widely recognized as a safe food ingredient when consumed in moderate amounts through food and orally only. Avoid turmeric supplements as excess turmeric in the body can cause you to shorten your lactation time. Dietary supplements of turmeric may contain multiple ingredients and are best avoided in this sensitive phase of your life. We strongly suggest you take your doctor's advice if turmeric is new to you or you want to know more about this spice during breastfeeding. Studies on the effect of turmeric on breastfeeding infants are also not conducted, so using the spice moderately and looking out for any anomalies is the key to including turmeric in your diet.