Ghee (घी) has been an integral part of Indian culture and cooking. Many of us swear by the goodness of Ghee, and many older people still suggest to have a tea-spoon of Ghee to cure common ailments like cold, cough, stomach ache and the like. In pregnancy, pregnant women are advised to add Ghee to their daily food. Some women also swear by the benefits a teaspoon of Ghee can beget when added to a glass of milk. Ghee is often recommended to be consumed in the last month of pregnancy.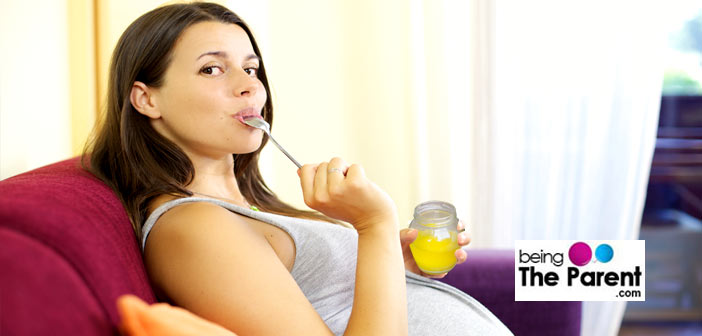 Why Is Ghee Recommended In Pregnancy?
Though there is no scientific evidence to substantiate this claim, Ghee is said to benefit pregnant women by:
Lubricating the vagina, hence paving way for a smoother delivery
Acting as a laxative and thus stimulating contractions in overdue pregnancies
Ghee (घी) is also believed to aid digestion and prevent constipation- a major discomfort in pregnancy
Keeping the body warm, strong and nourished
Developing the brain of the baby
Often, the above benefits are cited by the family elders when they pester pregnant women to have Ghee as a regular item in their diet.
Is Ghee Really Necessary In Pregnancy?
Latest research claims that a pregnant woman needs 200 extra calories to nourish her baby. If you are on the right track and consuming a well-balanced diet fortified with vitamins, minerals and carbohydrates by consuming fruits and vegetables and healthy compounds, Ghee can stay off the list. If there is a need for you to get some extra calories, your doctor can advise some healthy, wholesome food to help you with. Ghee is undoubtedly fatty, and if you are already on the other side of the scale, it is best to avoid a high fat intake. Consuming a lot of fatty food can accelerate your weight gain and complicate your pregnancy. Copious amounts of Ghee can also attribute to diarrhea during pregnancy. Read about it here.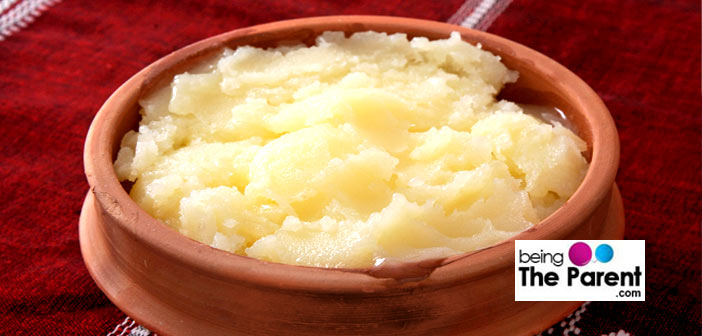 But My Elders Insist That I Have Ghee…
In such a case where you want to have Ghee (घी) so as to seem respectful to your elders and well-meaning friends, you can have Ghee with some moderation. While Ghee is the best alternative to other butters and fats that one consumes, consuming it in moderation is also highly essential. Either have your food cooked in Ghee, or take a little bit of Ghee in warm milk. Make sure that you do cut off some other high calorie foods now that you are having Ghee. Ghee is a healthier fat, and consuming it can be coupled with some moderate pregnancy exercises to keep the fats from building up. Remember, the more you gain weight now, the difficult it will be to get rid of it later. Shedding fats accumulated in pregnancy can be a lot tougher if you have consumed too much fats. If at all you fall prey to obesity, please keep in mind that it can hamper your chances of having a smooth labor and delivery. You will need to strike a balance between the fatty foods you eat so as to derive optimum benefits from all of them.
What Else Can I Do To Have A Normal, Vaginal Delivery?
If you are eating well, have included some physical activity on your schedule and are otherwise healthy, you stand a good chance to have a normal, healthy delivery. However, pregnancy is unpredictable and no doctor can say with certainty how your delivery will be like. Keeping up with antenatal appointments, taking your supplements on time, eating a well-balanced wholesome diet, ditching the bad habits, regular exercises and keeping a positive frame of mind are just some ways that can help you sail smoothly through labor and delivery. Many pain relieving methods are also available to help you cope with the pain and ease the delivery. You can read more about labor and delivery here.