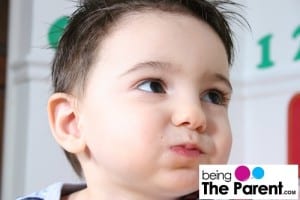 Sounds and more sounds. Do not be surprised at your little one's ability to produce sounds in various pitches and volumes and even tones. A soft speaking environment may just about contain the behaviour from developing as a habit. You may also find your little one glued to a favourite toy -at all times. A 17 month old has now developed a liking for a certain set of clothes, foods, activities and even toys – he will protest if there is anything that he is not happy with and will flash many moods and colours to his personality.
What most children can do
Seventeen months after his/her birth, a child can readily utter human words. Speech would have developed to an advanced level by this period. Some common words would be spoken easily. During this period onwards, the child would develop a tendency to imitate people or events occurring around him/her. The receptive capacities of the brain begins to blossom around this time. Therefore, it is important to be careful regarding what kind of television shows the child is exposed to. By the seventeenth month, your child would require a lot of toys. Toys that promote movement such as plastic horses are ideal. To make actual use of these toys would still take a couple of weeks more. A tricycle is another option. Sometimes the child would also show you his frustrating side – and yelling or hitting is common. He may love to go vocal and experiment with pitches and volumes, tones and sounds. Encourage soft speaking skills now – this is the time. Another thing that a child at this stage monitors is his routine – any step that you miss – from the previous cycle- would come back at your with raised eyebrows and a degree of protest.
The reflex action of a child would also advance during this stage. He/she would communicate with others, usually through a combination of gestures and speech.
What some children can do
If your child is seventeen months old, then school is not much far away. He/she would be well served by learning essential things like how to hold a pencil. Some children may be better off in these aspects and show the ability to scribble on a piece of paper. He/she may even be able to recognize the different colours. Some children would be able to ride a tricycle with little assistance. This, of course would require great strength in the feet. Climbing up a staircase (standing and not crawling) is another rare feat that can be accomplished by some children of this age.
It is common for children to be exposed to vast volumes of written objects. Some children may even make the connection between the written word and the spoken language.
What few children can do
Despite the fact that movement is relatively unrestricted during this phase of the baby's growth, your child may face problems in certain activities. Learning to kick a ball in standing position is something that is rare for children of this age. Very few may still be able to try doing so. An even fewer would actually succeed in doing so. Babies may even show the ability to coordinate between the different organs of the body such as the ear and the body. An example of this type is when your child swings his/her body in response to music.
Taking off clothes or wearing them is something a small number of children would be able to accomplish at this age. However, the trick of undoing buttons would still be some time away.