As a new mother, you would have thought of ditching the nursing bra and picking up the bottle at some point. Well, you would have come across many people saying that formula is just as good for the baby, and you could be exhausted with breastfeeding. So what is breastfeeding was as beneficial for you as is for the baby? The fact is that breast feeding is not only good for babies but is also great for mothers both physically and emotionally. And yet most of the time mothers consider benefits of breast feeding solely for their babies. Perhaps if they will start considering that continuing to breastfeed is also providing them numerous health benefits, may be mothers won't try to quit breastfeeding their child when they run into any problem or at least not consider it merely as an obligation or duty. Dual benefits, twice the reasons to breast feed. (Read about how breastfeeding benefits babies here)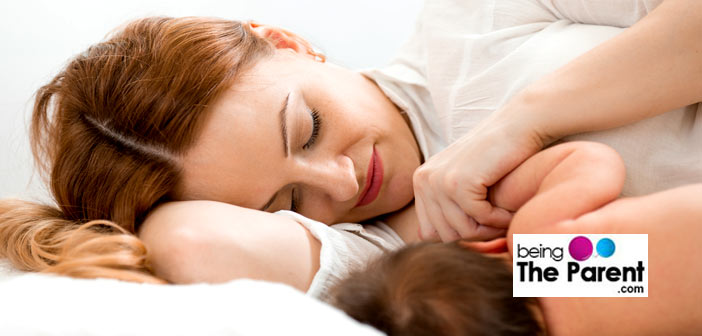 10 Ways Breastfeeding Benefits Mothers
The health benefits of breastfeeding for mothers are vast, and include protection against so many diseases. Below are just ten of them:
Quick postpartum recovery: The sucking action of your baby after child birth initiates the release of oxytocin hormone inside your body. This hormone not only helps the breasts to release milk but at the same time starts promoting the uterine involution – returning to the non-pregnant state in women. Breastfeeding women recover early and better than those who do not breastfeed
Psychological recovery: Hormones associated with breastfeeding helps the nursing mothers in forming a unique special bond with their newborns. Prolactin hormone produces the calm relaxing sensation that allows you to focus more on your child and also helps you in forgetting the agony of labor
Prevents the postpartum hemorrhage: Postpartum hemorrhage is defined as the loss of more than 500ml of blood after delivery but the mothers who start breastfeeding immediately after child birth prevent themselves from undergoing this life threatening condition. Breastfeeding prompts the release of oxytocin hormone naturally inside your body and thus aids in the process
Conserves iron in mother's body: In breast feeding mothers delay of periods is quite common condition and they can stay in this amenorrhea condition for several months. This natural delay of periods provides them an important benefit of – conserving iron in their body. Apart from it breastfeeding also provides natural spacing between two pregnancies by delaying ovulation. Though this depends on the baby's frequency of feeding and other factors concerned with the mothers body
Aids in weight loss: Breastfeeding uses at least 200 to 500 calories per day. This loss of calories in breastfeeding mothers happen without putting any effort on their part whereas bottle feeding mothers will have to do a regular exercise for almost an hour daily just to burn the same amount of calories. Thus breastfeeding mothers lose weight more easily as compared to non-nursing mothers
Reduced risk of osteoporosis: Breastfeeding women have reduced risk of osteoporosis as compared to the non-nursing women. In fact there are some studies which suggest that once the mothers start weaning their children their bone density returns to pre-pregnancy state or may have higher levels. Also, the women who don't nurse their baby have higher risk of hip fracture after menopause
Reduced risk of ovarian and uterine cancer: Ovarian and uterine cancers have been found commonly in non-breastfeed women as they experience the repeated ovulatory cycles and are more exposed towards higher levels of estrogen. During lactation, estrogen levels drop and there are lesser chances of stimulating the uterine lining. This accumulates lesser chances of these tissues to become cancerous
Reduced risk of breast cancer: Breastfeeding women have lesser risk of developing breast cancer and recent studies has found that when women breastfeed their child from 6 to 24 months in her reproductive lifetime, she may also reduce the risk of breast cancer by 25 percent. The more a woman breastfeeds, the lesser the chances of breast cancer
Reduced risks to heart: Women who breastfeed their child for longer period of time have significant lower risk of cardiovascular disease as compare to the women who had not breastfed. Also, they generally have a high HDL cholesterol and this good cholesterol profile lowers the risk of numerous heart problems in them
Can even save money: Breastfeeding is a natural free of cost process which not only provides you with numerous health benefits but also helps you in saving the money spent on formula feed and equipment. It makes mothers' life easier and simpler as there is no need to mix, prepare, use, wash and sterilize the feeding equipment.
There is no doubt about the fact that breastfeeding definitely provides positive outcomes in both child and mother but apart from providing health benefits. Breastfeeding can give you a maternal fulfillment which can never be compared, it is a special emotional bonding experience which can only be experienced by mothers.