Pre-eclampsia, which is the most severe form of hypertension during pregnancy, is seen in around 10-12% of pregnancies in India. Other less severe forms of hypertension are much more prevalent. Considering there are mild to severe consequences associated with hypertension, it is important to understand what it is and how to prevent it.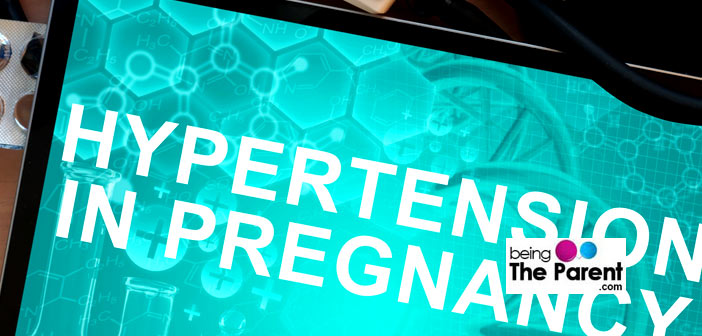 What Is Hypertension?
Hypertension or high blood pressure (BP) is defined as blood pressure higher than 140/90 mm Hg. Blood pressure, as you would all know, indicates how much pressure blood exerts on the artery walls when heart beats. A higher blood pressure, even in a normal person, increases the risk of cardiac diseases and heart failures. It can also cause stroke and kidney problems.
For a pregnant woman, there is also an added risk due to the fetus inside.
What Are The Types Of High Blood Pressure In Pregnancy
A pregnant woman can get three kinds of hypertension:
Chronic hypertension is when you have high BP since prior to pregnancy, or in the early days of pregnancy
Gestational hypertension is when a pregnant woman develops high BP after 20th week in pregnancy
Pre-eclampsia is the most severe form of hypertension that occurs after the 20th week and is evidenced by protein in the urine and high blood pressure. It can be caused by either chronic hypertension or gestational hypertension
How Will Hypertension Impact My Baby?
High blood pressure might mean that placenta is not getting enough blood, which in turn would mean your baby is not getting enough food and oxygen. This can result in slow growth of the baby, or the baby can be born with low birth weight. Placental abruption is another problem that can surface due to pre-eclampsia. Sometimes, premature delivery is the only solution to prevent life threatening complications to both the mother and the baby. Most women with hypertension during pregnancy still go ahead and deliver healthy babies, provided the hypertension was detected and treated early. However, in the case of Pre-eclampsia, there are more serious complications – loss of life being the most severe one – for both mom and the baby. Pre-eclampsia also puts you at the risk of developing cardiovascular diseases that can be detrimental to your health. The risk of heart attack, stroke and other problems associated with high blood pressure doesn't go away during pregnancy.
What Are The Risk Factors For Hypertension During Pregnancy?
Women with following characteristics are at a higher risk of having hypertension during pregnancy:
Too old or too young (if age is less than 20 or more than 40)
Overweight or obese
Family history of hypertension
Chronic diseases like diabetics
High BP even before pregnancy
Hypertension during previous pregnancies
First-time moms
Having multiples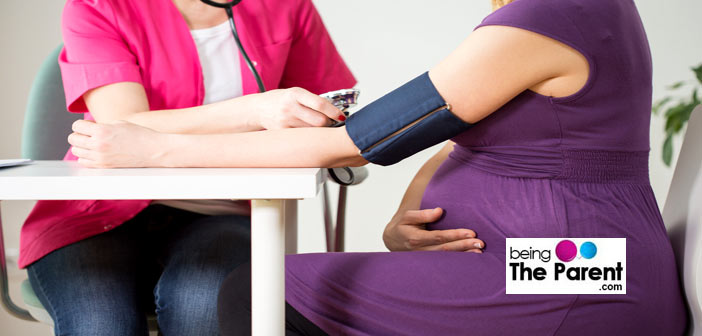 Whether you have these risk factors or not, ensure you monitor your bP continuously throughout your pregnancy. If you have these risk factors, we would recommend you to invest in a home BP monitor to avoid going to your clinic often.
How Can I Control Pregnancy Hypertension?
While there are no sure shot ways to prevent hypertension, there are ways to reduce / avoid some of the contributing factors to it. Smoking is a huge no, and one should stick to a healthy diet to maintain an ideal weight. Some medicines may be prescribed to control high blood pressure during pregnancy, but the risks still stay. It is imperative to make healthy lifestyle choices and stick to what your doctor advises.
5 Ways To Control High Blood Pressure During Pregnancy
Eat right: Ensure you eat right, preferably from the time you decide to conceive. Experts says that weight loss is 80% diet and 20% exercise. Get the 80% right. Include fruits, vegetables and fibre-rich food in your diet. Drink at least 3 liters of water every day. Reduce the caffeine intake (coffee, aerated drinks like Cola)
Exercise well: Even a small amount of weight loss can have miraculous impact on your BP. Exercise regularly and maintain a healthy lifestyle. Read this article to understand how to remain active during pregnancy. Maintaining a desirable weight can help in a big way prevent and treat high blood pressure during pregnancy
Say no to salt: If you reduce your salt intake, you will notice that your BP falls. Reduced salt intake will also prevent the BP from rising. You can also try some special salts that are especially manufactured for people with high blood pressure. However, make sure your doctor agrees to the same
Stay away from bad habits: Avoid smoking and alcohol consumption as much as possible. While tobacco and alcohol are known to increase the BP, they are no friends of the fetus either. So stay away from them during your pregnancy. Period
Reduce stress: If you are stressed, your BP goes up. And pregnancy can be a stressful time. Try to get as much rest as possible to ensure that you are not physically stressed. Try meditation and Yoga to reduce stress, strengthen your body and mind and calm your nerves. Maintain a good routine in life – eat on time, exercise on time, take medications on time and sleep on time – all these will ensure there are less uncertainties in your life and consequently, more peace and calm
Hope you have a happy and safe pregnancy.