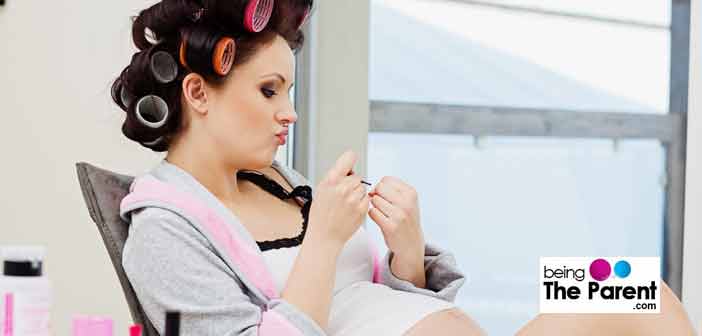 Many of us know that smoking and drinking are a huge no during pregnancy. But did you know that your beauty regimen also needs some alteration now that you are pregnant? It needs to be mentioned here that any product that you apply on your skin has the potential to slip into your blood stream and even cross the placenta. Truth be said, almost none of the lab-developed cosmetic products are safe to use when you are carrying a life inside you. Read on the 8 beauty routines that must be used with precaution-
Know the truth about cosmetic products:
They contain very hazardous chemicals, usually petroleum derivatives. Even the common Vaseline is a 'Petroleum Jelly'! And many of these chemicals will reach the little life crossing the placenta. Please be very careful because often the cause of birth defects has been linked with pregnancy. Understandably, this is not publicized, but the consumer should always take the most informed decisions.
Go organic – Among skin care products, stick to strictly organic products like Aloe Vera gel
Look into your kitchen – Home remedies are awesome as usual. Since you are avoiding chemical make ups, try the products in your kitchen – that your grandma swears on!

Hairsprays and nail polishes- If you cannot stand unruly hair and are in the habit of using hairsprays, use phthalate free mousse or gels, which score better since they cannot be inhaled. Nail polishes too, need to be phthalate free and should be applied in a well ventilated room so as to limit your exposure
Hydrate yourself enough – the old golden rule. Drink plenty of water, not only it will help you with your beauty but also ease out labor
Avoid stress, caffeine, and junk food – Heard a numerous times? Well, like when you are not pregnant, stress, caffeine and junk food can cause you skin blisters and other problems. Stay away from these and have a happy, glowing body and mind
Go easy on hair colors and treatments – Best avoided, especially during the first trimester, if you have to color or treat your hair, make it fast, and in a well-ventilated room and rinse as soon as possible
Read the labels – In case, you do not want to trust organic, but go with common products anyway (not advisable), make sure to be extra careful in reading the labels.
Avoid products based on:

Oxybenzone
P-Phenylenediamine
Formaldehyde
Salicylic acid
Toluene
Artificial fragrances
Parabens
Retinoids
Phthalates
Differin (adapelene)
Tretinoin
Avage and Tarzorac (tazarotene)
Retinoic acid, etc.

Particularly, anything that is extra potent is bad because it has a higher concentration of the cosmetic chemical. Why don't you try from the wide array of amazing home care remedies? They are the cheapest (actually FREE, because you are not buying a tube or a jar of cream), and obviously the healthiest. For example, chamomile and cucumber are perfect for treating dry itchy skin during pregnancy

Using Natural Oils- There are many other plant extracts that are considered unsuitable during pregnancy. These include, almond, clove, ginger, Rosemary, sage, thyme, wintergreen, etc. among others. Safe natural oils are:

Lavender. Orange,
Ylang, Ylang, Neroli,
Geranium, Rose Geranium
Chamomile, Peppermint, Rose,
Cypress, sandalwood, Tea tree, Eucalyptus
Manuka, and Patchouli
Pregnancy brings a natural radiance for many women
Although everyone uses cosmetics every day, yet your gestation period is not included in the 'every day' category, by no means! Pregnancy is special and one of the most beautiful aspects of it is the realization that your body has sort of a spontaneous mind of her own! For example, the breast milk of every mom is specially customized just to meet the unique needs of your baby! No two pregnancies are similar either!
The body spontaneously assumes the most exotic and pure divinity when you are consenting to carry a breathing, sleeping, moving life in you!
The glow is not a myth! It is better than any cosmetic! Essentially, your blood flow becomes more vigorous, your skin also becomes more radiant, naturally.
In addition, don't forget your sense of pride and happiness. They are any day better makeup artists than the best salons.
Your breasts become fuller, body curvier, and everything else to raise you being a Mother Goddess!
The point is that many moms-to be don't even use cosmetics much! You can simply rely on a stress-free mind, good food, hydration sufficient, and home remedies for being at your best. Of course, many mommas to be also have to deal with skin issues such as dryness, rashes, etc. Luckily, several good (but not so well-known) companies make pure organic cosmetics. These can be a little expensive, but that should not get you to compromise with the common shelf products. You can easily shop for them online
There is no hard and fast rule for everyone because all pregnancies are unique. All you have to do is trust your intuition and listen to your body with love.