As you begin weaning your little one from breast milk and start introducing solid food to your little darling, you become more and more involved in concocting new and interesting recipes for your little baby. After all as a mother you want your baby to enjoy the newly introduced solid food. Another question that pops up in your mind at this time is when to introduce spices and new flavors to your baby's food? So if you are wondering as to what is the right age and how to introduce spicy food to your baby , then keep reading to get some idea on this so that you can make your baby enjoy different flavors.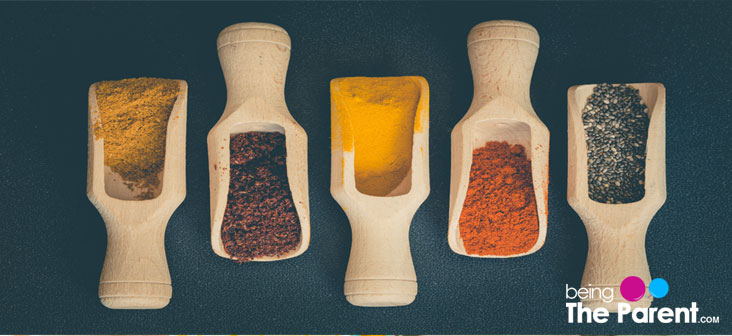 When Can Babies Eat Spicy Foods?
If you are debating as to when to start spicy food for your baby, then remember that once your little one begins having finger food, you can gradually begin introducing spices to his meal. However it is best to start feeding spicy foods to your baby once he is a year old. Also ensure that you introduce chillies and pepper in very small quantity so that the little one can tolerate it. And the trick is to at least wait for a week before you try out another spice so that you can make sure that the little one is not allergic to any spice.
Things To Remember While Introducing Your Baby To Spices
First and foremost, you need to actually try and figure out your little one's preference for various spices and flavors.
Check out your little baby's reaction to the spice you introduce
It would be a good idea to begin with small nibbles rather than introducing an entire bowl of food with new flavor
Start with introducing mild spices first
If you find that your baby reacts well, slowly increase the flavor in order to get your little one's taste buds used to that particular spice
Ensure you follow the four day wait rule before confirming that the new spice agrees with your baby. If there are no reactions for four days, it is a green signal that your little one has adjusted to the newly introduced spice
Never force your baby to eat any spice you find that he is not ready for. Just give a break and try feeding him with the same spice after a month or so
Tips To Make Your Baby Experiment With Different Flavors?
Watching your baby's reactions to the various flavors that you begin introducing can be quite entertaining. Once your little one's likes and preferences are identified, it becomes quite easy introducing new flavors to his food. Remember your little one's flavors and taste buds will keep differing over time so make sure you continue trying out new varieties of spices as he grows up so that he gets attuned to spicy food by the time he grows up. Here are some useful tips on how to start introducing new spices and flavors:
Try sprinkling some crushed pepper to his oatmeal
Add a little bit of oregano spice to your baby's favorite pasta or pizza slice
Adding small piece of chili in whatever food you are making for your baby and then removing it before feeding him
Just add a pinch of Mediterranean spice to your little one's finger foods
Add crushed clove of garlic or a tiny piece of grated ginger to the dal you are cooking for your baby
You can add powdered spices like turmeric, cumin and coriander while making dal and other gravies for your baby
You can add tempering to your baby's dal and rice. You can prepare this tempering by spluttering a few whole seeds of fennel, mustard and aniseed in a teaspoon of ghee
If you are making sweets like rice pudding for your baby, you can add a pinch of cinnamon, nutmeg or cardamom powder to enhance its flavor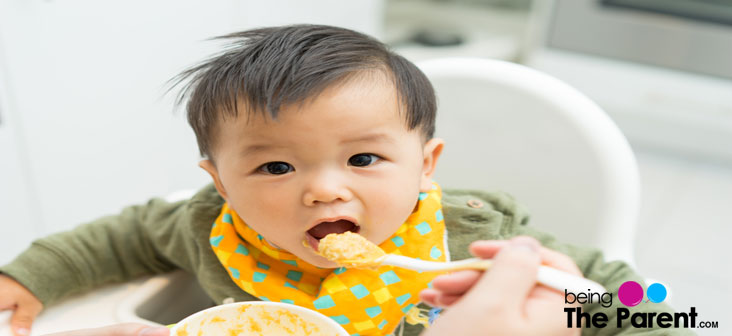 Other Exciting Herbs And Spices In Baby Food
Given below is a list of absolutely safe spices that can be added to your baby's food.
Ginger
Garlic
Nutmeg
Fennel
Carom
Vanilla
Mint
Dill
Cinnamon
Asafoetida
Basil
Cumin
Curry powder
Lemon zest
Rosemary
So you see "spice" does not mean Chilli and pepper. Even the above herbs and spices can flavor your baby's food and can have numerous health benefits too. From centuries many Indian remedies use asafoetida, ginger, fennel seeds, carom and cumin to get instant relief from tummy upset and also aid in digestion. Similarly garlic and turmeric are known to have antiseptic and antioxidant benefits.
How To Tell If Your Baby Is Averse To A Spice?
It is quite possible that your baby many not like a particular flavor. You can easily find out whether your little one is ready for the spice or not with the help of following signs displayed by your little one:
If your little one develops gastroesophageal reflux then it indicates that your baby is still not ready to handle spicy food
If your little one keeps spitting out a particular food item and prefers plain or bland food over it
So ensure that initially you try different spices only in mild quantities to see how your baby responds to it. Do not force your baby to taste a particular spice if he is not enjoying it. You can even discuss you're your baby's doctor on different methods of introducing spices to your little one. Remember that you will have to try out different recipes to make the flavors appealing to your baby. Your little one's palate keep changing as he grows so initially he will try and explore various flavors before he a preference for one. So till then keep patience and keep introducing new recipes and flavors that you're the little baby has not tasted previously.
So mommies if you have any exciting recipes for that can be given to your baby, please don't forget to share it with us in the comments section below.