Just realized you are carrying and quite overwhelmed to know you will be a mother very soon? Once you have confirmed your pregnancy and have finished your doctor's first visit, you now need to ensure you are having the right kind of diet which is ideal for you and your baby. Right nutrition for both the mother to be and your little mite growing inside you is of utmost importance if you want a healthy pregnancy. However you need to understand that one does not need to eat for two; instead the mother requires having a complete and wholesome diet which meets all the needs of the baby as well as the mom to be.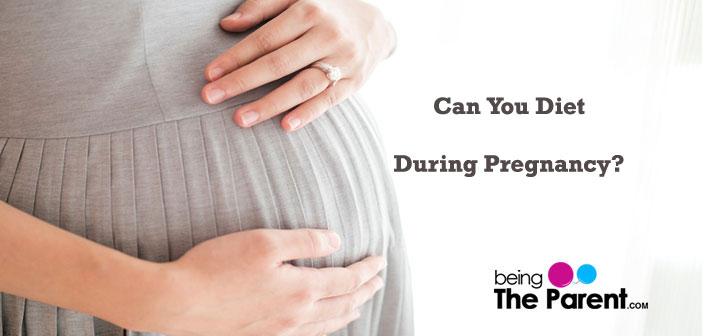 Weight Gain During Pregnancy
If you happen to be one of those people who are extremely conscious of gaining weight and plan to diet during pregnancy, you need to think carefully before you begin. It is not advisable to diet while you are carrying. There is no doubt about the fact one will gain weight but you can easily get rid of the extra weight you have gained once you give birth to your little one, provided you were not overweight when you started. Pregnancy is surely not the ideal period to commence on a weight loss program as there is every chance you may have to reap dangerous consequences.
A pregnant lady approximately needs to consume around 2500 calories every day and this is sure to get compromised once you begin dieting during pregnancy. This approximate quantity of calories is an absolute must for you and your baby.
Given below are some of the ill effects which may occur if one diets while you are pregnant.
What Can Be The Harmful Effects Of Dieting During Pregnancy?
First and foremost, you will begin experiencing hunger pangs all the time if you start a diet during your pregnancy period. This is because in-between meals, the blood sugar levels drop making you feel hungry again and again
You have higher chances of being malnourished which can trigger all kinds of complications, and as it is, your body is already working overtime to support your growing baby
If you do not get the required nutrition during this crucial period, there is every chance your precious baby will not grow as well as required
A strict diet can turn quite hazardous for you and your little one growing inside you as a weight reduction program may inhibit the consumption of vital nutrients including folic acid and iron that are crucial for proper growth of your baby and keeping the mom healthy
The only option for pregnant moms is just fine tuning one's eating pattern in such a way which ensures you and your baby get adequate quantities of the required nutrients every day. This implies your diet needs to include a wholesome, healthy diet which includes a whole variety of food items like veggies and fruits, grains and breads, sources of protein and lots of dairy products too. However one needs to be careful about not consuming too much of fatty foods which can trigger all kinds of pregnancy issues later.
Can I Diet During Pregnancy If I Am Overweight?
If you find you are already overweight and have no other option but to restrain your diet, the best course would be to ask your doctor about what kind of diet and exercise would be ideal in your case as each case is different. Moreover, it has often been found that controlling what you eat and how much you eat is a better way to prevent complications than resorting to dieting altogether.
Will My Dieting Affect My Baby?
Babies are pretty efficient in the womb to get what they need, and they will take it all from your body. This will make your body to get depleted in important minerals and vitamins, threatening your own health in a major way.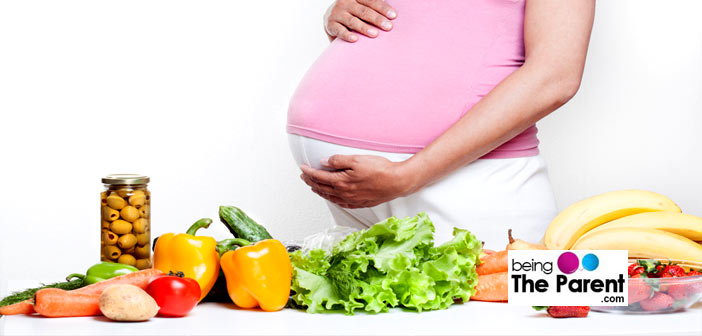 Being Overweight And Dieting During Pregnancy
A calorie restricted nutrition diet during pregnancy has been found to lower chances of the mother developing a sudden hike in blood pressure which normally occurs due to prominent quantities of protein in the urine. This condition is commonly known as pre-eclampsia which has been proven to be quite a dangerous condition
Your chances of contracting gestational diabetes are also 60% lower when you control your calorie intake
The chances of giving birth to your baby prematurely are also significantly lowered when you follow a controlled diet during your pregnancy period
On the whole a lower calorie diet followed by the mother during pregnancy drastically lowers the chances of a number of complicated issues that normally arise in a pregnancy
Maintaining a diet diary and meticulously writing down each and every item that you munch every day would be a great idea to ensure you are eating the right quantities of the much required nutrients and other supplements needed during this period. This will also help to ensure you do not overdo your dieting and cause unwanted complications during this period
So in short, it is ok to have a diet that is rich in nutrients but not so much high on calories while carrying, but only after asking your doctor's permission for the same. You are also advised to strictly follow what kind of diet he recommends. Anyhow, it is important that you do not go overboard and cause both yourself and your baby any harm by following a very strict dieting regime.
So go ahead and enjoy your pregnancy without following too much restrictions but being careful about your diet at the same time to have a healthy pregnancy and delivery.