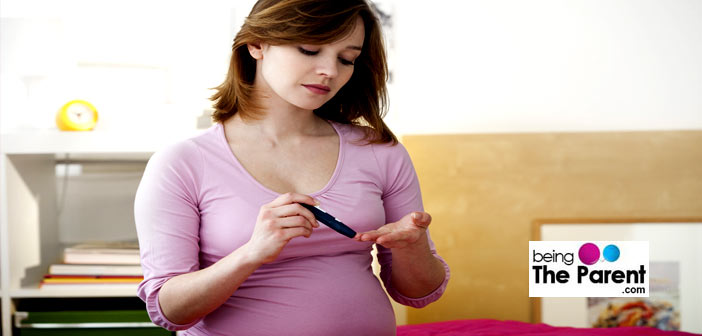 Gestational diabetes is said to occur when a woman has too much glucose in the blood at the time of pregnancy. About 4% of all pregnant women can develop gestational diabetes. When the body does not produce enough hormones (insulin) the blood sugar levels tend to shoot up. The insulin helps the tissues and muscles in the body to use blood sugar for energy and also helps to store the additional blood sugar which is not required.
What Causes Gestational Diabetes?
During pregnancy, increased levels of certain hormones made in the placenta (the organ that connects the baby by the umbilical cord to the uterus) help shift nutrients from the mother to the developing fetus. Then there are other hormones produced by the placenta that keep the mother's sugar levels to desired level, working by resisting the actions of insulin. Pregnancy causes the body to make extra insulin but the placental hormones overrule the production of insulin. If the body is unable to meet this additional requirement the blood sugar rises and gestational diabetes can be developed.
A mother's pancreas can usually make three times the normal amount of insulin to overcome the effect of pregnancy hormones. However, if the body cannot produce enough insulin, occurrence of gestational diabetes will take place because of rising blood sugar levels.
After the delivery, you will probably not have diabetes, but will be at a risk of getting it again during a further pregnancy or developing diabetes later in life.
What Are The Symptoms Of Gestational Diabetes?
There are no visible symptoms of gestational diabetes, however, it is possible one may feel very thirsty, may have the problem of frequent urination, mouth going dry, tired and blurred vision. Snoring can also have a connection to this so let your doctor know if you are snoring more than usual. Gestational diabetes generally begins between 24 and 28 weeks of pregnancy and this is the same when the glucose screening test is done. However, if there is sugar in your urine, or you are at a higher risk of diabetes, you will probably be screened earlier. After the screening, if it is positive, a follow-up test (a glucose tolerance test, or GTT)is also carried out to confirm gestational diabetes. About 5% to 8% percent of expectant women develop this ailment and it is quite common.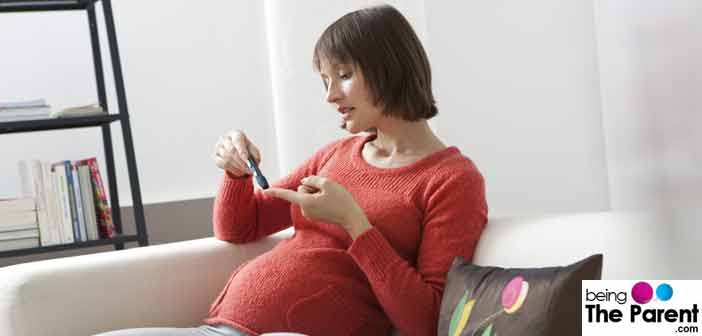 How Is Gestational Diabetes Diagnosed?
Typically, no indicative symptoms are observed in pregnant women who have gestational diabetes. A test is conducted for gestational diabetes and is known as Oral Glucose Tolerance Test (OGTT), where the expectant woman will have to drink only water the previous night and in the morning before the test and blood sample will be collected to check the sugar level. Then liquid containing sugar will be given to consume and again blood sample will be collected to know how the body has reacted to the sugar. If the risk of gestational diabetes is relatively low but still needs to be checked, then another test conducted known as fasting plasma glucose test, where the blood sample is collected in the morning before breakfast and minimum 10-12 hours fasting is required.
Am I At Risk Of Developing Gestational Diabetes?
Well, if you fit in any one or more of the below criterion, then you are probably at a risk:
You are obese or overweight – BMI > 30
There is sugar in your urine
There is a history of diabetes in your family
Impaired glucose tolerance or impaired fasting glucose
Have given birth to big baby(ies) previously
Have had a still-born baby due to unexplained reasons
Have had gestational diabetes in a previous pregnancy
You are above the age of 35 years
You have a condition of high blood pressure
The expectant mothers need to take extra care because having high sugar in the blood can create problems for both the mother and child. But this type of diabetes is not the same as type 1 and type 2 diabetes, it does not last for a lifetime and tends to go away once the baby is born.
Complications With Gestational Diabetes
Once you know you have gestational diabetes and if kept under control, then there is no need to be concerned about it there will be no problem in pregnancy and baby will also be fine. Most often, diet changes and physical activity alongwith medications are enough to keep gestational diabetes in check. But if it is not treated or if overlooked at then the baby receives too much blood sugar and grows larger than normal, which then creates problems in delivery and even after birth. Too much sugar in the baby's blood will make him put on extra weight, especially in the upper body and thus passing through the birth canal becomes difficult. Known as macrosomia, it is the condition when the baby becomes too big to be delivered through the birth canal. It also increases the chances of episiotomy, or a C-section, and there is also a risk of the baby getting a fractured nerve or bone Such babies can have problems in breathing, or get jaundice and in future the child will be at a higher risk for type 2 diabetes or premature labor (birth before 37 weeks). After delivery, gestational diabetes tends to go away, but the risk of developing type 2 diabetes is still possible at a later stage in life if you had gestational diabetes.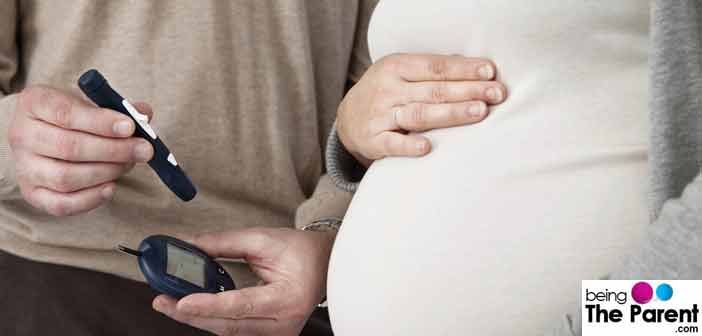 How Can I Keep My Blood Sugar Levels In Control?
A few tips to keep blood sugar levels stable:-
Include carbohydrates, which slowly release energy, e.g. cereals, whole-meal bread and pasta
Include oily fish and lean meat in the diet, such as mackerel, salmon and sardines
Eat at least five fruits and vegetables daily
Minimize the amount of sugar, fatty food and salt in food. Replace fizzy drinks with fresh fruit juices
Use unsaturated fats or oil e.g. rapeseed oil and olive oil instead of butter
Keep yourself active during pregnancy, stick to a healthy diet, keep your weight in control and exercise will help to reduce the risk of developing gestational diabetes.
Will I Have Diabetes In Future?
Gestational diabetes does put you at a higher risk of developing diabetes in later life. 50% of women who had gestational diabetes do develop diabetes post later in life. You are at a higher risk of you are obese, you had to resort to medications to control gestational diabetes, or the condition was developed earlier in your pregnancy. The key to minimizing the risk of developing diabetes in future lies in making healthy lifestyle choices like healthy eating, active physical life, and keeping your weight in check.