We absolutely understand the undying love every woman has for shoes. Shoes can brighten up a dull day or give you a boost of confidence when you require it the most.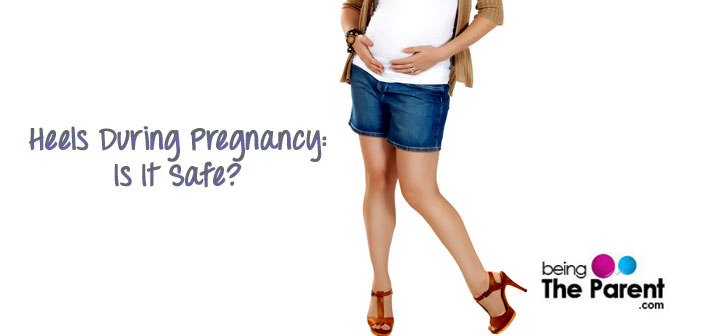 Shoe lovers, especially pregnant women, are often faced with the dilemma; to wear or not to wear heels while pregnant. Short answer: it is best to give your prized heels some rest now that you are pregnant. Sad face? Well, reserve them for special occasions then, but that is about it. Yes, if you wear heels on regular basis, you will find it tough to adjust to footwear that is flat (however, more comfortable) Here, we try to understand how our favorite pair of stilettos can cause serious damage especially during pregnancy.
5 Serious Effects Of Wearing Heels During Pregnancy
Effect on lower back: When you wear high heels it affects your body alignment and posture, especially your pelvic muscles. The pelvic muscles as it is are already flexible during pregnancy in order to prepare your body for delivery. All thanks to the hormone Relaxin that is on work. In such case exerting your pelvic muscles by wearing heels can give your severe pain especially in the lower back region. Sometimes it could also cause slip disc or sever back injury. Wearing heels also puts more pressure on your knees and ankles and subjecting your body to this pressure during pregnancy is not recommended. Read more about back pain in pregnancy here
Effect on balance: When you are pregnant, your centre of gravity is a bit off since you gain a lot of weight. Also during pregnancy your body releases hormones that make your ligaments a little more flexible than usual. This could affect your stability, posture and balance. Wearing high heels, especially stilettos, requires balancing yourself on those thin little structures and taking this risk during pregnancy could lead to severe damage
Effect on feet: Most women experience swelling in their feet during pregnancy. Wearing heels, tight and uncomfortable footwear can increase the swelling. In some cases, high heels could be the cause of the swelling in the first place. Wearing heels also increases the fluid retention in the lower half of your body which leads to swelling and irritation. Read more about it here
Effect on muscles: Wearing high heels tightens the calf muscles since the uncomfortable footwear places the calf in a contracted position. This could give you serious calf cramps
Chances of tripping: Wearing heels raises you inches above the ground level and doubles the chances of tripping and losing balance. Dizziness, fatigue and nausea is normal during pregnancy, and it is not uncommon to trip and hurt yourself. During pregnancy your centre of gravity and balance are already unstable and wearing high heels could be a very risky
Doctors say that even wide, platform and heavy heels shoes should be given a thumbs down when you are pregnant.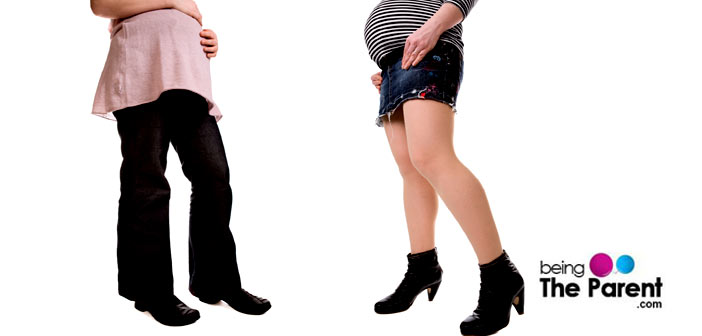 Still Wearing Heels In Pregnancy? Note These Precautions
Despite the risks if your still want to go ahead and wear heels we give some tips to keep in mind before strutting down in those pair of heels.
Deadline of first trimester: Wearing heels during pregnancy is acceptable only during the first trimester. Also the pair of heels you wear must be short and easy to walk in. Wearing heels beyond the period of first trimester could affect your health and the baby's well being
Skip the stilettos: Stilettos are pointy, thin, high heels. It is recommended that you steer clear of stilettos when you are pregnant. Instead opt for smaller or block heels. These will give you better balance than stilettos and also reduce the chance of tripping
Choose nothing but the best: Since you have already made up your mind to wear heels while pregnant. Invest in some good quality and durable shoes. You do not want to wear cheap quality heels that might snap any moment or give you shoe bite or swelling
Take breaks: Avoid wearing heels for long duration. As long as you are wearing it for a few hours you are good to go. Even then don't stand for a long time, sit down and move about as much as you can. Also carry a pair of flats with you incase the heels get really uncomfortable
Being pregnant is a privilege and every privilege comes with responsibilities. Having a safe delivery is a blessing and you do not want to jinx it for a pair of shoes, do you?