You must be aware that jaggery has lots of health benefits. You may have seen older people eating a piece of jaggery with tea after a meal. It is not just for its sweet taste, it is also because it has many therapeutic properties that can do wonders to your body. But can jaggery be given to babies? This is a question to which no one has been able to give a definite answer. Many moms are confused whether jaggery should be included in their baby's diet or not. There is no doubt that jaggery is nutritious when compared to white sugar, but when it comes to babies and their diet, we need to exercise caution. Therefore, the decision whether or not to include jaggery in a baby's diet depends on individual's lifestyle, their feeding practices and what they follow in their respective families.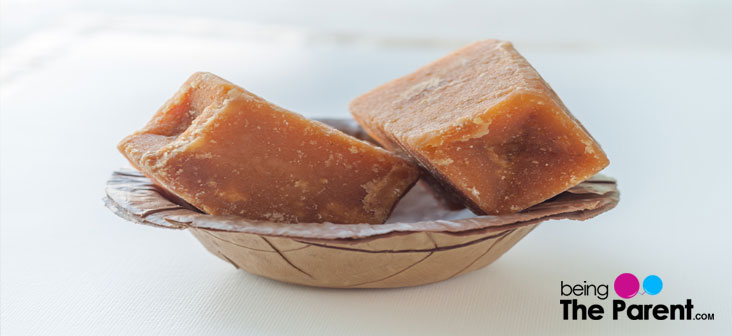 Why Jaggery?
Jaggery, commonly known as Gur, is basically unrefined sugar made when sugarcane is heated. It is widely used in many parts of India as an important component of a sweet dish or to balance the spicy/salty components in any cuisine. It is also obtained from other sources like Palmyra and date palm. Unlike sugar, it is rich in calcium, phosphorous, iron and other minerals. Hence it is the best substitute for white sugar.
In rural India, babies are weaned late and therefore they could lack in essential nourishment. In such a situation, jaggery is recommended to prevent iron deficiency. But in urban India, while children tend to be fussy eaters, moms tend to go overboard. Therefore, in their enthusiasm they could give more than the required quantity of jaggery on a regular basis which may not be too appropriate.
6 Amazing Health Benefits Of Jaggery For Babies
Boosts Immunity: Rich in minerals and antioxidants, jaggery boosts immunity and helps increase the hemoglobin count
Averts Constipation: It aids bowel movement by preventing indigestion, constipation and flatulence. The unrefined sugar present in jaggery allows easy secretion of digestive enzymes and thus is recommended to ensure digestion in babies
Prevents anemia: Jaggery is a rich source of iron and therefore helps prevent iron deficiency and anemia that results from it.
Detoxifies liver: Jaggery detoxes the liver by flushing out toxins and impurities from the body
Treats cold and cough: Babies who suffer from frequent cold and cough can be benefited by drinking jaggery mixed in warm water. It is also known to treat common flu-like symptoms. Rather than going for medicines, this simple home remedy can prove highly effective
Strengthens bones and teeth: As already mentioned, jaggery is a loaded with minerals, calcium and phosphorous which are vital to strengthen bones and tissues. It also ensures that your baby has strong teeth
With so many benefits to be accrued from jaggery why are mothers hesitant to introduce jaggery to babies?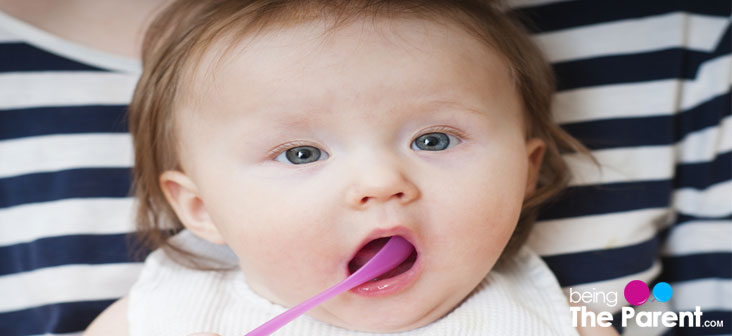 Risks Of Giving Jaggery To Babies
We know that Jaggery has many health benefits for babies but remember moderation is the key. As a mother you need to know the possible harmful effects of giving jaggery to babies. Given below are some of the side effects of giving jaggery to your baby:

Jaggery is addictive. Children who regularly consume it tend to eat too much sugar. Research also proves that babies who are introduced to jaggery early have a tendency to eat more sugary stuff by the time they turn 6. This is not a good sign
Since each baby is unique, what suits one may not suit the other. Some children are known to develop intestinal worms, rashes, prickly heat and stomach problems due to the heat generating property of jaggery. If you start on jaggery and notice one or more of these reactions, stop jaggery immediately and consult your doctor for future course of action
Jaggery is high in calories. The baby's digestive system is not always prepared to absorb and digest all the nutrients that unrefined sugar has to offer
Good quality jaggery is not so easy to find. The one that is easily available contains more sugarcane
Palm jaggery extracted from date palm and free from chemicals and bleaches can also be a good substitute. It does not give the sugar rush (hyperactivity observed in kids due to high sugar level in blood due to intake of white sugar) and has been traditionally given to new born children. It is also known to build immunity and effective against common cold. But it is expensive and not easily available in areas other than where it is made.
Based on the benefits and harmful effects, the decision to give jaggery solely rests on the mother. While some babies do not react to it and absorb it well, others may not be so comfortable. It is best to consult your pediatrician and start a smaller dose to observe how your baby reacts to it. Based on that, you can increase the intake gradually.
Have you tried including jaggery in your baby's diet? How did your baby benefit from it? Do share your experience in the comments section below.