Congratulations! Your baby has reached the half way mark towards the first year. What you notice during these months is the speed at which they seem to grow, learn and move on. Wink and you might miss something; that's how fast their growth seems to be in the first year. As they grow, your imagination and creativity need to keep pace with it. Now your baby is engaging more with her surroundings; they are no more new and strange. He/she learns to adapt and explore—more with each day. So, you need to make more noise, talk, get more interactive—mere swinging and moving around will not be enough anymore.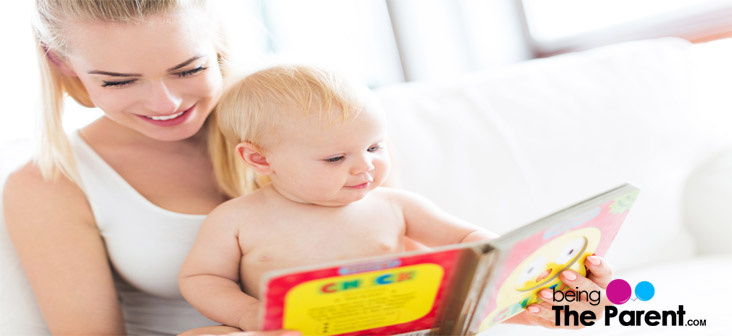 Developmental Milestones Of 6 Months Of Baby
Here's what you might notice during this phase of growth:
Your baby is able to sit up with/without help. They can prop themselves up quite well
They can roll back well
They can slide forward and backward with their tummy
They can get on their knees slowly and rock back and forth
They sleep for longer hours at a stretch
They smile/laugh, babble a lot
They love to play and put small objects into the mouth—watch out!
8 Learning And Engaging Activities For 6 Months Old Baby
Let's look at some activities that might interest a 6 months old baby. These are just meant to throw some ideas. You can tailor them to suit your little one's needs.
Story Time: This is one area that many parents have contradictory opinions. Many parents wait until the child is a year old to start with books. But, you will be surprised at how enthusiastic babies get when they see colorful pictures. Board books are great to start with. You can modulate your voice to create stories from the pictures and enjoy as your child looks at you with amazement. You could also use bath books while bathing to make a routine bath exciting. It's not necessary to stock too many books at this stage; kids love to look at the same pictures over and over again. Try this and let us know how it worked for you
Let's Make Some Noise: Around this time, babies love different kinds of sounds and they can actually differentiate between them. You could pick up a board book with animal pictures and as you turn over the pages, show them the animal and make a noise like the animal in the picture. Alternately, you could choose some rhymes and sing them in different pitches and speed. Make sound like the buzzing bee, meow like a cat, and bark like a dog when you take your kid to the play area and show them the animals
Touch and Feel: Arrange objects of different textures around your baby, for instance, some blocks, a soft toy, a rough mat, a slippery cloth—just about as many textures as you can find. As you baby moves and reaches for these objects and touches them, spell out each texture. Let them know the difference and feel it. Babies enjoy and look forward to this every day. This is easy to do and with this, you can introduce your baby to newer objects, their colors, shapes, sizes, besides the texture
Make Routine Interesting: Make bath time fun by making your baby sit in the tub and then filling up the water slowly. They really enjoy watching the water level rising around them. As they get dressed after a bath, tell them the body parts, tickle them. By the time they are 6 months old, babies start on basic solid foods. Try different textures in food and see how they react to them. When they babble, act as if you understand them and respond to it. Keep talking with them all the time. When you're working in the kitchen give them some bottles to stack and play with. Take them to the play area and make them sit on the grass. The activities are endless—you just have to make even the silliest of them interesting

Make Games Interesting—Hide, Stack, Move Out Of Reach: This is the time when the hand-eye coordination is developing. So, it is best to look for games that make this development possible. Make them stack blocks, cups, books, simply anything. Babies love it when they are able to arrange things one over the other and when one of them falls, the expression on their face is priceless! Sit with them and encourage them while they engage in this and have fun all along! You could hide them or move them out of reach and see them crawl their way to get them
Look at Pictures/Take pictures: Show pictures from books, magazines, family albums and then point out to animals, things and family members in the albums. Ask questions like, "Where's daddy? Where's mummy?" Point out to known people in the photos and say the names aloud. Similarly, point out to objects in books and say the words aloud. Take pictures with your baby—loads of them! You'll be surprised how they pose for it sometimes!
Blow Away the Bubbles: Bubbles blowers are easily available and you can entertain your baby with it for hours. Blow bubbles when they're fussy, cranky, or simply refusing to eat and see how the mood changes. Blow bubbles in the bathtub and make bath time more fun. You can even carry the bubble blower to the park and blow them to get other kids to play with you and your baby
Roll and Fly: Put your baby on a towel on the floor and make her roll over very slowly and carefully. Hoist their arms and legs up one after another and pretend they're flying. Make realistic noises. They not just love the noise but want to keep rolling and flying forever. The game is endless fun!
As already mentioned, these are just ideas to get the ball rolling. Based on your baby's likes and mood, you can choose and modify these activities to have unlimited hours of fun. When fun also involves learning, it's a bonus all the way. And the happiness that the baby exudes is worth every effort taken. Enjoy every minute as he/she grows. Who said growing up cannot be fun?