As your baby inches towards the first year, you have to get your creativity rolling and think harder to find activity to keep them busy. Kids at this stage seem to be pumped up with energy while you seem to have exhausted all the ideas to entertain. Don't fret. Here are 8 Learning And Engaging Activities for 9 Months Old Baby to help you if you haven't thought of them already. But before getting into this, it's necessary to be aware of the milestones your baby will reach and skills your baby will acquire at this stage so that you can plan activities to strengthen them.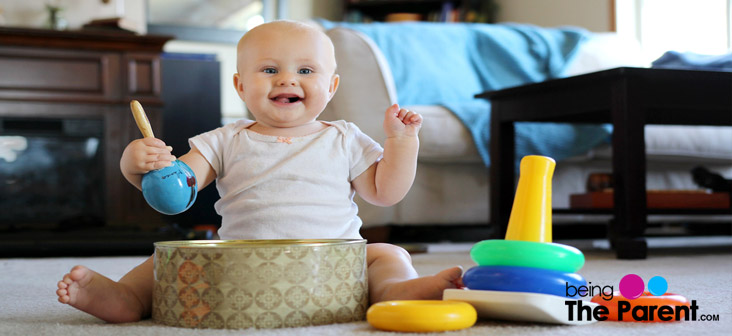 Developmental Milestones Of 9 Months Old Baby
8 Learning And Engaging Activities for 9 Months Old Baby
Developmental Milestones Of 9 Months Old Baby
At this stage, you will notice that your baby:
Can grasp objects
Can crawl fast. Remember to childproof your home to avoid accidents
Can identify directions—they can locate the source of sound and find objects
Can recognize familiar faces
Starts teething
With this in mind, we need to think of activities to engage and entertain a 9-month-old baby.
8 Learning And Engaging Activities for 9 Months Old Baby
There are numerous games that you can think of and make variations to them to make it look new every time. Playtime is more fun, loud and noisy now with more babbling. As your baby undergoes physical and emotional changes, get ready with interesting games for the "always-on-the-go" baby. Here are 8 simple learning and engaging activities for your 9-month-old baby that not only will help to improve his motor and cognitive skills but will also keep him busy.
1. Peek-a-boo:
Bring in an empty carton big enough for your baby to fit in, but small enough so that your baby can climb inside and outside. Put a soft blanket inside the carton and make him/her sit inside. Let them enjoy their own, little space and crawl in and out. Try to duck him inside slowly and pretend you can't find him. Watch as your kid enjoys doing this over and over
2. On and Off:
Babies love it when the switch is turned on/off and the light comes and goes. You can make your baby do this. But it is quite possible that your baby will love it so much that they will want you to hold them up and keep doing it over and over. So, alternatively, you could use a toy remote or a toy phone which lights up when switched on. That's a fun game to—turning it off and on
3. Where did it disappear?:
Take your baby outside to the park and show him/her a bright colored object, maybe a ball. Now make a sand hill and hide the ball inside. Ask your baby, "Where did the ball go?" Give him/her a few seconds and pretend that you are finding it too. Slowly, take his/her hand into sand hill until he/she reaches the ball and pull it out. Enjoy the expression on their face. You can have variations of this game. You can hide behind a chair or under the table or even behind the curtain and ask your baby to find you
4. Roll it over activity:
Sit on one side and make your baby sit on the other side. Gently roll a ball over the floor and let your baby catch it. Alternatively, you can slide a car and let your baby catch it at the other end. They will try to grasp it, but cannot roll/slide it back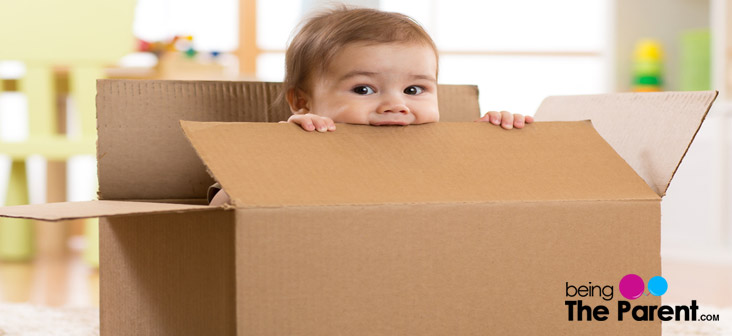 5. Throw and drop activity:
Hand over a ball and keep an empty bucket (a small one) close to your baby. Sit with your baby, keep a ball in your baby's hand and very slowly help him/her toss the ball into the bucket. You can play this while bathing too to make it more fun
6. Let there be noise:
Take different objects available at home and make different noises. Babies love the noise and they will be able to distinguish one from the other. You can put some objects in an empty wide-mouthed bottle and shake it up. Ask your baby to empty the bottles and put things back in
7. Sing, clap, read activity:
Babies continue to love when you sing to them, clap for rhymes and read out to them. Keep this activity going. Move on to newer and bigger rhymes; your baby can clap now so he/she will enjoy it more. Move on to more colorful and bigger board books—point out to the fruits, vegetables, animals and keep repeating their names
8. Move past the obstacles:
Put your baby on the floor and put obstacles on his/her path. Use blocks, pillows, laundry, soft toys, just about anything on the way. Make sure that whatever you use does not hurt if your baby trips over it. Now call out to your baby from the other side and watch as they make their way through the maze. The more the number of obstacles on the way, greater the fun!
At this stage, the brains are developing faster and so your baby is able to think and act. Therefore, it is important to connect through games and activities to stimulate the brain further. Moreover, this is also a stage when the baby is curious and pretty active. Take them out, let them look around and explore the world that surrounds them. Continue to talk while bathing, dressing and taking them out. Point out to parts of the body and objects around and spell it out. Babies at this stage listen with a lot of interest. Communication is the key. Respond to their babble and keep them occupied. Before you realize they outgrow and move over to the next stage. Don't miss a moment. Happy parenting!