There are many herbs that are beneficial to lactating mothers. But then there are certain that can cause side effects too. Just like pregnancy, even a breastfeeding mom has to be very careful of what she eats or drinks. This is because any food that she intakes, some of it gets passed on to the baby through breast milk. Breastfeeding is a delicate phase, so it is necessary to make the right choices. Licorice has expectorant properties and useful in treating cough and swelling. But is it safe to consume licorice during breastfeeding. Read on to find out.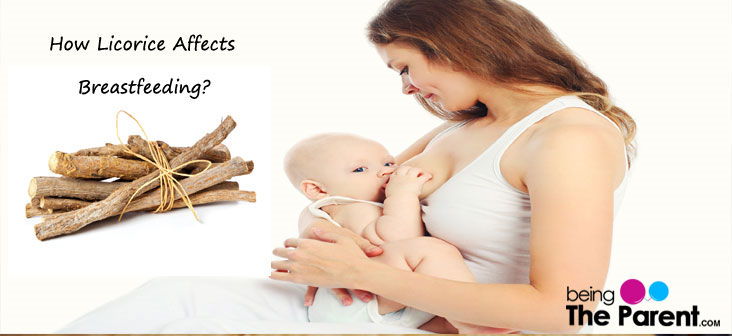 What Is Licorice?
Uses Of Licorice Root
How Is Licorice Consumed?
Some Interesting Facts About Licorice
Health Benefits Of Licorice
Side Effects of Consuming Licorice
Is It Safe To Consume Licorice While Breastfeeding?
Is It Safe To Consume Licorice Candy While Breastfeeding?
What Is Licorice?
Licorice root is a herbal plant known as Glycyrrhiza glabra. It is well known for its sweet flavor. Therefore, it is also called sweet root or as Gan Zao in Chinese. In India the licorice root carries the ancient Sanskrit name of 'Yastimadhu' and has been widely used in Ayurvedic and other herbal formulas because of the medicinal properties present in it. It is widely used in parts of Asia and Southern Europe.
Uses Of Licorice Root
It is used as flavors in candies and sweeteners
It is also used as a flavoring agent in tobacco to give it a natural sweetness and make it easier for inhaling
Used in herbal medicines
How Is Licorice Consumed?
Licorice can be consumed in the following forms
Dried Licorice
Licorice Paste
Licorice Extract
Licorice Powder
Licorice Syrup
Some Interesting Facts About Licorice
In Buddhism, on the occasion of Buddha's birthday, it is ritual to bathe the statue of Buddha in an infusion of licorice
It was a tradition with Egyptian pharaohs to consume a drink made out of licorice called erqesos. It is supposed to have healing powers
In ancient times Chinese used licorice to help with the healing process and prolong life
Texan folk medicine used the root to reduce fever after child birth and to expel the placenta after delivery
Apparently, Napoleon Bonaparte used to constantly chew on licorice root. He used to always carry it in small tortoise shell box. His teeth turned black from excess consumption of licorice
Health Benefits Of Licorice
Licorice is known for a lot of health benefits. Some of them include:
Multi-beneficial properties: Licorice has anti-bacterial, anti-fungal, anti-viral properties that help in healing wounds faster
Anti-inflammatory properties: Licorice has anti-inflammatory properties so it is known to be useful in reducing spasms and inflammation
Anti-oxidant properties: Our human body has the capacity to produce free radicals which can sometimes harm the body cells and tissues. Licorice helps in reducing the free radicals in the body
Anti-malarial: According to many studies Licorice can completely eradicate malarial parasites that are present in the body. It can also eliminate viruses such as vaccinia, influenza viris and many more
Expectorant properties: It aids in the secretion of mucus, and therefore can be a very good home remedy for reducing cough, dry throat, and throat irritation
Protection to the liver: It offers protection to the liver by reducing any kind of inflammation and also aids in reversing liver damage
Heals wounds quickly: A licorice root when applied to the wound helps the wound to heal faster
Reduces fever and acts as a pain-killer: When licorice root is externally applied on the skin it has a tendency of penetrating very well and thereby acts as a pain-killer. It also has fever reducing properties
Ulcer healer: Licorice roots have the quality of reducing gastric ulcers
Maintaining dental health: Licorice can help in preventing cavities and thereby is excellent in maintaining dental health. Chewing on wild licorice stem is said to work as a tooth cleaner and help in preventing gum disease
Demulcent: When licorice comes in contact with water it tends to become slimy and slippery. This special quality helps in coating the mucous membrane and thus act as an excellent demulcent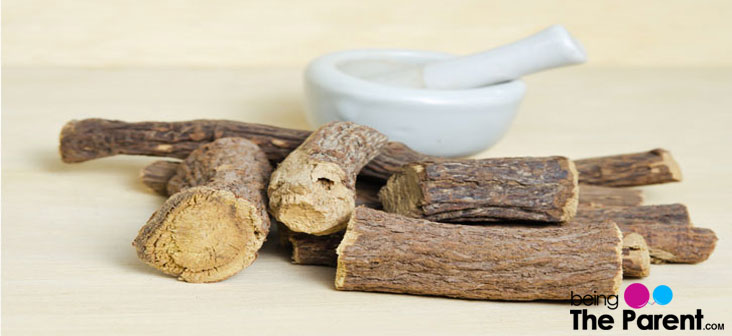 Side Effects of Consuming Licorice
Consuming Licorice in excess can cause many side effects like hypertension, water retention, cataracts etc. People with heart problems should avoid the consumption of licorice as it affects the adrenal glands, hormones and blood pressure that can lead to heart failure. Other side effects of consuming excess licorice include diabetes, kidney failure and liver disease.
Is It Safe To Consume Licorice While Breastfeeding?
There are no scientific evidence that prove the effects of licorice on nursing mothers. But generally licorice is not recommended to lactating mothers due to the following reasons:
Intake of licorice by breastfeeding mothers can result in reduction of scrum prolactin which reduces the production of milk in the early stages of lactation
An excessive intake of licorice can cause severe headaches, hypertension and hypokalemia
When excess amount of herbal tea containing licorice is consumed by the lactating mother, it is found that the infant becomes very weak, there are signs of weak sucking by the baby, and the infant is found to be hardly responding to painful stimuli
If the lactating mother is using diuretic medications it is better to avoid the use of licorice as it reduces the potassium levels in the body and can prove to be very fatal to the mother
Licorice or its supplements should not be consumed on a regular basis as it can affect the estrogen levels of the lactating mother, which in turn can interfere with the quality and the quantity of the milk production
Babies feeding on mothers who have consumed licorice in a large quantity seem to have a slight laxative effect on them
Overdose of licorice can lead to muscle paralysis
Heart rhythm disorders can also occur in some lactating mothers
Reactivation of breast cancers
Is It Safe To Consume Licorice Candy While Breastfeeding?
Licorice Candy tastes similar to licorice root extract, but it does not contain licorice root. Both the red and black licorice candies do not have the presence of licorice root in them, but they have another ingredient called anise in it instead of licorice. Safety of consuming licorice candy during breastfeeding is not yet known.
So we find that though licorice is beneficial in many ways, but it also has side effects on nursing moms. So before consuming licorice while breastfeeding, it is always better to consult your doctor. Avoid prolonged use of licorice and moderation is the key!