Just like in most animals pregnancy invokes primal instincts in humans as well. The nine months of pregnancy prepare you mentally and physically for the arrival of your offspring. During the last few stages of pregnancy your body will send you signals to make arrangements for the newest member of the house. This is common among various species like cats, rabbits etc. This urge to clean, organize and make arrangements especially for the baby is called nesting, and is referred to as desire to ready home for the new baby. Since some people argue that it is seasonal, it is sometimes referred to as "spring cleaning."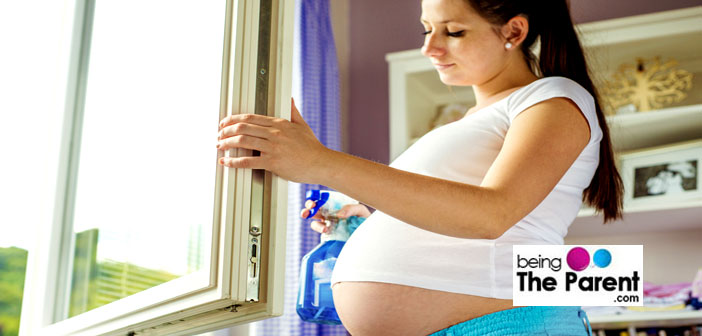 Why Does Nesting Phase During Pregnancy Occur?
Nesting usually occurs in the 38th -39th week of pregnancy. During the final stage of pregnancy there is an increased surge of adrenaline in the body. This surge affects the nervous system which results in increased heart rate, blood flow and strength. Hence, during nesting mothers get energetic and hyper.
How Can I Make The Most Of My Nesting Phase?
When the nesting urge hits make the most of it by doing something productive and preparing for childbirth. Old folklore believes that when nesting suggests that you are nearing labor. You can put your energy to good use by preparing the house for the baby's arrival. Here are some of the activities you can indulge in-
Decorate your baby's room: What better way to prepare for your little one's arrival than decorating the baby room. You can arrange the new clothes, stock up and arrange the utilities you even draw on the walls to make it more child friendly. Chanel all the energy into doing something productive and creative for your baby. As you inch closer to the due date this is the right time to organize your baby's room since you and the baby are to spend most of the time in it
Go shopping: One of most fun and exciting things you could do during your nesting phase is to go shopping. It could be anything from clothes to baby necessities. Grab your partner or a bunch of friends and make it a fun and relaxing outing. This will not only channel your energy towards productive things but also prove to be an effective stress buster
Do simple household chores: The adrenaline rush may urge you to undertake big tasks. In such times use your best judgment and keep yourself busy with simple household chores. You could undertake dusting and cleaning, doing the laundry or vacuuming. You don't need to undertake big tasks like construction and repairing since it could take a toll on your health
Get busy with DIY items: This is also the perfect time to get your creative juices flowing. Make pretty stationery, photo frames and utility boxes that might come in handy later. You could also try your hand at knitting and stitching
Cook: Bring out the old recipe books and try your hand at cooking. Cooking is proven to be a good stress buster. It will calm you down and you will able to treat your family to some lip smacking goodies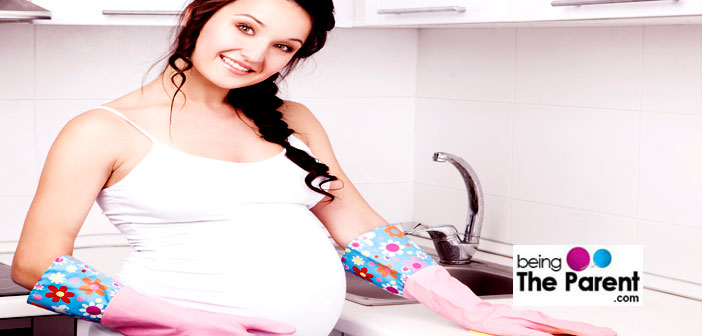 Safety Recommendations For Nesting During Pregnancy
Even though your adrenaline rushes and motherly instincts urge you to get off the couch and get busy, do not get carried away. Here are a few precautions and tips to keep you from harm's way during the nesting phase.
Take it easy: There is no need to get paranoid or hyper active. If you feel you are under prepared for your baby's arrival make a list and sort of things in a calm and sensible way. Don't exert yourself unnecessarily. Know that once the baby arrives everything will fall into place
Steer clear of chemicals: If you decide to go ahead and do some serious cleaning it is recommended that you stay away from harsh chemicals and detergents. Not only are the chemicals hazardous but even their smell can make you feel nauseous
Seek help: We understand that you'd want everything to be perfect for your baby and for the same reason you might want to do everything on your own. Pregnancy is a crucial time and you'd not want to create complications in the final leg either. Hence seek help whenever necessary, ask your family to assist you wherever and whenever they can
Avoid heavy lifting: By now you must be well aware that you must not lift and move heavy objects. Sometimes women get carried away during their nesting phase and absent mindedly carry heavy objects. Always be aware that you are responsible for two and refrain from doing anything that could cause harm to you or the baby
Take breaks: Organizing, cleaning and other such activities are not harmful in anyway but it is important that you take breaks and don't tire yourself. These activities should be fun and not a task