Sweet potatoes are rich in nutrients. Its nutritional value and delicious taste make sweet potatoes a wonderful choice as the first food for your baby. The wonderful flavor of this root vegetable and its creamy layers and smooth consistency is simply liked by little ones. However, like before introducing any new food to your baby, you may also be a little cautious before you give sweet potato to your baby. Your mind will be filled with questions like is sweet potato good for my baby? How to give sweet potato to my baby? This article will help to clear your doubts.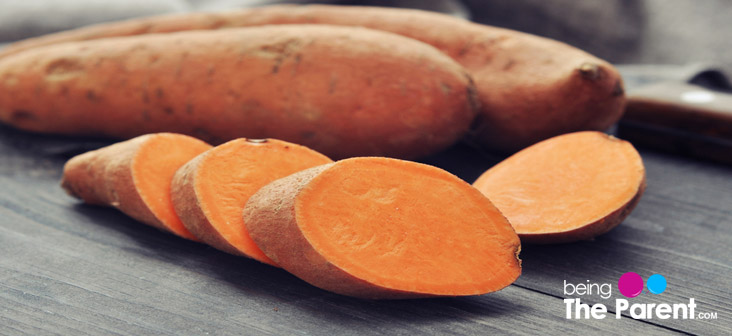 What Is The Nutritional Value Of Sweet Potato?
Do Sweet Potatoes Cause Allergy For Babies?
What Are The Benefits Of Sweet Potatoes For Baby?
When Can Baby Start To Have Sweet Potatoes?
How To Cook Sweet Potatoes For Baby?
How To Make Sweet Potato Puree For Babies?
How To Select And Store Sweet Potato?
What Is The Nutritional Value Of Sweet Potato?
The following table will help you to understand the nutritional value of sweet potatoes. The nutrients present in every 100 grams of sweet potato are charted below:
Nutritional Value Of Sweet Potatoes
Contents
Amounts
Calories
86
Fat
0.1g
Water
77%
Carbohydrate
20.12 gm
Natural Sugar
4.2 gm
Sucrose
2.5 gm
Glucose
1 gm
Fructose
0.7 gm
Lactose
Nil
Maltose
Nil
Galactose
Nil
Proteins
1.6 gm
Fiber
3 gm
Starch
12.65 gm
Vitamin A
709 µg
Vitamin C
2.4 mg
Vitamin E
0.26 mg
Vitamin K
1.8 µg
Vitamin B9 (folate)
11 µg
Vitamin B1 (thiamine)
0.078mg
Vitamin B2(riboflavin)
0.061 mg
Vitamin B3 (Niacin)
0.557mg
Vitamin B6
0.209mg
Calcium
30mg
Iron
0.61mg
Magnesium
25mg
Phosphorus
47mg
Zinc
0.30mg
Potassium
337mg
Sodium
55mg
Source: United States Department of Agriculture
Do Sweet Potatoes Cause Allergy For Babies?
Sweet potatoes are not found on the list of foods that cause allergies in babies. In spite of this fact, it is better to watch closely how they react to this new food. Look for the signs of rashes, your baby developing gas, diarrhea, vomiting, or is spitting up.
What Are The Benefits Of Sweet Potatoes For Baby?
5 important nutritional benefits of sweet potatoes for babies are:
High level of beta-carotene and vitamin A: Sweet potatoes are one of nature's highest sources of beta-carotene. Beta-carotene helps the body to produce vitamin A. More than 100% of daily recommended intake of vitamin A is present in sweet potatoes. Vitamin A is important for healthy eyes
Resolves constipation: When the baby is introduced to solid foods, there are chances of developing constipation as the digestive system of the baby is not fully developed. Including sweet potatoes in the baby's diet will help to keep constipation at bay due to its fiber content that pacifies the bowel movements
Boosts immunity: One sweet potato has about half of the daily recommended Vitamin C. Vitamin C has antioxidant properties and can also be helpful in boosting the body's defense system. Babies are vulnerable to common infections like the common cold. Including a sweet potato in your baby's diet will strengthen the immune system of the baby as it is the best source of powerful disease-fighting antioxidants like vitamin A, vitamin C, and Vitamin E
Rich in vitamins and minerals: Sweet potato also is a decent source of other vitamins and minerals. It has a good amount of vitamin D that helps in building strong bones and teeth. Vitamin D also beneficial for a healthy heart. All the important Vitamins from B1 to B6 and also B9 is present in sweet potato and this helps with the development different organs and hence will help your baby to achieve the milestones right on time. It is a good source of minerals that assures healthy metabolism. Iron content helps to prevent anemia in babies
High on calorie: Baby's ought to gain weight fast. Giving the baby sweet potato as solid food will help to gain weight fast as they are high in calories. They also release energy slowly making it more beneficial for babies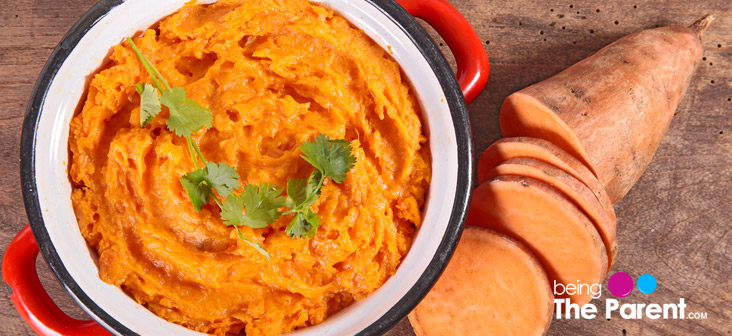 When Can Baby Start To Have Sweet Potatoes?
Sweet Potatoes can be given to babies after 6 months once they start to have solid food. It is a good solid food for even early starters. You can give them sweet potato, two or three times a week. Make sure you puree it so that there will be no lumps and attains a nice smooth consistency.
How To Cook Sweet Potatoes For Baby?
One great thing about sweet potatoes is there are a lot of ways to cook them. You can bake, boil, microwave, mash, steam, or even grill them. Whatever method you use to cook it, sweet potatoes retain their delicious flavor. What you must keep in mind is to remove the skin of the sweet potato. This is because its skin has a lot of fiber in it, which can be difficult to digest for babies. You can peel off the skin before or after cooking the sweet potato. Also, remember that the sweet potatoes can be dry after cooking, so it is better to blend in some butter.
How To Make Sweet Potato Puree For Babies?
Peel the skin, wash thoroughly the vegetables and fruits before starting the cooking procedure. Here are recipes of some wonderful homemade sweet potato puree which your baby will love to have:
Sweet potato puree: Slice the sweet potato and steam, boil, bake or microwave it. Once well cooked and soft, let it cool for some time. Now put it in the blender and add a little water (you can add vegetable stock also). Blend well till no lumps remain
Sweet potato-apple puree: Steam the apple and steam or boil sweet potato until it becomes tender. Now put both of it in a blender. Nicely blend them both so that you get a mix without any lumps. The Sweet potato and apple puree is ready
Instead of an apple, you can use sliced and steamed carrot, peas, ripe banana, and even boneless chicken. Chicken should be boiled and well-cooked separately
You can add chicken stock or vegetable stock along with the sweet potato in the blender to get the desired consistency
How To Select And Store Sweet Potato?
Selecting Sweet Potatoes
When it comes to baby's food, during the selection of ingredients and while preparing food, you should be extra cautious.
Select those that are not damaged and devoid of brown or soft spots
Select medium or small sized sweet potatoes with even-colored skin
Do not buy those that have deep holes or cuts on them, or one with discoloration or liquid oozing out of it, as it could be contaminated
The skin should be firm and smooth
Buy sweet potatoes that are grown in organic farms to ensure the absence of pesticides
Keep in mind that deeper the color of the sweet potato richer it will be in antioxidants
Storing Sweet Potatoes
There is no need to keep sweet potatoes in the refrigerator
You can keep it room temperature
Select a cool, dark and dry area like cellar for storing the sweet potatoes up to a month
On the other hand, if you keep it at room temperature use it within a week. Never use or store sweet potatoes more than a month
Did you give sweet potato to your baby? In what way did you give sweet potato to your baby? Please let us know in the comments section below.