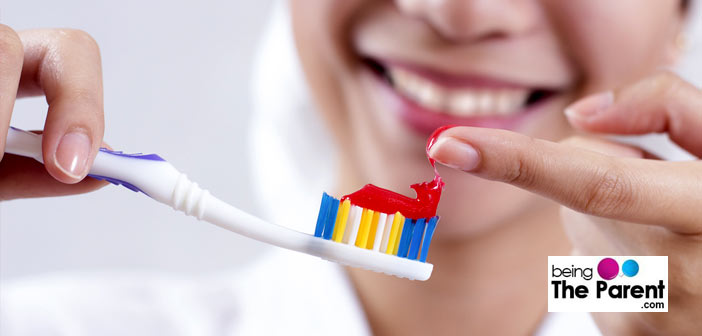 Almost fifty percent of expectant mothers-to-be experience red, swollen, tender gums that often bleed when brushed or flossed. Oral care assumes a lot of importance during pregnancy. Owing to changes in the hormonal secretions, multiple dental problems appear to bother women who conceive. There are risks of bacterial infections, plaque formation and gum bleeding due to high blood pressure. The progesterone and oestrogen in the body can cause the gums to be sensitive to bleeding making you all the more susceptible to gum diseases. Therefore, every pregnant woman needs to follow a healthy oral care routine consisting of mouth washing and flossing, even if it hasn't been on the list the earlier years.
Toothaches During Pregnancy
Toothaches are mostly caused by injury or trauma. Tooth sensitivity can be caused by traumatic blow and injury can be due to tooth decay or cavity.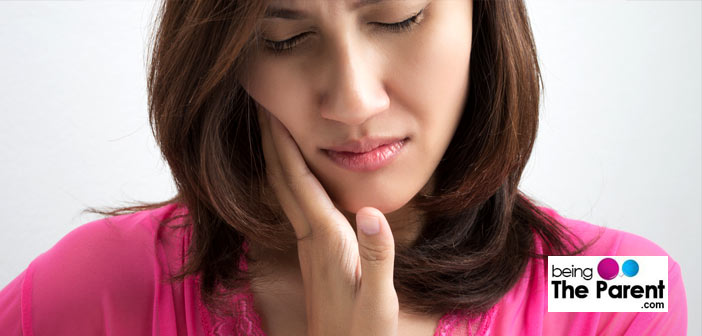 Here is a list of some important causes of toothache during the time you are expecting
Abscessed tooth: It can be defined as the infection originating from within the tooth up to the roots of the neighboring bone.
Damaged or fractured tooth: Fractured tooth causes exposure of sensitive dentin and pulp. You might feel pain whenever you bite or chew the food. This is known as 'cracked tooth syndrome'
Dental work: The tooth sometimes become more sensitive after large or deep filling or even the crown is done. This is because the dental work can sometime irritate the nerve but this sensitivity usually subsides once the tooth becomes healthy
Teeth clenching or grinding: Bruxism or teeth grinding or teeth clenching is usually done unconsciously but it can damage the teeth and often irritates the nerves to the extent that they even become sensitive
Gum infection or gum disease: Periodontium comprises of gum ligament, gum and bone. The periodontium anchor the teeth. Periodontitis is the inflammation of periodontium accompanied by pain due to damage to the loss of bone surrounding the teeth
Exposed root surfaces: If the roots of teeth become exposed due to the loss or damage of the surrounding protective bone or gum, teeth become sensitive to simple stimuli such as temperature changes or brushing
Sinusitis: Since the roots of upper molars are adjacent to the maxillary sinus cavities, the sinus inflammation can affect the molars too and can even make them sensitive. This can lead to painful teeth
Third molars ("wisdom teeth"): Wisdom teeth or third molars are the extreme last permanent teeth to erupt. Moreover there is not enough space in the mouth cavity consequently the third molars become trapped in the jawbone (impacted). It is difficult to clean the partially exposed third molars and so it becomes vulnerable to infection
The gum diseases usually do not cause any harm to you particularly if you are practicing good dental hygiene. Severe gum diseases can however pose a potential risk for pregnant mothers and they can go into preterm labor.
Dental Hygiene During Pregnancy
The first thing to do is make an appointment with a dentist. If you are in the planning mode, the dentist may begin your treatment right away, but during pregnancy it may not be wise to start on any treatments. Many women during different trimesters of pregnancy vomit several times. They feel weak. However, still they should not overlook oral health. Morning sickness often discourages pregnant women to brush teeth with cold water. That's why, professional dentists advise their patients to use baking soda with fresh lukewarm water to remove thick layers of plaques and stinking odour.Amidst morning sickness too, oral care routine needs to be followed.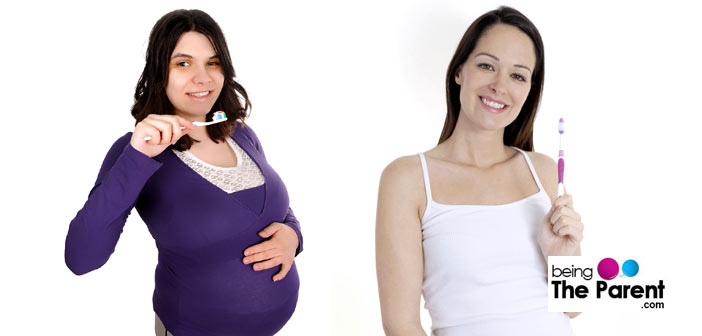 The best way to keep gum ailments at bay during pregnancy is by practicing good oral hygiene.
Brush thoroughly and gently at least twice a day
Use a soft bristled branded toothbrush and toothpaste rich in fluoride
Floss regularly
Get regular preventive dental care
You dentist will remove plaque and tartar that is not removed by mere brushing
Eat a lot of citrus fruits and fruits rich in iron as they keep your gums and teeth healthy
Go for regular dental checkups
Consult your dentist if you have a toothache, bleeding gums, painful gums, bad breath, loosened teeth, etc.
You should follow good dental hygiene to avoid or mitigate oral health issues.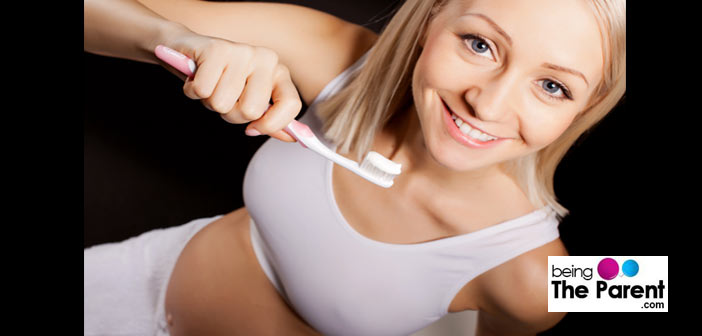 Other Essential Tips for Dental Care During Pregnancy
Regular flossing, teeth cleansing with medicated fluoride toothpaste prevents many diseases and oral infections
Keep your teeth fresh and unhurt by following a thorough mouth rinsing on regular basis
If you have none to guide you how to do dental care during pregnancy, visit online dental care clinics to have more ideas and tips to increase the longevity of teeth and gum
Online dental care specialists give their opinions to pregnant women instantly. It is helpful to many innocent pregnant women who have major/minor dental problems
For preventing tooth decaying, eat fresh cheese, which provides lot of calcium. You will get alkaline as well to strengthen up your teeth and manage acidic impact on the teeth
Drink water frequently to refresh the mouth. Due to recurrent vomiting, mouth and teeth are stuffed with heavy layers of acid to dampen the quality of teeth. Water cleans 99 percent debris and acidic components from the mouth
Make your teeth stronger. If you like to consume sugar-based food during pregnancy, try to steer clear of high carb sweeteners and confectionery to protect enamels of your teeth
Pregnant women should not smoke or drink alcohol randomly. Unborn babies in their wombs will be affected by infections. Gingivitis makes gums bleed to create physical discomfiture. Periodontal disorder is caused due to the onset of gingivitis during various stages of conception. Tooth loss and gum bleeding must be handled by removing symptoms of periodontal disorder. Patients should visit health clinic once in a month for medical trials.