"Head, shoulders, knees and toes, knees and toes,
Eyes and ears and nose and mouth.
Head, shoulders, knees and toes, knees and toes"
When your toddler sings this as an action song, while touching the respective body parts as he sings along, you have multiple reasons to be proud of. He has not only mastered a rhyme, he has learned many body parts too. So how do you actively teach body parts to your child? Read on.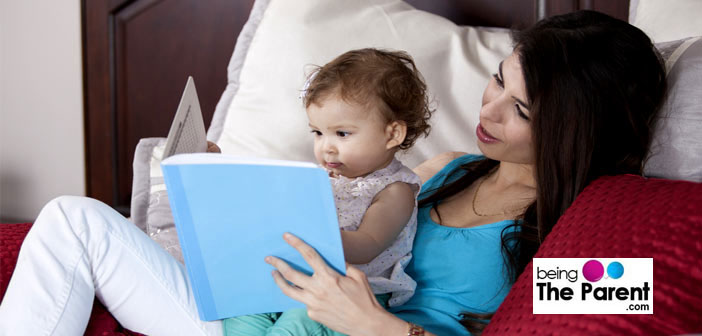 When Can I Start Teaching My Child About Body Parts?
Body parts make fantastic first words. Babies as small as 1 year old can learn body parts, like eyes and nose, although they might be too small to say the words. So when should you start? As early as you want. The sooner they start associating the words with the respective body parts, the quicker their body awareness increases and the faster they will be able to learn it when they start speaking.
How Can I Teach Body Parts To My Toddler?
Teach them through songs: Remember how fast they adapted to "Heads, shoulders". You can be creative and make more verses out of the same song. One popular version is:
"Feet, tummies, arms and chins, arms and chins (2)
Eyes and ears and mouth and shins
Feet, tummies, arms and chins, arms and chins
Hands, fingers, legs and hips, legs and hips (2)
Eyes and ears and mouth and lips
Hands, fingers, legs and hips, legs and hips"
Similarly, many other nursery rhymes can be converted into a "body part" song. (e.g. This is the way I touch my hair, touch my hair). Kids are great at memorizing songs and actions. Take advantage of this
Teach them through questions: With an older toddler, you can start playing body parts quizzes. You can ask him which body part he uses to see, and if needed you can even give a hint. Always causally ask them questions like "can you point to mamma's neck?" or "Can you touch your nose with one hand and ear with the other?". You get the idea
Teach them through pictures and posters: You get many picture-books that aid you in teaching your baby different body parts. You can also buy big posters and stick them in your house and continue pointing out various parts and name them. In fact, you can even take a big chart paper, draw a human body, get your child to color it, and use this as the poster
Teach them through explanations: When your child hits toddler-hood, it is a good idea to give short explanations about each of the body part. "We see with eyes", "We hear with ears", "We smell with nose"and so on. This way, you take your child's body awareness to another level. Not only he learns the names of the body parts, he also knows what they do
Teach them through props: Give your child a soft stick with blunt ends and ask him to point at his own, your and other family members' body parts. Similarly, make quizzing a continuous activity. When reading a story book, ask your child to point out the character's different body parts (from the picture). The objective is to teach the same thing using a variety of methods
Teach them variations: Bored with our body parts? Show that their favorite animals have body parts too. And some of them have extra body parts (e.g. Tails). Try to point out how different their body parts are as compared to ours (e.g. Dogs have wet nose, rabbits have long ears and so on)
How Can I Teach My Toddler About Private Body Parts?
By the time your child is 3, he knows boys and girls are different (gender awareness). Most of us resort to associating words like "su-su place" "wee-wee" or "pee-pee" (or some creative word of your own) for the private parts, i.e. penis and vagina. There, did you cringe at the sight of those words? Why? Because we don't ever call them that way? Why? Because we think there is a bit of shame associated with our private parts? Research now shows that it might be better to teach the child the "right word" for the all the body parts, including private ones. Children develop a negative attitude towards their private body parts, if even we, as parents, use code words for it. Having a genital is nothing to be ashamed of, and there is no reason why they should not know what it is called, when they are experts in other body parts.