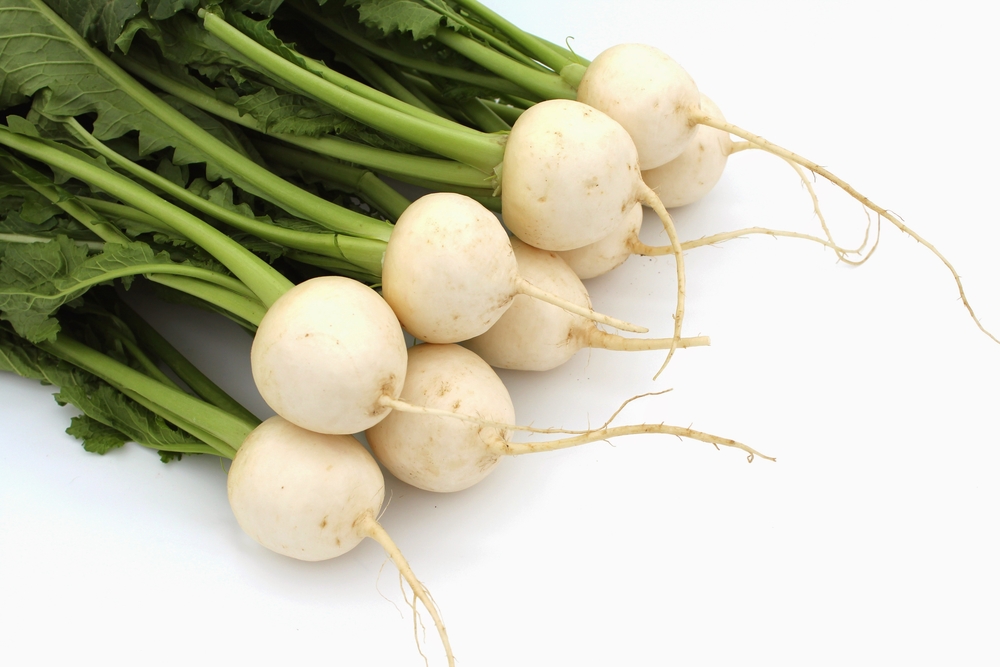 If you have started introducing solid foods in the form of vegetables to your baby, then you must have already made a list of vegetables that you can buy. Here is a tip! Shall we ask you to add turnips also in the list? You will thank us later because turnips are a must-have nutrient-packed vegetable for your baby's development and growth. Read ahead to find out why and how turnips are good for your baby and also how to cook it for them deliciously.
What Are Turnips?
Turnip is a root vegetable which grows in a place where the climate is temperate. Turnip roots are a very common ingredient in vegetables, salads and many other Indian preparations too. But you must be aware of the fact that the green leaves above the turnips are more nutritious than the roots and are considered to be a storehouse of nutrients and antioxidants, vitamins and minerals when compared to the roots of the turnips.
What Are The Nutritional Benefits of Turnips for Babies?
As said before, turnips are a powerhouse of nutrients and have a lot of nutritional values and benefits that it can provide your baby. Here are some of the nutrients that are found in turnips;
Turnips roots are rich in Vitamin C
Turnips are an excellent source of folate, calcium, phosphorus, potassium, sodium, and magnesium
Turnips are high in fiber and low in calories
How To Select And Store Turnips For Baby?
Selecting: Once the doctor gives a go ahead, then you can visit your local vegetable market and source for fresh baby turnips, which are small and round in shape and those which are heavy for its size. These baby turnips are sweeter than the bigger ones which are sometimes bitter taste, which your baby may refuse to eat.
Note: In case you get slightly large turnip, and if you are worried about it bitterness, here comes a remedy. Boil it with potato slices. Potato slices will absorb the bitterness of the turnip to a great extent.
Storing: Wrap the turnips tightly and keep them in a cool and well-ventilated place.
How To Introduce Turnip For Babies?
First of all, check with your pediatrician if your baby is ready to be introduced to vegetables such as turnips. Once he gives you a green signal, start with turnip puree.
Preparing Puree: Wash the turnips under cold running water and peel off the skins. You can pressure cook the turnips with water and once it cools down you can blend it into a puree as per preferred consistency and start by giving small bites to your baby.
Once your baby adapts to the taste of the turnips you can slowly introduce it into other solid food preparations as well. Although you may not enjoy eating this root vegetable yourself, be rest assured that it is actually a super food for your baby. Do consult with your doctor first and introduce this healthy vegetable into your baby's everyday diet to make it packed with nutrients.
When to Introduce turnips for babies?
Once your baby turns 6 months old you can begin offering pureed or mashed veggies and fruits into your baby's diet. Turnips can be introduced to your baby from 8 months onwards. As this root vegetable is packed with nutrients it helps in a healthy development of your baby.
What Are the Benefits of Considering Turnips for Babies?
Turnips can be introduced to babies between the age of 6-8 months. As discussed before turnips are packed with nutrients that are important for your baby's growth and development. Here are some of the benefits your baby will receive from the vegetable.
Prevents Constipation: Owing to the carbohydrates in this veggie, turnips will help to prevent constipation and aid in smooth bowel movement of your baby. This will keep your baby's digestive system smooth.
Boosts Immunity: The vitamin C present in turnips will help to build the baby's immune system and also to absorb iron from the food.
Good for Brain Development: The rich iron content and traces of zinc in turnip will help to develop your baby's brain.
Enhance Blood Circulation: As it is a good source of iron, Turnips helps with RBC formation and thereby improves your baby's blood circulation. This is very important for the overall development of the baby.
Aids In Baby's Bone Development: Turnips are calcium rich. It can contribute to developing strong bones and teeth of your baby.
Can Turnips Cause Any Health Concerns for My Baby?
Even though not that common, turnips can bring about certain side effects. Therefore, make sure to follow the four-day rule (continue feeding the same (new) food for four days. Only one new food to be introduced at a time) when you introduce turnips to your baby. This will help you to find out how your baby's body reacts to this new food.
Gas: If your baby becomes cranky and start to cry inconsolably after feeding turnip, most probably it will be due to gas formation in your baby's stomach. This can disturb the baby's appetite as well. Your baby might suddenly begin to cry as she might be experiencing discomfort in her stomach. When you introduce turnips to your baby, just give little amounts for a day or two and see how your baby reacts to the vegetable. In case there is no discomfort, then you may continue to feed turnips to your baby. But if you notice any signs of discomforts after feeding turnips, discontinue immediately and check once with your doctor regarding the same.
Allergy: Baby can contract turnip allergy, although it is rare. If your baby develops a runny nose, sneezing, itching or coughing right after being introduced to turnip, it can be the sign of turnip allergy.
Turnips are indeed a great source of various nutrients for your baby, but if you have any family history of food allergies, there are chances your baby has it too, so ensure you speak to your baby's pediatrician and introduce new foods in a slow-paced manner. Some of the symptoms of illness that your baby may show if she is allergic to turnips are cough, itching, sneezing, and running nose. If you notice any of the above symptoms kindly get your baby consulted with your doctor.