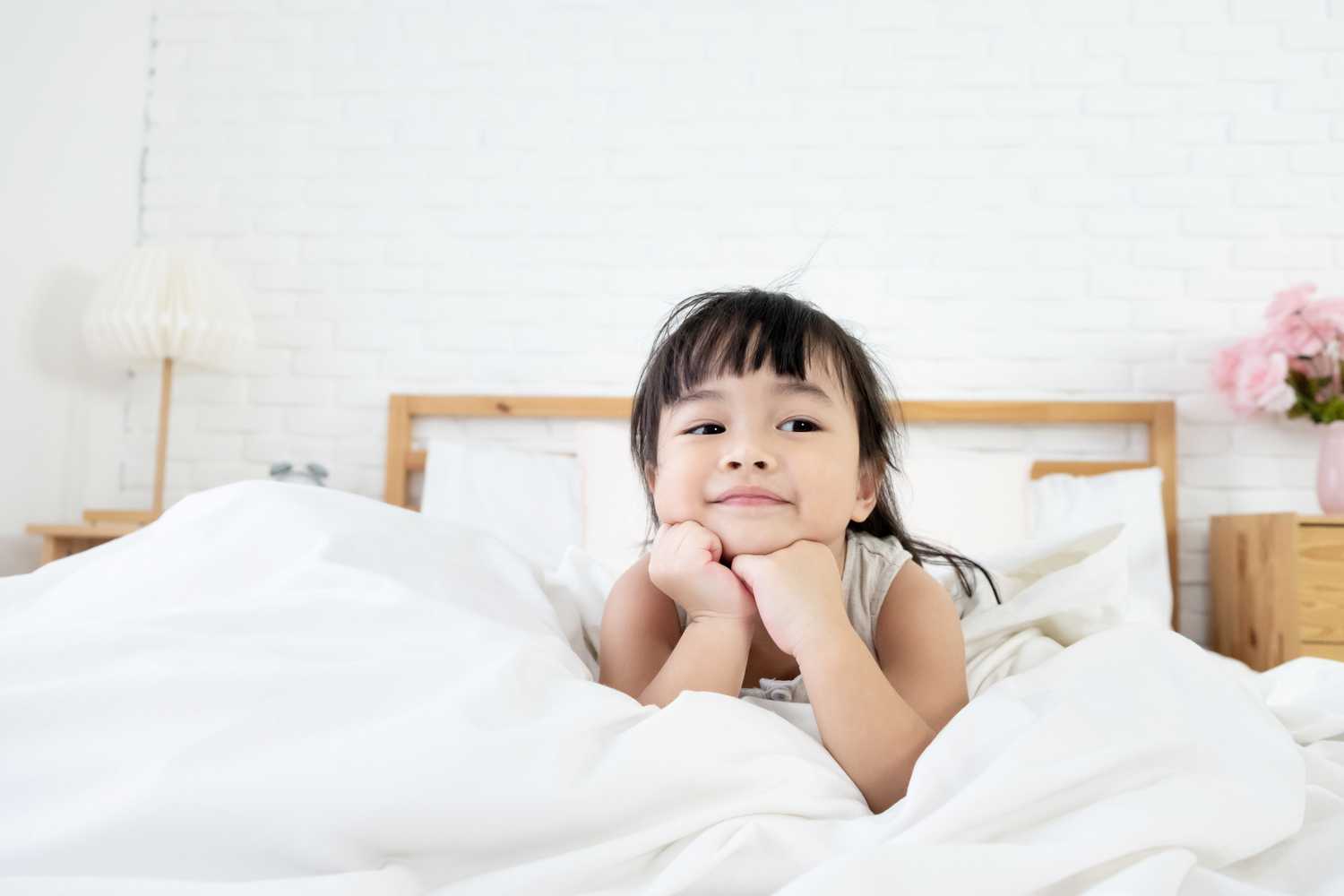 When that little bundle of joy arrives, life as you knew it comes to an end. It is a new beginning. You will have to change many things around you and also within yourself. One of the biggest changes new parents have to make is their sleeping arrangements. You cannot enjoy that big bed of yours, all to yourself. It is time to share!
Babies feel the most comfortable co-sleeping with their parents. Then they move on to their cribs where many babies hardly sleep. Many of them would sneak back into their parents' bed at some point or the other if not every night. As they grow up, you need to update their sleeping arrangements accordingly.
When Should You Move Your Toddler To A Big Kid Bed?
It is not just about their size or age; it is about their mental development too. As a parent, you might not be ready for them to grow and move on. However, it is a parental responsibility to help them become independent and courageous enough to sleep in their own bed.
When your toddler starts showing signs of independence, you can shift them to their own bed. The transition will be smooth and easier now than later. If your child is too big for their existing toddler bed or to sleep in your bed, it is time to buy them their own big kid bed.
Making The Bedroom Safe
When both you and your toddler are ready for them to move into a big bed – in your shared bedroom or their own bedroom, you need to ensure the room is safe for them.
Here are a few safety measures you can take:
Ensure there is enough room around the bed for them to walk in case they wake up at night. You don't want them stubbing their toe into something in the dark.
Remove all toys, books, etc., from the bed and floor to avoid tripping.
Have a small night lamp to help you see your child in the dark or for them to find their way around the room.
Barricade the sides with pillows to prevent your child from falling off the bed. You can use bed railings or push the bed against the wall too.
Do not have shelves or storage space above the head area. If the bed has a headboard with shelves, do not store anything heavy in them.
Choosing A Bed
Choosing the right bed for your child can be a complicated task. You need to find something soft but not too soft as it will affect their back and posture. It cannot be too hard and firm as it will hurt their back and neck.
Apart from the firmness, you need to consider the size too. Do you want to invest in a small size bed now due to space constraints and buy a bigger bed later? Or, do you want to buy a bed they can use for many years to come?
The material of the bed is another important factor to consider. Certain materials can be very good for the back while some can be hard and can even cause health issues in the long run. This will include the material used inside, outside, the number of layers, cover, etc.
Nolah Nurture 10 Mattress
Nolah is a US-based mattress manufacturing company, which creates mattresses for better comfort and sleep. Driven by sleep technology, this company is successfully improving the age-old mattress materials – memory foam and latex. They use the latest technology, superior knowledge about sleep and build a 3-layer mattress for better sleep for everyone – including your kids!
The Nolah twin children's mattress is an organic mattress specifically designed for kids, keeping their safety and comfort in mind. It comes with a cover made of certified organic cotton, for supreme quality and comfort.
Why Consider Nolah 10 Mattress?
With so many companies offering a variety of bedding options in the market, why should you opt for Nolah Nurture 10 mattress? There are other similar companies selling mattresses for kids right? Well, Nolah is not your average mattress manufacturer. They are driven by technology and prioritize children's needs over everything else.
Safe For Kids: They use Talalay latex, which is hypoallergenic, making this a great choice for even kids with allergies and sensitive skin. The material is also antifungal and antibacterial, thus effectively resisting mold, mildew, and bed bugs, which can cause some serious infections and illnesses in children.
Safe For Environment: In addition to all the above, the Talalay latex is also eco-friendly. It comes from water-based raw materials and renewable sources. It is bio-degradable and nature friendly, meaning it has no harmful chemicals or plastics that can affect your child or the environment.
Versatile:The mattress is versatile, enabling you to use it on any type of flat surface. There is no restriction on the type of bed frame you need to choose for this bed. So, you can buy a flat platform, slatted bed with slats no more than 4 inches apart, box spring, or even an adjustable bed frame. So, you can choose the bed frame your child likes or something that matches the furniture in the room. Nolah does not constrain your choice.
What Makes Nolah Nurture 10 Mattress The Perfect Choice
Here are a few reasons why Nolah Nurture 10 mattress could be the best choice for your child's "big kid" bed:
1. Organic Cotton Cover
Cotton is a perfect material for the outer cover on a mattress. It is a breathable material and is soft on a child's tender and sensitive skin; it does not cause rashes or irritation; does not make them sweat when they stick to the same posture all through the night.
Nolah uses not just any cotton. The company uses GOTS (Global Organic Textile Standard) certified organic cotton. When it is certified material, you have very little to worry about! The standards are always maintained.
2. Wool Layer For Extra Cooling And Breathability
Wool is a natural fiber that facilitates ventilation and temperature control. It keeps the mattress cool and does not heat up like plastic fibers. The woolen layer is an additional layer, which will make the mattress softer and more comfortable to sleep on.
Wool is also fire resistant, thus providing safety for your child in case of a mishap. Wool tends to absorb all the moisture on the surface, which helps it maintain the temperature very well. When the mattress has such a layer of breathable material, your child can have a very comfortable sleep all through the night.
3. Soft Pressure Relieving Talalay Latex Comfort Layer
A mattress must have the right softness to aid a good sleeping position and comfortable sleep for not just one night but for years together. Nolah mattresses come with a 2-inch-thick layer of soft natural Talalay Latex. This layer offers 33% more pressure relief than other latex like the synthetic and Dunlop varieties. It provides optimal comfort for all your pressure points and joints, for better pain relief.
Though children's bodies are supposed to recover much faster and better than adults and are not prone to joint pains and aches, a bad mattress can cause all of that. A mattress that does not offer enough support for the developing and growing body, will only hinder the growth of the child.
4. Firm Pressure Relieving Talalay Latex Comfort Layer
If a mattress is too soft, it will not offer enough support for a good posture or sleeping position. The 2-inch-thick layer of firm natural Talalay Latex offers the right firmness required for your child's back and joints. It helps in relieving the pressure and reduces pain in joints – 33% more than Dunlop or synthetic latex.
Kids exert and strain their bodies all day and need a good sleep at night in the right mattress to help relieve all those joint pains and pressure points. When you invest in the right mattress, everything is taken care of.
5. Added Wool Layer For Extra Cooling And Breathability
There is a second layer of woolen fibers for better comfort and ventilation. This second layer of wool helps in regulating the temperature and absorbing all moisture, to provide a cool mattress to sleep on, all through the night.
Since the mattress is flappable – meaning you can use it on both sides; the second wool layer ensures, both sides of the mattress have good ventilation and temperature regulation. So, no matter which side of the mattress you decide to use, your child will have the same level of comfort and safety.
6. Extra –Durable Organic Cotton Bottom Cover
Now, the bottom cover is also made from GOTS certified organic cotton, for better quality throughout. The cover features a durable cotton material that helps lengthen the life of the mattress.
When your toddler is transitioning into a big kids' bed, you might have to move the mattress around a bit before settling in the final spot. With this organic cotton covering even the handle area, the mattress stays well protected. You don't have to worry about that part of the mattress giving way, because you carried it or moved it around a little too much.
Top 5 Tips To Help Your Child Settle Into The New Mattress
Despite picking the perfect bed for your toddler, they will still require more support for a smooth transition. It can be exciting for some while some kids might feel intimidated. Is your child having a hard time settling into their new mattress?
Here are a few tips to help them settle in:
Read them a story every night as a part of their bedtime routine. They will relax hearing your voice and a good story. It can help calm down their anxiety.
Follow the same bedtime routine as before. Now is not the time to change routines. Too many new things at a time can be overwhelming.
Buy them bed covers of their choice. This could be their favourite colour, character, design, etc. When they get to choose their own bedding, they will feel more grown-up and ready for the shift.
Give them a cuddle toy if they are feeling anxious to sleep away from you or in a new bed.
Sleep in their bed for a couple of nights or at least stay in bed with them till they fall asleep – if they are having anxiety issues. If they are sleep trained or used to sleeping alone in a separate bed, this may not be necessary.
Conclusion
Shifting your toddler into their own big bed can be a huge change for the entire household. It is a visual reminder that they are growing up too fast. However, this is unavoidable and you need to make the right choice for them.
As a parent, you must be mentally strong and ready to help the child transition with ease. If the child feels your anxiety, they will get anxious too. Take pride in watching them grow rather than brood over them growing up too fast.