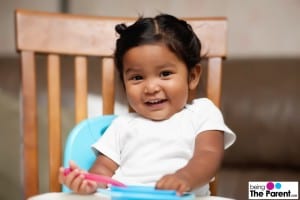 If you have been on the move off late, well, blame it on to the little ball of energy that seems to be moving more than you could ever imagine. As your child comes close to the completion of his/her second year, most of his infant clothes and toys would turn inadequate. He'd be in love with all the things that are dangerous, and would probably show some kind of gender identity. But hey, now is not the time to ask your little girl to behave like one! There is still time for that. At 21 months, your child's physical and mental development would make you feel like he should be sent to school – those energies need to be channelized somewhere.
What most children can do
The development of a child takes place in a sequential fashion. In the early periods of time, the development of the brain took place. After one year, physical development gathers pace. The trend continues throughout the twenty first month. A twenty months old child is almost ready for school and engages in higher levels of intellectual pursuit. He/she may listen carefully to what is being said around him/her. This sense of inquisitiveness would definitely increase, at least for the time being.
Most children of this age would be able to follow an established toilet routine. This would be the result of toilet training that begun a few months ago. However, a child cannot be expected to use an adult toilet seat yet. The occasional accident should be forgotten as these should die out.
At this age, most babies would scribble on walls or pages of books. Though most of these would crudely represent drawings, there still is some time before the skills of holding a pencil is fine enough. Most children of twenty months would be able to understand that there is a semblance between the spoken and the written word. He/she would be able to understand letters and digits more easily. If communication previously was carried out through a disjointed set of words, the same would be more fluent.
What some children can do
By the twentieth month, a different set of toys would replace your child's requirement list. You would need to get him/her toys that can keep his/her feet engaged. Some children of this age would be able to read small words and sentences with some difficulty.
At this age, very few children may move to a once a day sleeping pattern. But encouraging this may not be such a good idea. A child requires at least 10 to 12 hours of sleep during this period of growth in order to provide adequate rest for the brain.
What few children can do
Trying to give your child a head start in academic syllabus may be a good idea. Introduction to the alphabets or digits may be one way to begin. Very few children would understand this relation with the written word. However, a few may show signs of grasping the basic letters and/or digits. He/she may be able to write and spell aloud the alphabets although some confusion would persist. Moreover, a few children may even accomplish tasks such as changing clothes without much help.