In India, we hear about many accidents, where the child, typically placed on mother's lap on the passenger side, is killed or grievously injured during head on collisions. An infant seat can dramatically reduce the risk of death and serious injuries of your child if your car meets with an accident. That is why it is imperative to buy a car seat.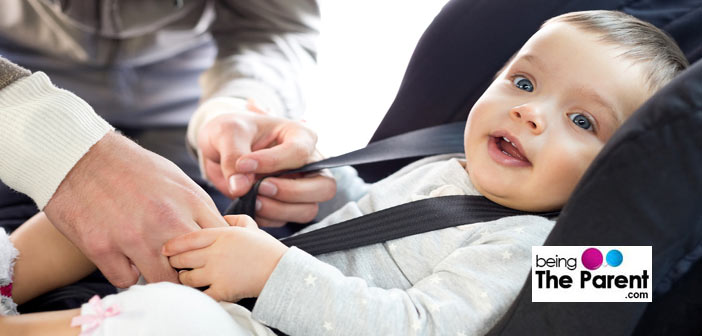 Types Of Car Seats
Majorly, three types of car seats are available in the market, namely infant car seats, convertible car seats, and booster seats. Since road safety is the main reason that you are investing in a car seat, you must choose one that suits your baby's age, weight, height and the type of car you drive.
Infant car seats: As the name suggests, these suit babies primarily during the first year of life. They are easy to carry and install, and face the rear of the car. However, front facing infant carriers are more easily available and are preferred as well. These are usually considered safe till your baby weighs 13 kgs.
Convertible car seats: These are larger and heavier than infant car seats and can be used in both the directions – rear and front of the car. Though expensive and heavier, they can accommodate your baby till about she is 18 kgs
Booster car seats: Boosters use the car's seat belts and are designed for children age 4 and older. These make sure that the car seat belts that are actually designed for adults can also be snug and fit for kids
Why Invest In A Car Seat?
In many developed western countries, the hospital will discharge the mother and new born only if the parents' car is fitted with an infant car seat. Further, the parents are legally bound to continue using baby car seat until the child turns 3 (and can use regular car seats). Many parents feel that they need to hold and cuddle their babies when travelling and not resort to baby seats which, according to them, lacks "warmth". This is a wrong attitude. Safety should precede such presumptions. Some parents also think that second-hand or used car seats will also serve their purpose. This is again incorrect, used car seats may not be safe anymore or may not be according to your child's needs. We, at beingtheparent.com, urge every parent of small children to invest in a baby/infant/child car seat and get your children used to it.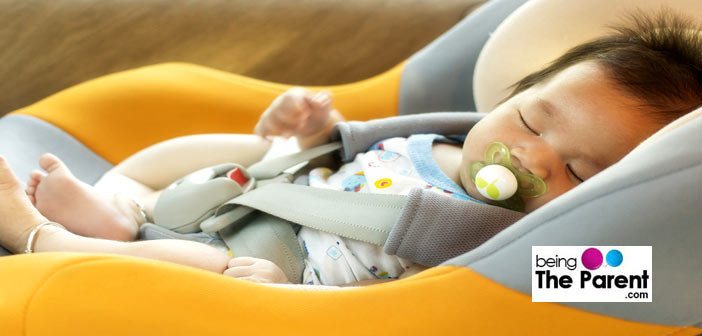 10 Tips to Buy an Infant Car Seat
On that note, here are 10 questions you might have and answers for them:
What kind of baby car seat do I need?: As explained above, you can decide on which car seat you wish to buy- rear facing ones or convertible car seats. Rear-facing seats are typically used for infants, and as the name suggests the baby in this seat will be facing the back of the car. The advantage of rear facing car seat is that it can be taken in and out of the car, so it is easier to move a sleeping baby. The disadvantage is that your baby will outgrow it before he/she turns one. Convertible seats can be used as rear facing seats initially when baby is an infant and then, as the name suggests, can be converted into a normal child seat that faces front. The advantage is pretty apparent – you can use the same seat from infancy to toddler-hood hence saving money. The disadvantage is that it cannot be taken in and out of a car like a rear-facing seat
Is price my primary criteria?: Some brands like Chicco sell "combo" travel system that is primarily a pram, but can be converted into a stroller and a car seat. Such products come with a carrycot as well, so you can use it for your child from infancy
Should I buy a new one or settle for a hand-me-down?: Although it is very economical to buy a car seat in the second hand market, or just reuse one that your older nieces/nephews used, it is not a very good or safe idea. For one, we cannot be sure if these products are "as good as" new and would work during a collision. Secondly, you might not get the original box or instruction booklet, meaning you do not have any guidance for fixing it in the car. And lastly, safety technology advances so much every year that it is always better to go for a newer product that something that is years old. Remember you are buying a baby seat to improve your child's safety. Let us not compromise on that
What kind of safety harnesses should seat contain?: Buy a product that has at least 5 harnesses – 2 shoulder straps, three waist harnesses (two on sides and one between the legs). This should ensure baby cannot be jerked out of the seat in the event of an impact.
What kind of side protection does the seat offer?: See how well cushioned the sides of the seats are where the baby's head might strike. Look for air pads / extra foam in this area

Is the premium-priced seat worth it?: What are the add-on features available? Be aware that some of the car seat brands available in India are imported and hence you might end up paying a premium for no extra benefit. Look for additional features like a larger canopy, better quality and softer fabric and anti-rebound bars (that restricts the seat's movement during a crash) if you are paying extra
Can this child seat be fitted well in my car?: Again, as mentioned above, many car seats available in Indian markets are imported and hence not designed for Indian cars. Read the fitting instructions in the box or let the shop executive explain it to you so that you can decide if it will be a fit for your car and requirements
Do I need extra seat bases?: If you are buying an infant seat and not a convertible one, then your seat will come with a plastic base which you have to install in your car. The actual seat can be buckled into this base when travelling, or snapped out of it when getting out. If you have multiple cars, pick a infant seat brand that sells extra seat bases so that you can install it in the second car
How easy is it to clean the child seat?: If the child seat cover does not come off, then cleaning becomes a nightmare. Pick a model that has detachable, washing machine-safe seat covers
How easy is to use it?:Ask around your friends and family. Read online reviews. Pick a model that is easy to install, easy to secure your child in and easy to understand (with respect to the instruction manual). Some retail outlets give product demo. Make use of them and make an informed choice
Always remember, safety comes first!
Happy parenting.