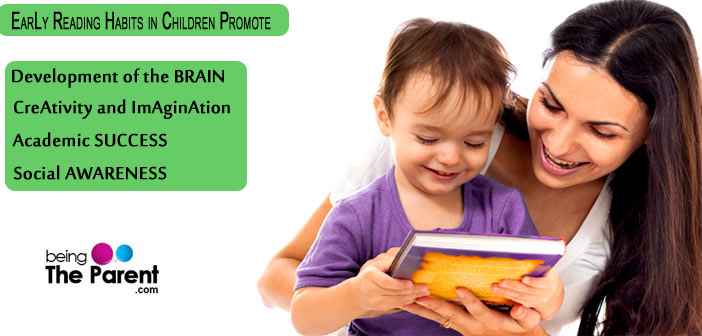 As Joseph Addison correctly put,"Reading is to mind what exercise is to body". You might say that what good reading will do in this age of competitive academics; but research has it that reading not only helps in academics but also helps in grooming the personality, increasing knowledge and fostering skill development. Reading also makes a great hobby that enriches life in ways more than one. What a child will learn through reading is likely not to be taught in school, and this makes reading more fun. Reading is, in fact, vital in shaping the youth of tomorrow.
Benefits Of Early Reading In Children
Teaching your child to read early and making it a regular habit has multiple benefits. Not only reading will impact every aspect of his life, it will also be a boost to his academics. After all, it is reading that holds the key to all formal education. Below are some of the many advantages of inculcating early reading habits in your children:
Reading helps in the development of the brain: As you would know, the first six years of a child's life are very vital for the brain and a child learns faster and rapidly in these years. Approximately 200 billion active brain cells or neurons are active when a baby is born, and each of these can produce about 20,000 different dendrites or connections that can store information. However, this is done only when the right stimulation is provided to the child. By inculcating reading skills early in life, the functioning of the entire brain is positively influenced. Additionally, early reading also makes up for a lifelong hobby
Reading helps in academic success: Early reading habits fosters increased attention span and concentration. It is also through reading clearly that one can comprehend the concepts of other subjects. Because a child has the love for reading, he will be inspired to learn more and more and this will make him score higher grades. Increased vocabulary and comprehension skills will enable the child to pick up on minute details and this will benefit him in academics to a large extent
Reading boosts creativity and imagination: A child who has grown reading from an early age with loving guidance from his parents will develop imagination and kick in a creative mind. Reading will promote discipline, moral values, maturity and a sense of self-confidence in a child. A child's curious mind will expand, and he will question things and find answers. A child who reads joyfully at home will feel self-confident and independent. Reading at home also helps developing a loving parent-child relationship
Reading promotes awareness: It is through reading that the child comes to know of great people and great deeds. History, geography, or science, reading opens doors to all subjects and makes the child aware of the world. He will feel enriched with knowledge and love the attention he will get in school. This will boost his self-image, and increase his social status among his peers
However, with apparent declining reading habits in the GenNext children, it's common for the parents to worry about their child. You must bang-on try to inculcate reading habits as early as possible in your little one. Even if your kid seems too young to understand, he is able to comprehend short sentences spoken to him and their senses cannot be ignored. Below are a few tips to raise a toddler with healthy reading habits.
10 Tips To Encourage Reading In Toddlers
A toddler cannot read by himself, but he would love the pictures and would notice your lips moving when you read to him. Reading to him will introduce him to the magical world of books, and give him a friend for life.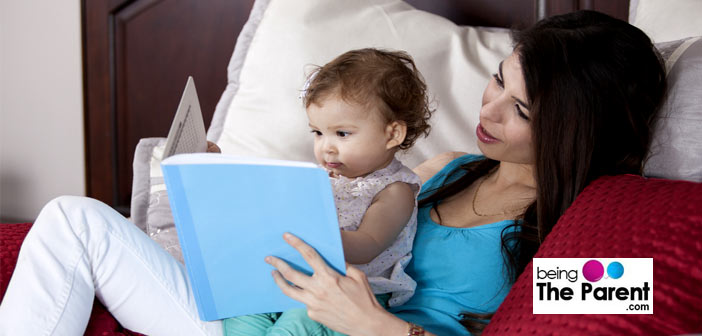 Establish reading routine: Believe it or not, kids adjust very well to the routine. Although you can read anytime to your kid, whenever he feels or you are free, anticipation prepares kids and keeps them organised too
Make reading fun: It is not necessary for your kid to sit still, engulfed in your arms and in your laps for the reading activity. Your kid may want to take a stroll around prodding things while listening to you. Let him do it, he may come back and sit with you on hearing a certain word or sound. Try not to associate any negatives with reading
Be dramatic: Bring out the exaggeration within you and act out the story. Try to incorporate as many senses as you can during reading. For instance you may even sprinkle a few drops on your child while enacting a rainy scene. Be expressive and accordingly modify pitch and tone of your words. You may sound unhappy or excited, imitating the voice of an evil king or damsel in distress. And soon you will find your kid following suit, repeating words and sounds
Use picture books: There are wonderful books in the market and libraries that contain 3D images that pop up when you turn the page. Lo! the 3D image of the entire kingdom lies in front of your kid's eyes and this will simply mesmerize him. It's OK if he simply want to discuss the image or point things at it. Slowly he will associate it with the story
Introduce variety: There are variety of genres available for toddler. You may select from songs, rhymes, alphabets, actions and story books. Take cues from what your kid likes. You may even use video CDs depicting alphabets and rhymes enacted by your kid's favorite cartoon. This will catch his interest and encourage him to learn what Doreamon or Mickey Mouse are teaching. In this way your child's vocabulary is developed in various sections not just one
Don't force reading: There are some kids who do not love reading as much as others. Give your kid break, read very short stories and gradually you may increase the reading sessions
Talk to your child: Make reading interactive. Use your kid's name instead of the character's name making it more appealing for him. Speak to your child about the story in short and clear sentences. You can ask questions about the stories such as "What will happen to the prince now?" These will encourage his thinking abilities
Be a role model: Kids learn most of the activities through imitation in early years. You must practice what you preach. Demonstrate that you indulge in reading and enjoy it too. This will positively influence the reading of your child
Extend reading experiences: Just like the movie, Baby's day out! When you read a story about hens and ducklings, you may take your kid to the farm and make your kid familiar with these animals. Similarly when enacting hare and tortoise, schedule a visit to the zoo
Apply reading in daily life: Let your kid identify words and story characters (such as animals) in real life. Encourage him to read signs or menus. Knowing he has correctly read these, will positively boost him to read more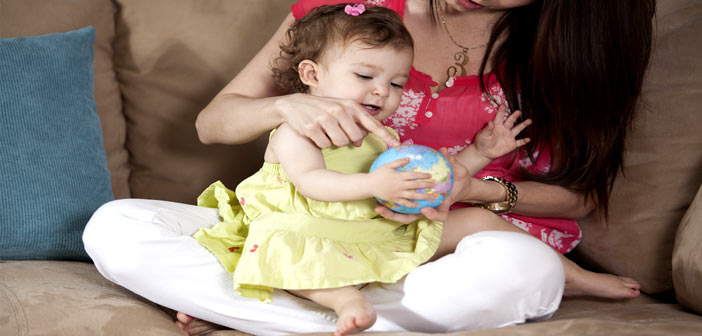 In addition to above, make sure that the reading books are within the reach of the child. During his play time he may simply gaze through the books, turning pages, pointing at words and making sounds or even labeling them. Its very common for the child to demand reading the same story book again and again. Don't get mad on him about this, you will be surprised to hear him completing sentences for you and making sounds with you. This is a healthy reading milestone!