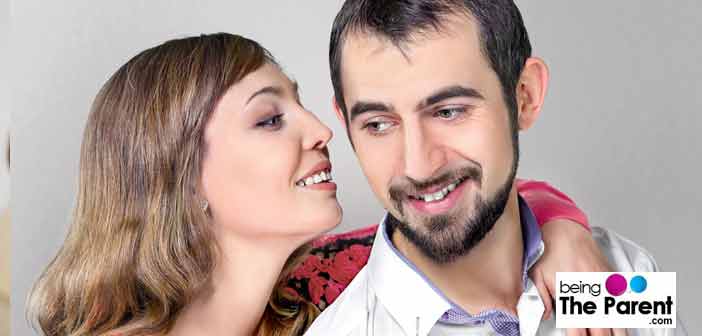 Congratulations!! You just found your pregnancy test to be positive and now you are dying to tell your husband the big news. Getting him informed about pregnancy can be very exciting for you. But the question is "how?" Dialling the phone or tying a SMS will also send the message, but doesn't it sound boring? Do you want to tell him about your pregnancy in a different way, without using words? Actually it's a wonderful idea for which you need to be little creative. Here are some ways by which you may deliver this awesome news to your partner:
Play treasure hunt:Make a few notes and hide these in different corners of the house. The first note should give the clue about where to find the second one. Second one will guide him to the third one and so on…
The first note can be "I want to tell you something…" or "I have a gift for you…" or "let's see if you can find the treasure." It could be anything depending on your imagination. Second note may contain your first meeting picture or engagement snap with the clue where to find next! Instead of writing anything on the last one just put a pacifier or a baby poster or a feeding bottle and see his expressions unfold from getting surprised to happy!
Personalized gift: There are hundreds of ways to express this feeling by buying personalized gift for him. Take the cues from below-


Any branded or even non branded t-shirt with some message on it like "hello dad" or "ready to be a father?" would give him sufficient clue about your pregnancy
Plan an outing to some children park and tell him it's going to be a regular affair now. It can be good surprise
You may write some personalized message on your belly or any other body part which your husband likes the most. It could be "Hi daddy" or "get ready for a junior"
Just a father's day card with written on it "today is the day for you" may be something sweet and simple. You may choose e cards too
Pack a lunch box for him leaving a small card in it saying "I am coming daddy". He will be culinary and tastefully surprised to see it in his office

Using technology:You can make a lovely presentation using slides if you are good on computers. Detail all the important events of your relationship using pictures and then last slide with the snap shot of your positive pregnancy result. This will surely shock him. Email him some funny portrait of a male, female and a baby. Send a text message on his mobile saying, "we have a guest, come home soon". Give him clue once he comes home to find the guest. You can make it as interesting as you want – set your creative energies free!
Decorate your bedroom: Fill your bedroom with cute soft toys and baby posters before he comes back home. Let the room gleam with all important photos from your relationship's beginning to marriage in the sequence of events and at last, frame a blank sheet with big question mark. He will surely guess what's going on . You can even use lots of balloons for decoration and keep a different color balloon with something written on it like "a good news is on the way"

Plan a small get together:Call his close friends and family for a small party at home. Ask everyone to congratulate him without telling him the reason. Tell him it's a surprise for him. Have a cake ready written on it something like,"Hello dad" or "Wish you a happy fatherhood" or anything else you can come across. Now have him open the cake box, he will be surprised to see the message.
But remember this works out only for a partner who will not mind sharing this big news with friends and family. If you are not sure about it do not go for this idea
Whatever way you choose, just fill it with your feelings and emotions. This is one of the remarkable events of every couple's life so do not forget to capture those shocking, joyful, confused and on the top of the world expressions into the camera. The chances are your partner may be able to guess it if you both share excellent chemistry.