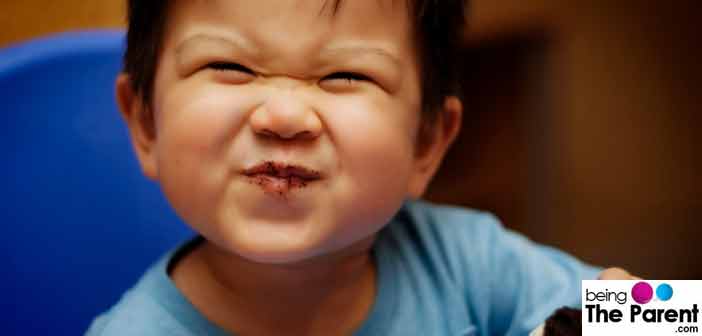 Toddling their way to make mess, get dirty and falling in such a way that even physics cannot explain how it happened, toddlers are balls of energy! Such 1 to 3 year old kids have a great deal to learn in these years. To ensure that your child's development is in right direction, food plays a vital role. Make sure that your child is well fed throughout the day with these recipes for toddlers.
Menu for Breakfast
Healthy Banana and Raisins Pancakes
Ingredients: 1 cup fine wholegrain flour, 1 Large egg, 1 cup fresh milk, 1 ½ tablespoon sugar, 1 teaspoon baking powder, ½ fully ripe banana, 1 tablespoon of coconut oil or any flavorless vegetable oil, ½ teaspoon vanilla extract, Raisins cut in small chunks, half cup of thick cream, powdered sugar, salt to taste.
Cook time-20 to 25 min
Method:
In a mixing bowl, mix together wholegrain flour and baking powder after sieving them. Set aside
Take half of ripe banana and blend it with warm milk to make a creamy paste
In a small bowl take whole egg and whisk it with wire balloon. Add sugar, pinch of salt, vanilla extract and whisk all the ingredients together until well combined. Add creamy paste of ripe banana and milk prepared earlier, whisk everything together to make a runny paste
Add dry ingredients prepared in step one to the wet ingredients in above made runny paste to make batter for pancakes. Add chunks of resins to it. If the batter is too thick, add some milk and if too runny add some more mixture of flour and baking powder
Do not over mix the mixture and let it rest for 15 minutes
Heat a small pan on medium heat and brush it with coconut oil so that pancake batter will not stick to the pan while cooking
Pour about 1/4th of batter in the pan or as much as you want to make one pancake. While cooking see for edges of the pancake, if dry and bubbles appear on the surface, flip the pancake and let it cook from the other side. It will take about 2 minutes to cook. Make four small pancakes or until the batter is used up
Serve the pancakes with fresh cream and sprinkle some powdered sugar on them
Strawberry milk smoothies
Ingredients: 4 to 6 hulled Strawberries, ½-cup skim milk, ½-cup plain yogurt, 1-teaspoon vanilla extract, 2-tablespoon white sugar or honey.
Cook time-5 to 6 min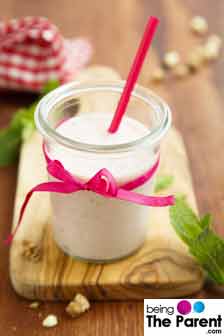 Method:
Combine strawberries, milk, yogurt, vanilla extract, sugar or honey and blend it together in a blender
Let the content chill in freezer or serve at normal temperature
Top the strawberry milk smoothie with sliced strawberries or raspberries. You can also make such smoothies with different types of berries or all at once
Lunchtime Menu
Baked eggs and cheese with extra veggies
Ingredients: 2 Eggs (white or brown), 4 cherry tomatoes, 1-garlic clove, spring onions, sniped red or yellow pepper powder, cheese cube, butter, salt to taste.
Cook time- 20 to 25 min
Method:
Pre heat an oven at 180C
Chop spring onions, garlic clove, finely and Slice 4 cherry tomatoes in half
Grease the cup cake tray with butter. Drop chopped garlic clove, spring onions at the bottom of mould

Sprinkle some sniped red or yellow pepper powder

Break egg an egg into a bowl and tip it carefully into a cup cake mould. Top it with 4 cherry tomato slices cut in half
Cover the contents surface with grinded cheese and bake it for 15 minutes until the egg white sets
Serve with finger bread sticks
Sweet corn soup
Ingredients: 1-cup Vegetable stock, 1-cup milk, 2-tablespoon butter, 1-tablespoon flour, Chopped coriander leaves, 150 gram sweet corn, 1 ½-cup water.
Cook Time-10 to 15 minutes
Method:
Heat butter in a pan and stir in flour. Add water, milk, vegetable stock and bring the contents to boil
Add sweet corn and cook until sweet corn is soft. Add salt and some yellow pepper powder according to your child's taste. Cook again for 2 minutes
If you want creamy soup, you can blend the contents
Sprinkle chopped coriander and serve with fresh bread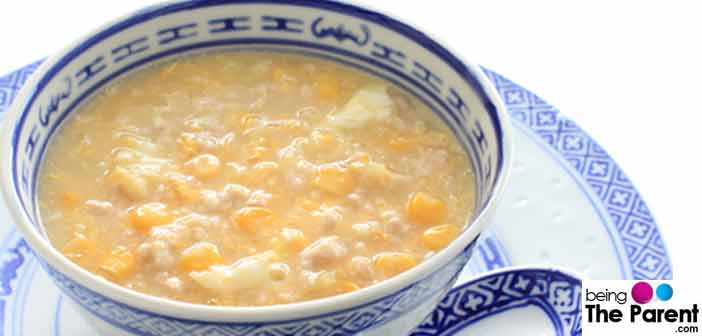 Tip- Soups are good as they are liquid food and help to digest. You can prepare diffrent type of soups for your child's meal.
Menu for Dinner
Mashed potato with veggies
Ingredients: I big Potato, I small onion, 1 small yellow and red capsicum, chopped coriander, 1 small ginger bud chopped, 1 garlic clove chopped, green crispy lettuce leaf, olive oil, cumin seeds, grated cheeses (optional) salt and pepper.
Cook time-40-45 minutes
Method:
Take one big potato and boil it in water until it is cooked. Keep aside to cool, peel of he skin and mash the potato.
Chop garlic clove, ginger bud, onion, and capsicum finely
Medium heat 1 tablespoon of olive oil in a pan and add half table spoon of cumin seeds. Toss all the chopped ingredients in the pan for just a minute to give a glossy look. Do not cook the ingredients. Sprinkle pepper and salt according to your child's taste
Mix these ingredients with mashed potato, sprinkle some grated cheese on it if you want and bake for 5 minutes until the cheese melts
Sprinkle chopped coriander and serve
Chicken risotto
Ingredients: 1 small skinless chicken breast, half cup risotto rice, 1 small finely chopped onion, finely chopped carrot, finely chopped pumpkin, 1/4th cup green peas/ frozen peas, 2 or 3 cups of reduced chicken stock without salt, pepper, salt to taste.
Cook time- 50 minutes to 1 hour
Method:
Heat olive oil in pan on medium heat
In the pan sauté onions for two minutes until they appear translucent, add diced carrots and pumpkin and cook for 5 minutes
Add chicken in the pan to the content and continue cooking till it gets cooked through
Add peas in the pan and risotto rice mix the content well. Add more oil if necessary
Add chicken stock to cover the whole mixture and add some salt to taste. Leave the pan open and stir the contents
When the stock gets absorbed add some more and keep stirring repeatedly. Repeat until all the stock is used up and rice becomes tender and creamy
Sprinkle finely chopped parsley and serve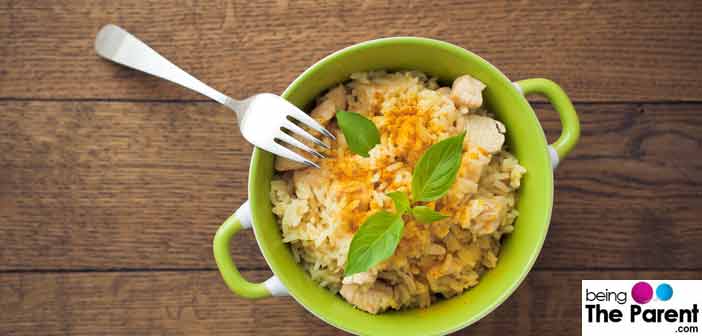 Make sure that your child eats 4 to 5 times a day. Prepare food that has enough liquid contents and is easy to digest.