Majority of the parenting articles available online focus on and address the mother. What should mothers do to keep themselves and babies happy? How can mothers lose pregnancy weight? What should new mommies eat? When should new mommies sleep? How does she balance being a mommy with being a wife? When will she get some rest? The list goes on.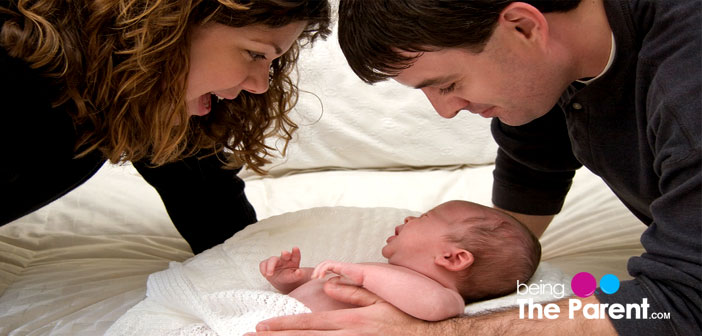 There is a whole demographic these articles are ignoring, a demographic as important as the women. Yes, we are talking about you daddies out there. We know you are scared too. We know how overwhelming fatherhood can be. We know how worried you feel when your wife wakes up every two hours to feed the child. We know you are trying to balance office life and home life too. And above all, we know you feel confused and helpless as you are not always sure how you can make your wife's life easy. So here, we have put together a list of eight things you should do for your wife after you have a baby.
Note: Ladies, pass these tips to your better halves as most likely they are too clueless to even search on this topic 😉
And men, here is some insider information before you read further. Your wife seems always upset with you after the baby? This could be why: 8 Reasons You Have Differences With Your Husband After Having A Baby. Now read on to find out what you can do:
8 Things You Should Not Forget To Do For Your Wife After You Have a Baby
Appreciate her hard work: Being a mother is the hardest thing your wife has ever done. And unfortunately, your baby is too young to appreciate her hardships. But you are not! Most often, she feels upset only because no one seems to notice or realize how much efforts she is taking. Start noticing. Be kind and appreciative. Talk to her. Tell her you are proud of her. Be patient through her mood swings
Listen to her: As important as talking to her, or perhaps more important, is listening to her. It might sound like ranting. It might sound repetitive. Bear with it. She might be dying to speak about her day, her fears, her challenges and what not. Encourage her to speak. Show patience while she desperately rambles. And please keep your phone away during this time!
Help in kitchen and laundry, and other chores if you are game: There are many things she has to do which mostly revolves around the child. So do not forget to take away some of her workload. Help in kitchen. Cook her a meal. Do laundry. Find out from her the household chores which she usually does. And identify the ones you can contribute to. And no, we are not talking about doing this for one day. Tell her you will do laundry from this day till the day she wants you to. What she needs is everyday commitment, not one-off help
Show some love. Show lots of love: You do not have to kill the romance just because there is a new member in your lives. Pamper her whenever you can. She might resist, because her priorities have changed. Pamper her anyway. Send her for a spa massage. Give her a foot massage yourself. Bring her a glass of water, juice or tea when she is sitting tiredly. Get her a gift, for no reason. Tell her you love her. Tell her you are proud of her. Assure her you are in this with her
Find time for each other: It might sound impossible. But there are ways you can find some couple time, even amidst this hectic schedule. You do not need to do anything during this time. You can just watch a movie together at home. Or you can read books. Just be with each other. There is only one rule. Do not discuss the baby!

Plan a vacation: Traveling with a baby is not as difficult as you assume. A short road trip to a good resort or home-stay in a hill station might just be the thing she needs to unwind and refresh her mind. While a surprise trip sounds exciting, it might be better to spill the beans earlier, so that she can plan better (you know she plans better!)
Do not pressurize about sex: Remember that her body has gone through tremendous change physically. She might not be ready to get physical yet. Give her time. That said, you should also talk to her. Find out why she does not want to have sex. Many women feel they are physically not attractive after delivery. So it is your job now to make her feel sexy, whatever her size is. May be she is afraid of pain that might happen during intercourse. In which case, take it slow. You could make out, kiss, or just cuddle. Key thing is not to pressurize her if she is not ready
Be a kick-ass dad: Yes, you heard it right. More attentive you are as a father to your baby, more loved the mommy is gonna feel. More hands-on you are, more proud she becomes. Everything you do for your baby, your wife is going to appreciate. So go ahead, be a kick-ass dad and make both your better half and little bundle of joy happy!
Good luck!