Why torture your newborn's delicate skin with chemically charged products when Aveeno Baby Cream and moisturizing lotion have arrived in India!
Baby soft skin is probably the most prominent attribute that is used by popular skincare brands to promote their products. Interestingly though one of the most sensitive things you will find in the world around you is your baby's skin. It is true that baby soft skin feels great to touch with its smooth texture, flawlessness, and tenderness (no wonder we love cuddling our plump little munchkins). But their skin is fragile and needs intensive care and attention.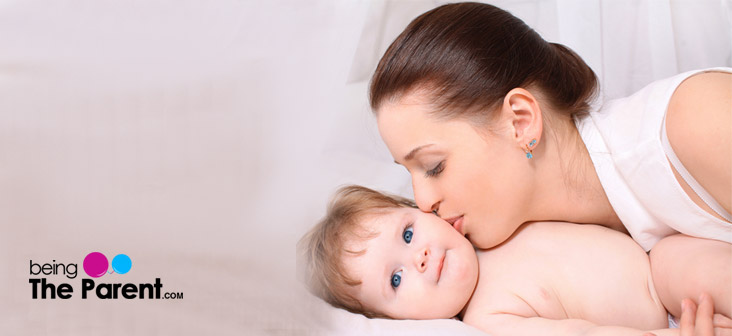 Now you may wonder why baby skin is so delicate. It is important to understand that when babies are born they have a developing epidermal barrier that does not fully mature till 2 years. So till then, your infant's skin is prone to rashes and other skin problems that adult skin is capable of defending. Diaper rashes and atopic dermatitis are the most common skin problems affecting a large percentage of babies worldwide. Most baby care brands try to deal with these issues, but the use of chemicals in some popular products can do more harm than good in the long run.
One misconception that both brands and consumers have is that all things labeled "natural" are good. For example, there are certain natural vegetable oils that may be contaminated because of inconsistent quality across crops and may also house naturally occurring allergens that may irritate the delicate skin of your little one. Only a trusted skin care company that has the complete understanding of baby skin needs and problems and has the technology to back its research with a viable outcome can come up with a really innovative product that is natural with all its goodness.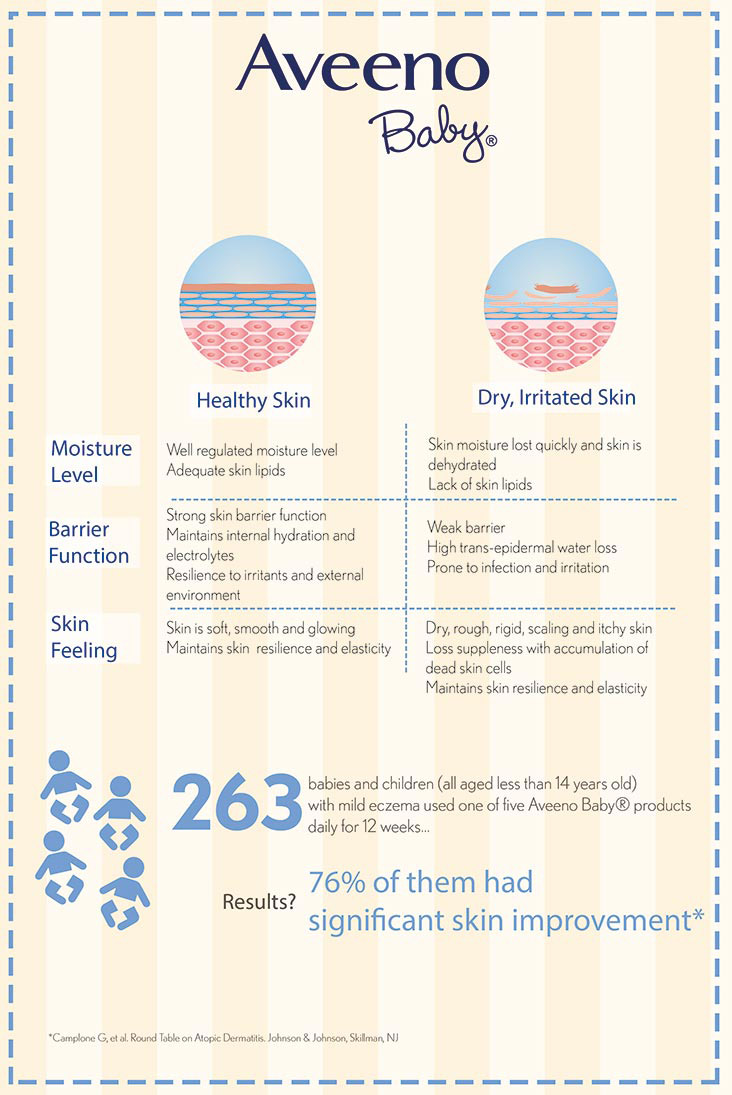 Does Aveeno Baby Products Use Natural Ingredients?
Before we find this answer, let us see if there is a miraculous natural ingredient for healthy baby skin? The answer is YES. Oats are a cereal grain, a breakfast table "must have" for health enthusiasts across the globe. But this is not where the benefits of this magic cereal end. The oat kernel is loaded with five skin essential elements found naturally in the healthy human skin. These vital elements are lipids, vitamins, antioxidants, enzymes, and proteins. Once these natural elements in the kernel are activated, this tiny little grain becomes one of the most powerful ingredients to ensure the health of your baby's sensitive skin. When whole oat grains are ground and powdered, the result is Colloidal Oatmeal, a recognized skin protectant, preferred by numerous dermatologists worldwide.
Why Did Aveeno Baby Choose Oat Extract As Its Primary Natural Ingredient?
After many years of relentless research Aveeno found that Colloidal Oatmeal nourishes the skin in special ways:
Protein and polysaccharides present in the oat kernel moisturizes the skin by retaining moisture within the epidermal layer
The active oatmeal forms a protective layer on the skin to prevent insane water loss keeping the skin plump and soft
The soothing property of oats works quickly on itchy rashes and alleviates redness and scaling of the skin
The gentle micro-granules cleanse the sensitive skin and effectively absorbs dirt and dead skin cells
It acts as a pH regulator and restores the acidity and alkalinity balance of the skin, especially when there is an increase in the pH value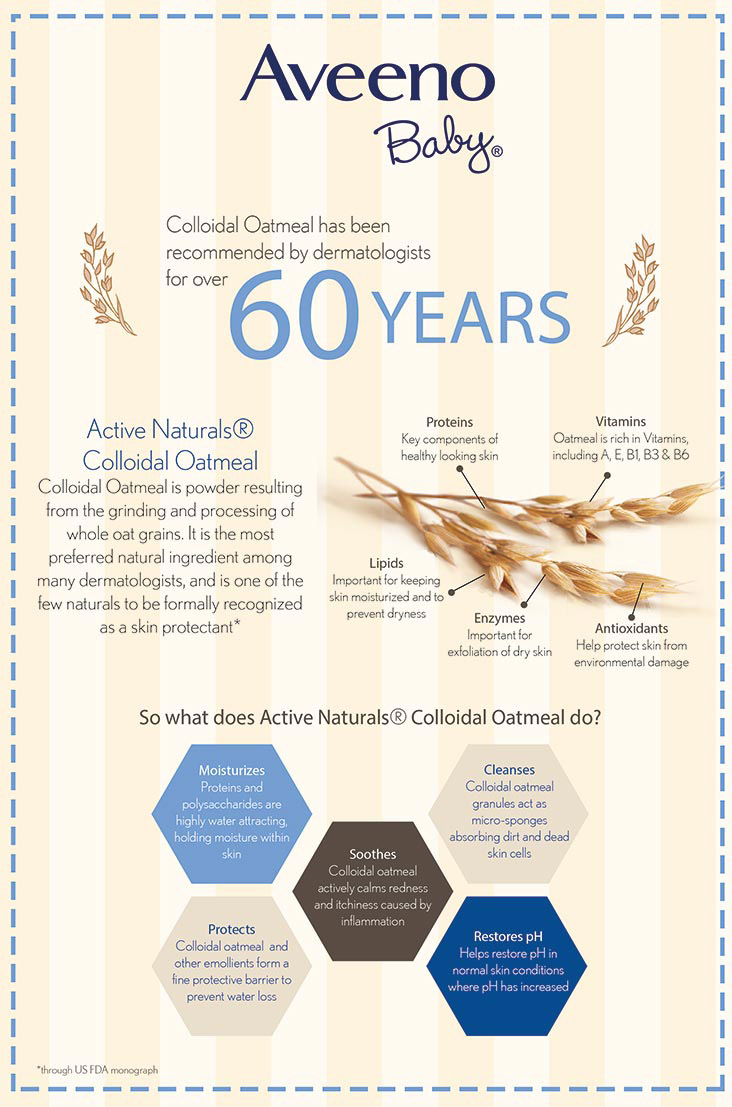 Is Aveeno Baby Body Lotion Beneficial For The Baby's Skin?
All babies have super soft skin that needs gentle yet effective care. Aveeno baby body lotion is your baby's true friend when it comes to nourishing her sensitive skin. The natural goodness of oats moisturizes the baby skin without being harsh on the still developing epidermal layer. The lotion is packed with the richness of oatmeal and has no chemicals that may cause allergy or other irritation.
How Do Aveeno Cream And Lotion Work?
Aveeno cream and lotion are formulated with the vital elements of Colloidal oatmeal that are naturally present in the healthy baby skin. The proteins, lipids, enzymes, vitamins, and antioxidants protect the skin against rashes, itchiness, and dryness and make it plump and supple. The powerful natural ingredient also works gently of the redness of rashes and provides a soothing effect on the skin.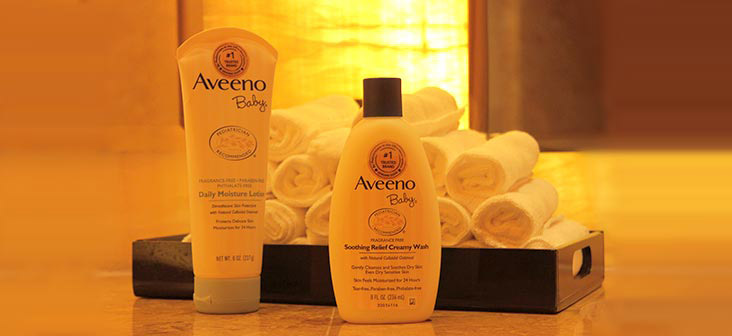 Aveeno Baby Product Popularity And Availability In India!
Are you wondering how and where to find a product range that uses this wonder grain along with proprietary science to give your baby the gift of nourished and healthy skin? Your search ends with the launch of Aveeno Baby range in India. One of the most popular names in the skin care industry, Aveeno Baby has already found a loyal following in mothers and caregivers in 22 countries. A significant population of mommies in India has been asking relatives and friends living abroad for a supply of Aveeno products. This trend will come to an end with this awesome natural skincare range finding a market space in India. Premium baby care products by Aveeno will be available in India.
Aveeno Baby is one of the top brands trusted by pediatricians in the US for the goodness of its natural ingredients. When making a purchase from an Indian store, make sure your pack has the Genuine Good seal on it. Every product in this range naturally nourishes delicate baby skin and helps in protecting the skin from rashes and irritation when used regularly as part of your baby's skin care regime.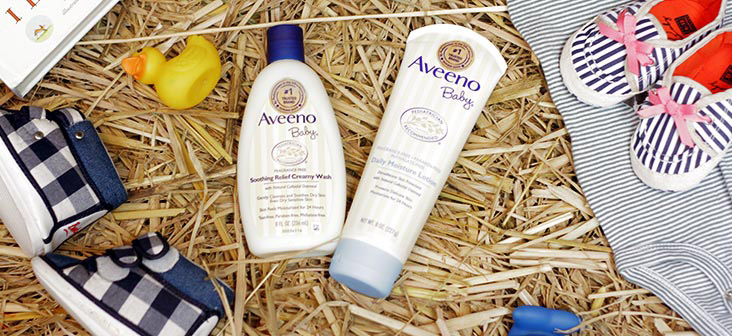 Below Are Top 3 Aveeno Baby Products Available In India
Aveeno Baby Daily Moisturizing: This super absorbent non-greasy and nourishing formula will keep your little one's skin happy and healthy. This range is recommended for a normal moisturizing routine. It is gentle even on extra sensitive newborn skin
Aveeno Baby Soothing Relief Moisturizing: Formulated with ACTIVE NATURALS Colloidal Oat and wonderfully rich emollients, this range is effective in soothing your pumpkin's dry itchy skin. It keeps the skin moisturized for as long as 24 hours!
Aveeno Baby Cleansing Therapy: This range is specially formulated to help treat common skin problems affecting very young babies. It gently cleanses your baby's fragile skin without damaging the skin's protective barrier. The cleansing range is ideal for extra dry baby skin that is affected by Eczema or red scaly rashes
Every product from the house of Aveeno is pediatrician recommended, free of paraben and phthalate, free of any fragrance, hypoallergenic and formulated with good natural ingredients to nourish and protect your cute cuddle's skin every day.