After you have been pregnant for 9 months, finally your baby's birth day is here. Happiness, apprehensions, excitement and anxiety fills you with a plethora of emotions. You get to hold your labor of love, your baby in your hands for the first time. With the elation, there are some bruises and pains and exhaustion, but everything takes a second place with your baby being the focus now. Scores of advises start to pour in and you realize that now there are many things you will be doing for the first time, like feeding your baby, changing the nappy, soothing the little one, cleaning and bathing and taking care of your new born. These things can be exciting as well as nerve wrecking!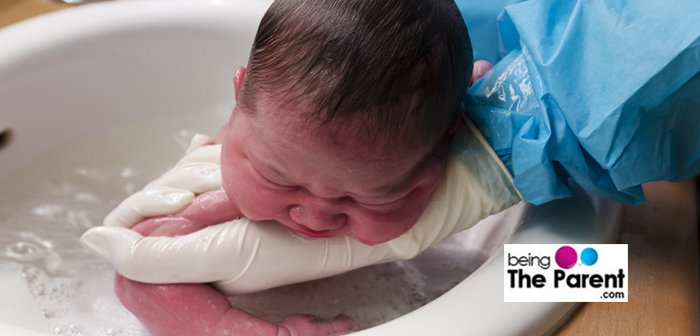 When Should I Bathe My Newborn Baby?
Most hospitals recommend a topping and tailing procedure to keep your baby clean. It just means that a baby's face and neck (topping) is wiped clean with a baby wipe and so is his genital area (tailing). Many parents follow this routine till the baby's umbilical stump falls off, which is for a week or so. Some parents also resort to sponge bathing their baby for the first few days. However, some parents wish to bathe their baby as they believe it creates a bonding between the mother and the child. Most hospitals have special ayahs and nurses who bathe babies and clean them. As long as your little one is healthy, and the room in which he is being given a bath is warm, a bath can be given after a few hours after him being born. If your doctor advises you to give your baby a sponge bath, then you can read about it here. If it is a bath that you want for your baby, then your hospital ayah or nurse will help. If you are unable to walk after delivery, then you can try to learn how the nurses give the bath to the baby. Want to know more about sponge bathing your baby? Click here.
Will The Baby's Umbilical Stump Get Infected If I Bathe My Baby?
Water is not going to infect or delay the healing of the umbilical stump. However, you can chose to top and tail your baby if you feel worried. You can carefully pat the stump dry with a clean and soft towel if it gets wet during the bath. Some moms prefer to hire an ayah or a maalishwali in the first 40 days after delivery to help them bathe the baby and massage themselves as well as the baby. Click here to read about your first 40 days after delivery. Read more about umbilical stump infections here.
How Can I Give My Baby A Bath At Home?
It is important to learn, how to give baby a bath, even if you have an ayah or the first bath has been given by a nurse. Most of the times, the older ladies in the house manage that chore, especially if you have had a tear or an episiotomy during the delivery. But if possible, it is better if you are able to see and help the nurse bathe the baby. That way, when the responsibility comes to you, you are prepared. You will need to shed off your nervousness, which is natural since the baby will appear slippery and wriggly, and will also have to gather some essentials to give your baby a bath.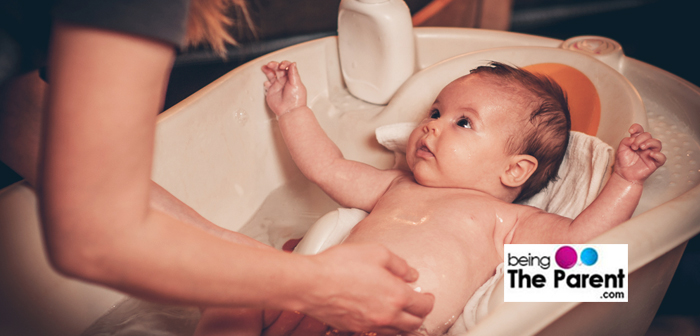 How To Bathe A Newborn Baby?
Some babies do not like to be in water. It is quite normal. Normally new born are only given sponge bath or their bodies are wiped clean with a wash cloth. Doctors may advise to wait until the umbilical cord stump falls off. When the nurse bathes your baby, insist that she does in front of you so that you can also participate. Before nurse starts giving bathe, there are certain things that she keeps handy, and that you should follow too:
Check the temperature of the water with your elbow. It should be neither too hot nor too cold. Fill a large bowl and spread a clean sheet or a blanket/towel over which the baby is placed
Be ready with 2 sets of towel – 1 wet towel for soaking and 1 dry towel for drying the baby
A mild baby soap
1 set of clothes which are to be worn after bathing
Diaper or nappy
Mild unscented moisturizing lotion
Socks
Baby cap
Step By Step Process Of Bathing The Baby
Now let's see the procedure of bathing your baby:
Start with eyes. Take clean, gentle cloth or cotton. Dip in water and rub around the eyes, starting from the corner of the nose. Repeat with other eye with another cloth or cotton. Try to take out the dried secretion from the eyes with the help of cotton
Move on to the ears. Gently clean the outer part of the ear without touching the insides
Clean the neck area. Take care of the folds around the neck. Be gentle in holding the baby
Move on to the stomach area without touching the umbilical cord area
If the water touches the navel area, wipe it a dry cloth and make it dry
Wipe baby's genital and bottom especially along the folds
One important thing, while washing baby's head, place your hand over his forehead, so that water does come over the face. Take a mild shampoo in your hand. Massage it in round direction, with light hands. Wipe immediately
Baby Care After A Bath
Once your baby is finished bathing, there are few pointers that need to be remembered.
Make sure to rinse off any excess soap
After bathe, immediately apply baby moisturizing lotion all over the body
While giving bath or after bath, do not leave the baby unattended even for a second. If you have to leave the room, wrap a towel around the baby and take him with you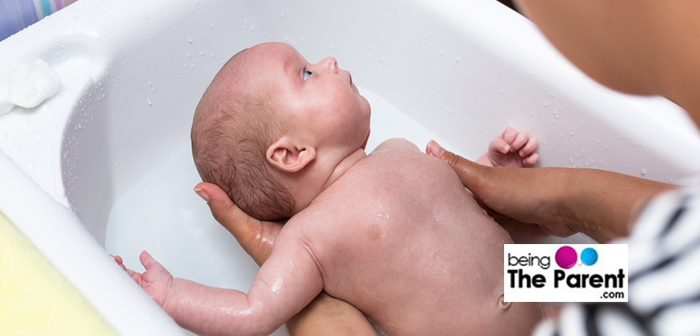 Why Is My Baby's Skin So Flaky?
When you see your new born baby, don't expect to see the pink cute baby. Baby photographs that appear on the internet and in magazines is generally misleading. There are chances of amniotic flakes on baby's skin. There might be some spots on his body. That's perfectly normal. Once he is bathed and massaged, his skin will be back to normal. DO not resort to applying lotions and moisturizers which can further increase the chances of getting infections and may also result in rashes. Also avoid using to much baby powder (click here to know why) as they can be harmful for your baby. Unless the doctor recommends something
When Will My Baby's Umbilical Stump Fall Off?
Umbilical Cord Stump can take up to 45 days to fall on its own. Till then, try to keep the navel area dry. Your new born baby does not need bath every day. Sometimes you can bathe him or at times just sponge bath is sufficient. Whenever you are holding the baby, always place your palm by his head and neck, so that it gets proper support, lest baby tries to wiggle! Be gentle but firm in holding. Read more about your baby's umbilical stump here.