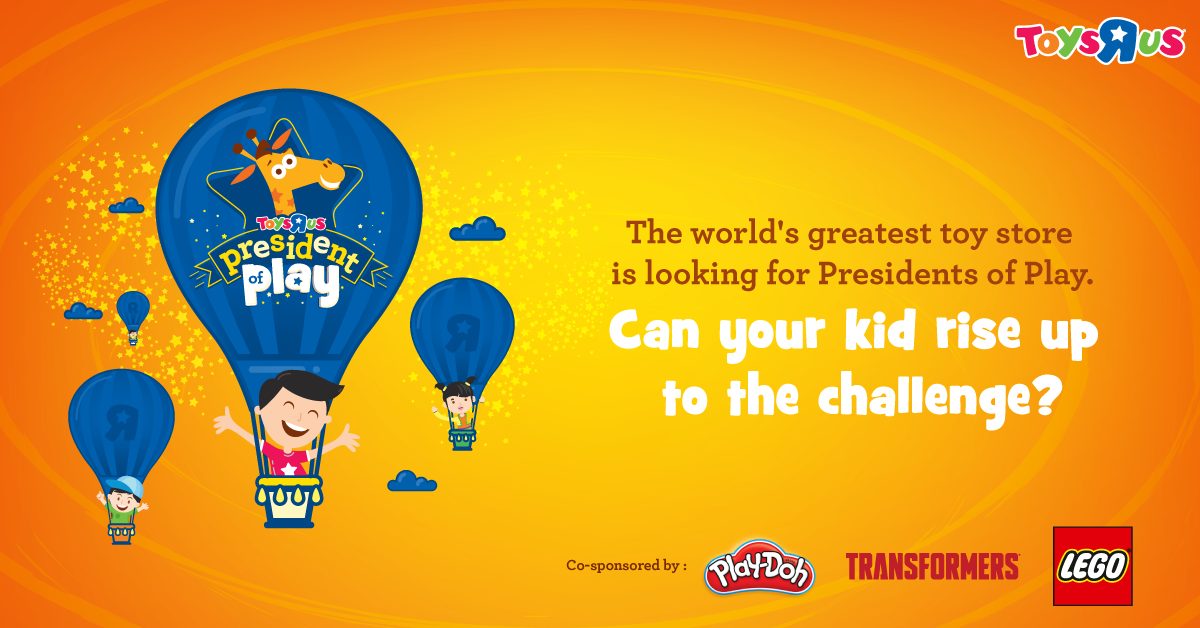 Access to new toys, exclusive invites to the most fun toy events and a ton of playtime privileges – sound like something your little stars would love? Toys"R"Us India is giving them the chance to win all this and more by showcasing the celebrity in them. Introducing 'Presidents of Play' – the world's greatest toy store's search for the celeb faces that will represent the store. Playtime perks of this presidency are endless – from winning prizes worth Rs. 1 lac to getting premium access to all things Toys"R"Us, the fun just doesn't end.
Who is a President of Play?
While Toys"R"Us is all about playtime, they decided to take it to the next level with the hunt for President of 'playtime' . Thus began the search for ten of the most talented, fun, amazing kids to become the celebrity face of the world's greatest toy store. If your kid is a little rockstar or diva that could be one of these ten celebrities, then sign them up for the President of Play contest.
Not only will these kids become the ultimate ambassadors of playtime, but they also stand the chance to win prizes worth Rs. 1 lac, exclusive access to Toys"R"Us events, fully paid trips to new store openings across the country and many more perks.
Why should you sign your kid up?
This is your little star's chance to shine through the crowd and win amazing prizes and other big playtime privileges. They will become the faces associated with Toys"R"Us and gain exclusive access to everything at the store. Here are all the perks that your kids will get if they become president of play.
Win Prizes worth Rs. 1 Lac, if chosen among the top 10
Star in exclusive toy unboxing and toy reviews
Get invited to the most exciting toy events
All-expenses paid trips to new store locations
Preside over new store openings
Playtime Privileges at Toys"R"Us
These are just some of the perks this presidency could bring you kids. Sign them up now and get them ready to win everything they've ever dreamed of for their playtime.
How can you sign your kid up?
You can register your kid up for the  President of Play in two ways – Online and Offline.
Offline – The President of Play crew has been visiting schools and neighbourhoods looking for the perfect candidates and gathering registrations. You could sign up with them or simply head to your nearest Toys"R"Us stores in either Vega City mall or Phoenix Marketcity and sign your little star up.
Once you've registered them, you can record the audition tape of your kid talking about their favourite toy at our booth and submit it for voting on our website.
Online – If you follow Toys"R"Us on social media, chances are you're already aware of Presidents of Play and checked out their neat registration site. If not, all you have to do is visit https://bit.ly/2IbIpAO for all the details. Here's all you've got to do:
Record a video of your kid presenting their favourite toy to the world.
Upload it on the page https://bit.ly/2IbIpAO
Share the video link on social to gather votes
You can view and vote for the best video auditions on the page and promote them for more votes. The top fifty highest voted kids will win the chance to enter the grand finale of this contest to become Presidents of Play.
The Grand Finale:
The top fifty chosen kids will be given the chance to battle it out in a Grand Finale, where the top ten performers will be chosen. The kids will be given a toy prior to the finale and will be asked to practice for the ultimate toy review. The ten kids who flaunt their absolute stardom and shine the brightest will become the Presidents of Play for this year.
So, what are you waiting for?
Go on and register your little one and give them the chance to become a President of Play. Follow Toys"R"Us on social media to stay updated on the search for this talent.