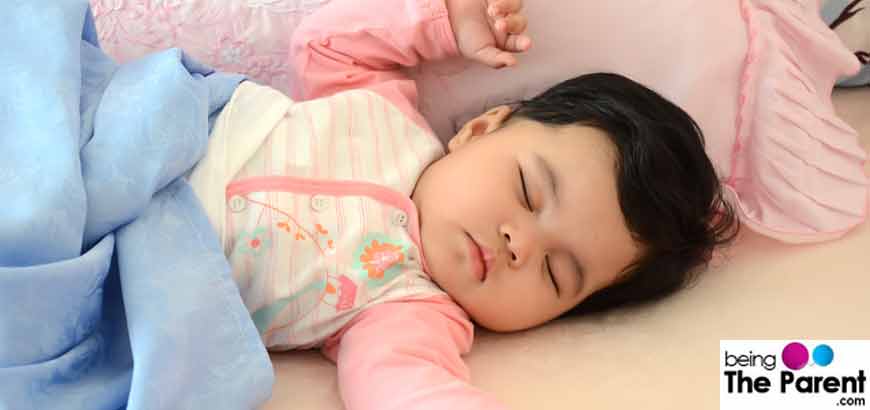 Many of us know that a good routine and consistent bedtime is beneficial for our toddler's mind and body. The baby will be relaxed and will know what is coming next. The steps to a bed time routine will make her feel sleepy, and the predictability will help her not feel anxious. Sticking to a bedtime routine helps in developing good habits even when the baby grows up.
It also helps the parents to get some time in peace to focus on other tasks. Still, only few parents are able to set their toddlers bedtime routine.

What are bed-time routines?
Toddlers love their independence and it is really hard to tuck them into bed for sleep. However, establishing good bedtime habits is very necessary as toddlers grow and develop a lot while sleeping. A proper bedtime routine of a toddler may include:
• Dinner
• Warm bath or just washing hands, getting fresh and wearing night suit.
• A Glass of Milk.
• Brushing Teeth.
• Story Time
• Getting into the bed after hugs and kisses from parents.
If you want your toddler to go to sleep on time (generally sleep time for toddlers is 7-9 pm) you need to make sure he finishes off his dinner prior to it. Once his tummy is full he will sleep better.
Establishing A Bed Time Routine:
To establish a bedtime routine for your toddler, you need to follow a set pattern every night with lots of patience. After some time she will accept it. A toddler needs 11-12 hours of sleep at night and an hour or two afternoon nap. Lack of sleep can hamper the child's development and interfere in her behavioral and emotional responses as well. Obesity has also been linked to insufficient sleep.
You may give a warm bath after some time or just clean his legs, hands and change the dress.
Let him say goodnight to his near and dear ones like grandparents, his favorite car or stars.
Give him a glass of milk and along with it you may narrate a good story (if he is fussy about milk).
Have him brush his teeth. Even if your toddler is just 2 years old let him brush his teeth before going to bed. It is a good habit and would help you in future.
Reading a book and letting him recognize the pictures is also a good activity before sleep.
Whatever you do, tell a story or chat or do a book reading, make sure it should calm down and soothe your toddler instead of re-energizing him to start jumping and playing here and there.
Avoid keeping your toddler's room dark as kids do not like darkness; keep the lights to the minimum.
Having a set and predictable pattern like this will also give a chance to have quality time with your child. These habits will have a positive impact on him and it will be easy to carry in future.

Does The Day Routine Affect Baby's Sleep?
A toddler's day routine also affects his sleep. If he takes a nap for too long during day time the chances of his sleeping late at night increases. Similarly, if he is overtired he might find it difficult to have a sound sleep at night. There may be various sleep patterns of each toddler. Some may wake up once or twice or even more during the night and may call upon you. Your job is to make them feel comfortable and tuck them back into the bed gently without speaking much. Never scold your toddler or get angry, try to make him sleep positively.
Consistency is the key!
It is very important to be consistent in toddler's routine so that they are encouraged to settle down fast and know what is coming next at bedtime. Be it a change of season, or location, bedtime routines need to be the same – and consistency is actually crucial. Even if you have been off-track for once, start again. Singing a lullaby is a well tested technique used by ancient time mothers to make toddlers sleep.
As your toddler gets older he would progressively require less sleep and you need to adjust his bedtime routines accordingly.