Whether you're a mom-to-be or a mother already, there's one thing you will be most anxious about, which is breastfeeding. Every healthy woman has been blessed by nature to provide and nourish for her little ones through the most rewarding experience called breastfeeding.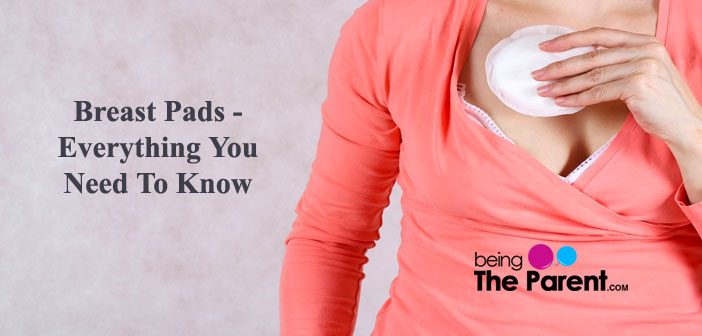 Why Do Breasts Leak?
Leaking breasts is one issue that many new and to-be-moms face. Now, at times, it could so happen that your body starts producing milk even before the birth of the baby. Or if you've already given birth then your baby would feed lesser as usual on some days or if you give a longer interval between feedings due to unavoidable situations then your breast start leaking due to excess milk production. Weaning too could cause your milk to leak, and so can hyper-lactation. Yes, that's a reality! Breast can start leaking due to various reasons like being full, excess milk production, tight clothing or even a sudden force or pressure against your assets. To avoid this, we have another blessing called breast pads! Voila! They are your savior for your nursing days at home or those special occasions or outings where you would definitely not want to get noticed for the wrong reasons. So what exactly are breast pads? Read on girls!
What Are Breast Pads?
So mommies, breast pads are nothing but specially designed pads that prevent any milk leaks or stains that may occur during or after pregnancy due to milk production in breasts. Leaking of breast is the most common occurrence for mothers. It happens to regulate the amount of milk that is produced by the breast and match the baby's needs. However, more than a boon, it often ends up as a bane as it leaves the mother with visible milk patches & stains on clothes that are stubborn to clean up as well.
What Are The Types of Breast Pads?
Now you must be wondering what type of breast pad should you go for, right? Well, since there's a whole lot of body types and requirements in this small world, there has to be a type for all. These are the following commonly used types of breast pads in the market and you can use them all, as per requirement:
Disposable: These are simple use and throw nursing pads made of disposable material. They are often available in various sizes for different requirements. Can be bit expensive on the long run
Reusable: Made of reusable material, these breast pads are a more cost effective solution to leaking breasts. They can be washed easily and used multiple times
Homemade: These are breast pads women can make at home. Simple pads made out of soft and breathable materials like cotton, cut in a suitable shape and thickness to suit one's needs
Silicone: These are pads made of silicon material that puts slight pressure on the breast to prevent leaks. Moreover, they are waterproof and can be worn under swimwear!
Hydrogel: These are breast pads designed especially for healing sore nipples. Since they contain hydrogel, they can be put into freezer and used later to soothe the breast soreness
How To Wear A Breast Pad?
The big question: How do I wear them? Simple! Just slip one inside the bra cup, place it right next to your nipple so that any accidental leaks can be prevented and absorbed right away. You can even use pads with some self-adhesive that will help it to stay put. Most breast pads come with a sticky-tape that help it stay where you place it.
What Precautions Should I Take When Using Breast Pads?
Change your breast pads regularly as continuous moisture on the breast can cause some skin irritation and uneasiness. To be safe, change your pads as soon as you feel wetness in them
Clean your breast with a clean cotton swab to ensure proper hygiene. This is to make sure your baby does not get any infections due to bacteria growth!
In case you plan to make your own breast pads, avoid using any non-breathable fabric or material like plastic as it may cause severe reactions on the skin due to increased bacterial growth
Always consult with your doctor before using any new product. After all your safety is in your hands!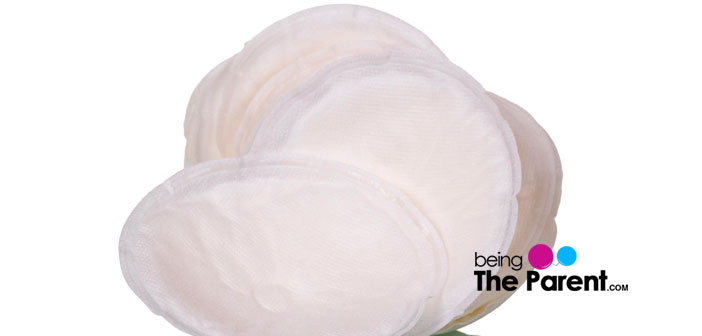 What Are The Best Brands For Breast Pads?
Now that you are sorted for the breastfeeding and leaking part, we would like to recommend a few good brands out there in the market that many moms vouch for:
Pigeon Breast Pads Honeycomb: Priced at about Rs. 200 for 12 pads, Pigeon claims that the honeycomb lining enables to spread milk evenly and trap excess milk quickly. The pads also have a breathable layer. You can be assured to stay dry and protect your clothing, feeling always confident
Chicco Natural Feeling Breast Pads: Priced at Rs. 699 for 60 pieces, these breast pads are antibacterial and help keeping the area dry through superior absorbency. The brand claims that the antibacterial treatment is not transmitted to the skin of the breast and so is safe for the baby. Also come with an adhesive layer so that the pads stay in their place
Medela Breast Pads: Medela offers washable and disposable breast pads. The brand claims the breast pads in both categories are designed for feeding bras and are super-absorbent and offer longer protection. Being internationally acclaimed, the brand is a hit with many mothers. The disposable ones are priced at Rs. 600 for 60 pieces and Rs. 1699 for 4 pieces of washable breast pads
MeeMee: MeeMee has washable cotton breast pads priced at Rs. 400 for a pack of 6 pieces. The brand also sells disposable breast pads priced at Rs. 799 for 96 pieces. The brand claims that the breast pads have higher absorbency and provide better protection and comfort
Philips Avent Stay Dry Breast Pads: A pack of 100 pieces of Phillips Avent Stay Dry disposable breast pads costs about Rs. 650. The brand claims that the non-woven fabric is leakage proof and can handle even heavy flows
Although there's a ton of options available, there is only one person who knows what's best for you and your body, right? So go ahead and give them all try. We are sure you would find the one that suits your requirement perfectly as all we aim here is to make this beautiful journey called motherhood more enjoyable and fun experience for you!