As a breastfeeding mom with cold and fever, you may be worried of getting your baby sick too. This is the time when your mind is filled with whole lot of doubts, particularly for the new moms. Many new mothers need to know whether they can breastfeed their baby when they are sick. This article will help you with your dilemma of breastfeeding your baby while you have cold or fever. Continue reading to get answers to all your questions.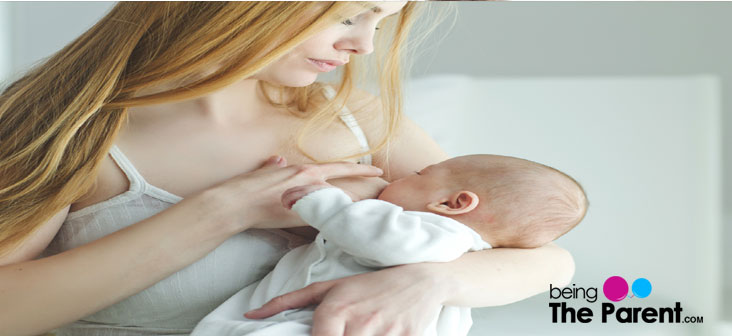 Can I Breastfeed When I Have Cold And Fever?
Yes, definitely! You can breastfeed your baby while suffering from cold, flu, or fever. Stopping breastfeeding while you have a fever or are sick is not a smart idea unless you are particularly advised to do so by your doctor. In fact, being sick provides more reason to breastfeed the baby often.
Why Is Breastfeeding Encouraged Even When The Mother Is Sick?
Barring a few illnesses, breastfeeding is encouraged. Some of the benefits of breastfeeding even while you are sick are:
If you have a normal cold, flu, fever, or stomach infection you probably might have exposed the baby to the illness the day before you experience the symptoms. In addition, your body starts to produce the antibodies to fight the infection as soon as the microbes infect you. These antibodies will be present in the breast milk in considerable quantity. Allowing your baby to have this breast milk alone will help your baby build immunity to fight off the infection
Likewise, the baby can catch a cold and fever from the same source you get it as they are highly contagious. So no point in stopping feeding the breast milk as this is the time when your baby will not like to eat anything else and breastfeeding will help keep him well hydrated
Breast milk is easily digestible by your baby than any other milk or food. So it is essential for you to breastfeed your baby even while you are sick in order to provide him with the necessary nutrients
If you temporarily stop breastfeeding your baby when you are sick, then it can decrease your breast milk supply and once you recover there are chances that you can suffer from low milk supply when can affect your baby
If you are sick and decide to temporarily stop breastfeeding, there may be a possibility that your baby may not accept your breastfeeds after your recover and this can lead to early weaning that can affect you and you baby
Suddenly stopping breastfeeding can lead mastitis where milk can build up in your breasts and may cause inflammation and infection in your breast. So it is advisable to continue breastfeeding even if you are sick to reduce the risks of mastitis. In short, with so many benefits of breastfeeding for both you and your baby, it is not advisable to stop breastfeeding your baby even if you have cold or fever
When Not To Breastfeed Your Baby?
It is, quite rare for a mother to stop breastfeeding for any illness. There are just a couple of serious sicknesses that may force the mother to stop the breastfeeding temporarily or permanently. These are:
HIV: The breast milk of an HIV positive mother carries the virus that can be transmitted to the baby. Therefore, it is wise to quit the breastfeeding if the mother is tested positive for HIV
Septicemia: Septicemia is an infection of the blood. Septicemia occurs when a bacterial infection that happens somewhere else in the body, such as in the lungs or skin, enters the circulatory system. It is a life-threatening condition. This can be transmitted from mother to baby through breast milk
HTLV-1: In case you are infected with HTLV-1, you should not breastfeed your baby. Breastfeeding can transmit the HTLV-1 infection from mother to infant. The more you breastfeed, the more the danger of passing the infection to the baby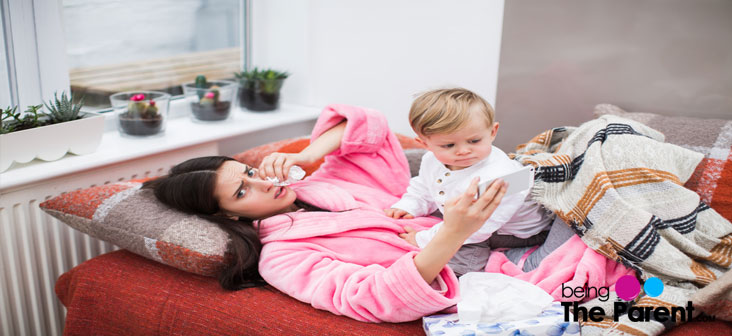 Is It Safe To Continue Breastfeeding When Suffering From Food Poisoning?
Yes. Generally, food poisoning will not get into the bloodstream of the mother. Therefore, as long as the gastrointestinal tract alone is affected by the food poisoning there is no harm in breastfeeding the baby. Similarly, genitourinary infections are also not considered a reason to stop breastfeeding. However, for some reason if the infection gets into the mother's bloodstream, breastfeeding should be stopped, at least temporarily until the infection is eliminated from the blood.
Is It Safe To Take Medicines While Breastfeeding?
The biggest fear for breastfeeding mothers while they are sick is not essentially the illness, but doubts about the medications they might need to take.
You should definitely avoid over-the-counter medications. When it is necessary for you to take medications, always check with your doctor or Lactation Consultant to make sure they are safe
If you happen to suffer from a bacterial infection that requires antibiotics, make sure to ask your doctor for an antibiotic that is safe for breastfeeding
If you are forced to go on a medication that is not compatible with breastfeeding, you can pump and dump your milk temporarily (that will help keep your milk supply up), and for the time being, you can also give your baby formula feeds
Precautions And Tips For Breastfeeding While Having Cold Or Fever
Here are few things to be taken care of, if the mother falls sick during the nursing period:
Wash your hands as often as possible with soap and hot water. You can even use a sanitizer. Always wash your hands before holding your baby and every time before you breastfeed
Cover your mouth and nose with a tissue while sneezing or coughing
Do not put any part of your baby's pacifier or spoon in your mouth before offering it to your baby
Restricting face-to-face contact is an unquestionable requirement. Never ever, kiss your baby's face while you are sick. You will have a lot of time to do so once you recover
While you are sick, remember to drink plenty of fluids. Staying well hydrated is important for a better milk supply and to remain strong as you have a little one to look after
Hope this article helped to clear all your doubts about breastfeeding while having cold or fever. Did you breastfeed your baby while you were sick? Please share your experience in the comments section below.